Duplicate a Cadence
Why would I duplicate a cadence?
Why Duplicate a Cadence?
Aside from a user having "Coaching: All Access" permission, the cadence creator is the only user who can edit cadences they create. However, anyone with "Coaching Cadences: Create Cadence" permission can duplicate any cadence and then make needed edits to their duplicated version. Duplicating allows for quick sharing of cadences that others may have created.
Duplication also allows for editing the structure - adding, deleting, or reordering steps - or scheduling of a cadence that's been opened. Once a cadence is open, the structure and scheduling of the cadence cannot be edited. While the original open cadence still cannot have edits made to it's structure or scheduling, duplicating the open cadence will allow for those edits to be made. Any employees that were in the original cadence can then be added to the duplicated version as needed.
Duplicate a Cadence
Uses with "Coaching Cadences: Create Cadence" or "Coaching: All Access" permission will be able to duplicate cadences.
1. Open the left navigation and click Coaching >  Cadences.
2. Click the ellipses icon,

 , and Duplicate on the cadence you wish to duplicate.
Cadences in both "Draft" and "Open" status can be duplicated.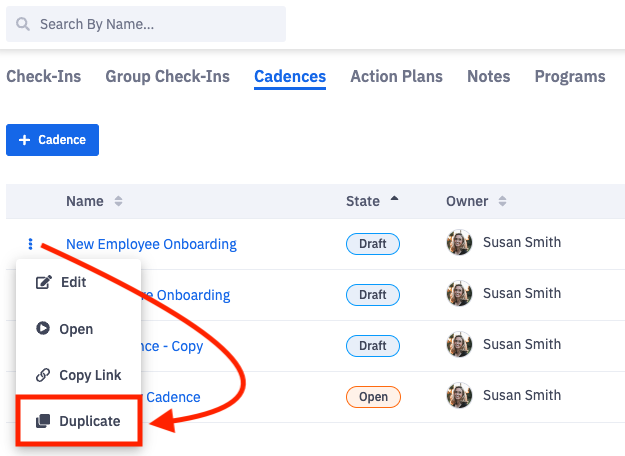 3. The duplicated cadence will appear in the list of cadences. Any cadence that's duplicated will automatically be in "Draft" status after duplicating.
The name of the cadence will feature the word "Copy" after the cadence's original name, ex. "Cadence Name - Copy".
If a cadence has been duplicated multiple times, the number will be reflected in parentheses after the word "Copy", ex. "Cadence Name - Copy (2)".
4. Make edits to the duplicated cadence as needed.
Learn more about editing a cadence in "Draft" status here.