Close a Cadence
Cadences are included in Coach, Pro, and Enterprise Packages.
Coming Soon!
Cadences is entering an Early Access Program in H1 2023. Cadences will be turned on at the feature flag level for Early Access Participants. Cadences will not be available for all customers to enable until general release.
Why would a cadence need to be closed?
What happens when a cadence is closed?
Why Close a Cadence?
As long as a cadence is open, employees can be enrolled into the cadence.
If the time comes where a cadence's content or objective is no longer aligned with current company goals, the cadence can be "closed" to prevent employees from being enrolled going forward. Closing a cadence preserves historical cadence data and excuses any open cadence steps while also preventing any additional employees from being enrolled.
Close a Cadence
Uses with "Coaching Cadences: Create Cadence" permission will be able to close cadences where they are listed as the Owner. Users with "Coaching: All Access" permission can close all cadences.
1. Open the left navigation and click Coaching > Cadences.
2. Click the ellipses icon,
, and Close on the cadence you wish to close.
Only cadences in "Open" status can be closed.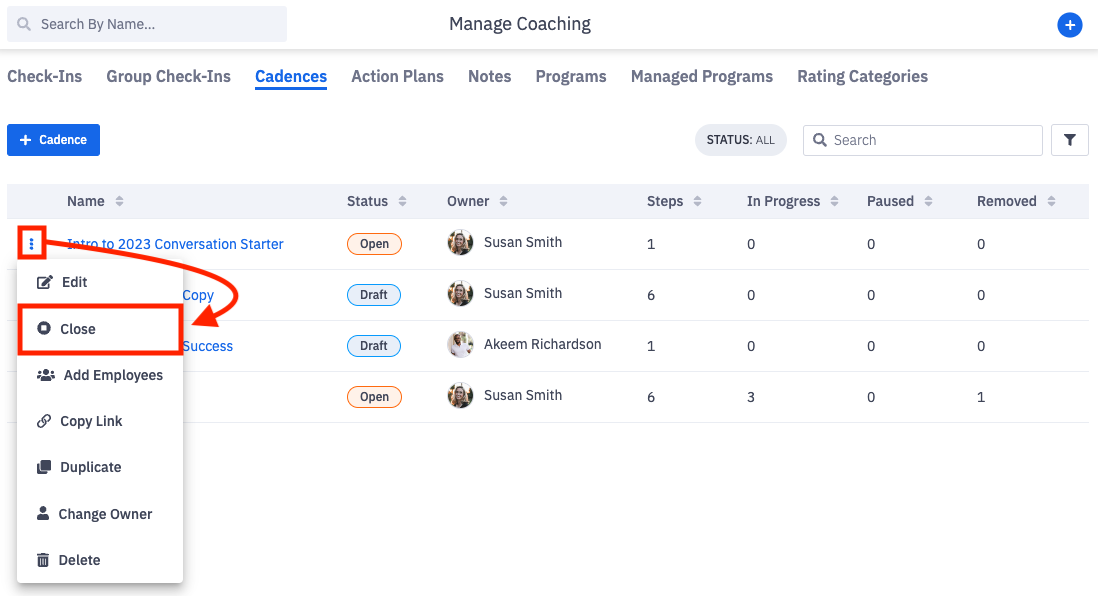 3. Click Confirm when prompted to close the cadence and excuse any open check-ins.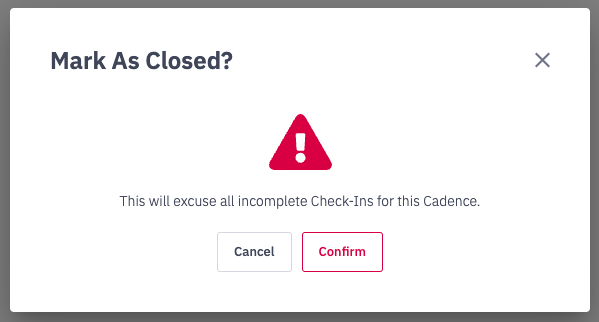 What Happens After a Cadence is Closed?
After a cadence is closed:
the cadence's status will change to "Closed".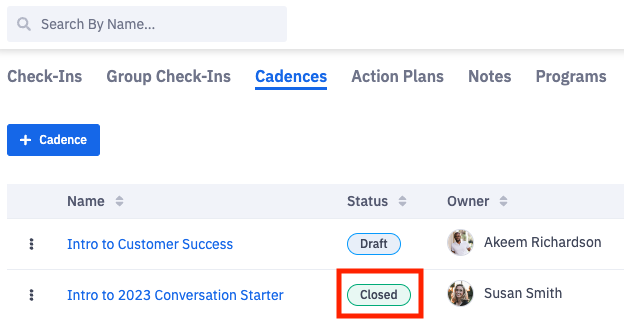 the Overview and Employee information can still be accessed.
Any incomplete check-ins will be marked as "Excused". Closing a cadence preserves historical cadence data, and no historical check-ins generated from the cadence will be deleted when a cadence is marked "Closed".
Closed cadences can still be duplicated. Learn more about duplicating a cadence here.