Edit Note
Notes can only be edited by the note's creator.
Edit a Note
1. Click the ellipses icon,

 , on the note you wish to edit, and click Edit.
Notes can be edited through a user's dashboard or through Coaching > Notes.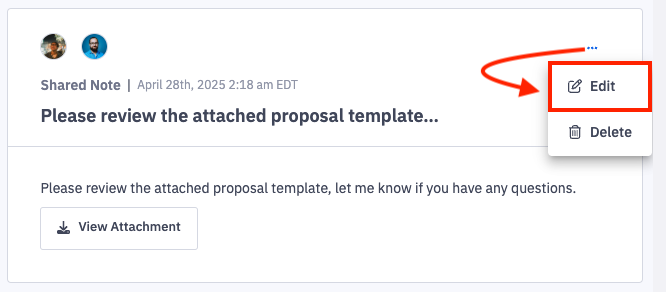 2. Make the needed changes. Edits can include:
Updating the note's content
Updating a note from private to shared
Updating a note from shared to private
Attaching or removing a file attachment
3. Depending on the type of note, click the respective Save Shared Note or Save Private Note button.
The red alert symbol on "Save Shared Note" does not represent an error, but rather alerting you an email will be sent to the employee. If you've change a private note to shared, an email will be sent.
Learn more about coaching note emails here.