Complete and Submit Check-Ins
How will I know I have a check-in to complete?
How do I access and complete my check-ins?
How will I know I have a check-in to complete?
When you are assigned a check-in to complete through a coaching cadence, program or a 1:1 check-in, you will be notified in Ambition.
By default, Ambition will notify you by email when a check-in starts, is due, is approved, or needs additional context added, but you can opt of of any of these notification at any time.
See the different types and content of each check-in email here.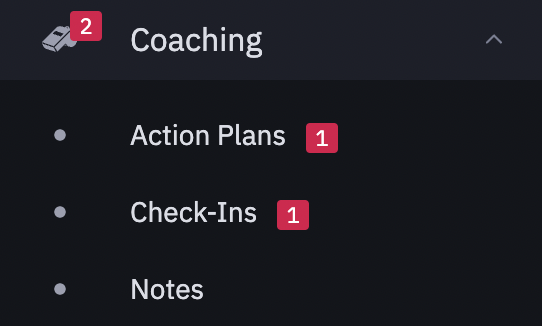 In-App Ambition Notification (Navigation)
How do I access and complete my check-ins?
1. You can access check-ins from the left navigation and click Coaching > Check-Ins, or from your Dashboard (Coaching tab).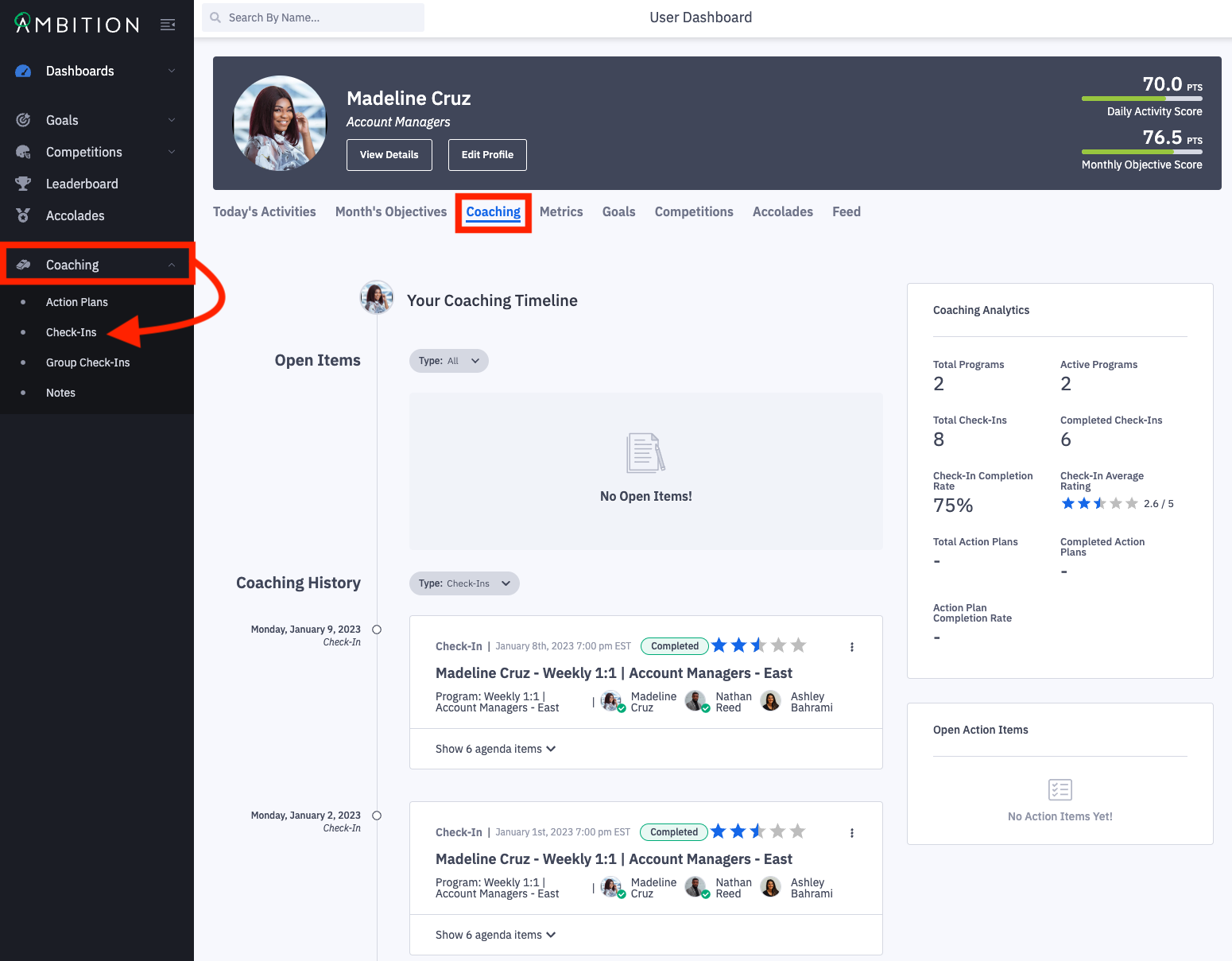 2. Click the name of the check-in (ex. Caleb Franco - Check-In) or the
 icon and click View on the respective check-in you need to complete.
3. Within a check-in, you will see the check-in's agenda which can be made up of both required and optional items. Required items will be specified with (required).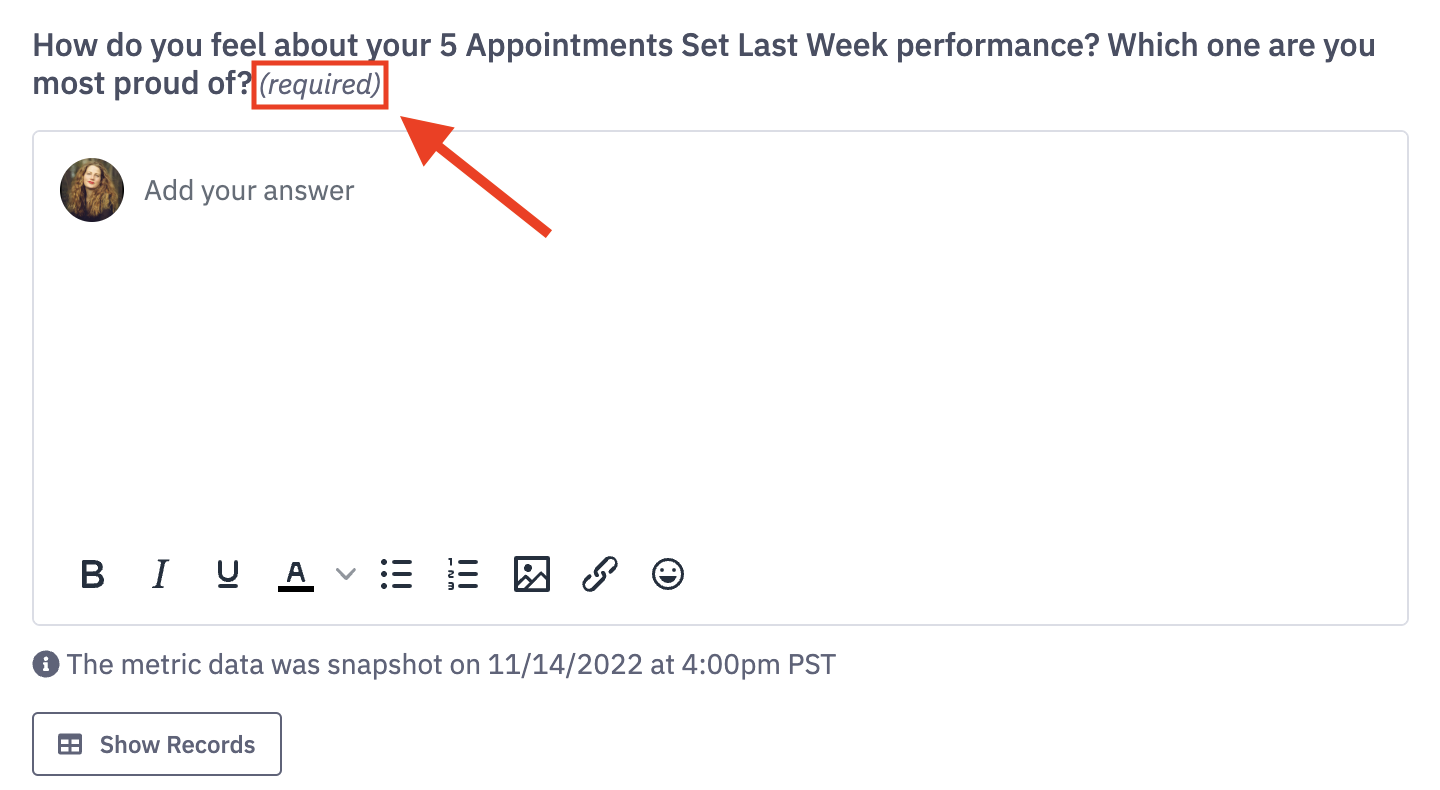 Viewing you metric data, coaching history, notes, and action plans associated to this check-in is also available within the check-in.

4. Complete and address the respective items included in your check-in.
Look for "Add your answer", "I Acknowledge" buttons, and "Add your feedback" for direction on where to leave your responses.
For multiple choice or checkbox agenda items, select the appropriate choice or click "Other" if available and add your answer.
Within check-ins, you can optionally leave comments on each agenda item for additional context or follow-up questions.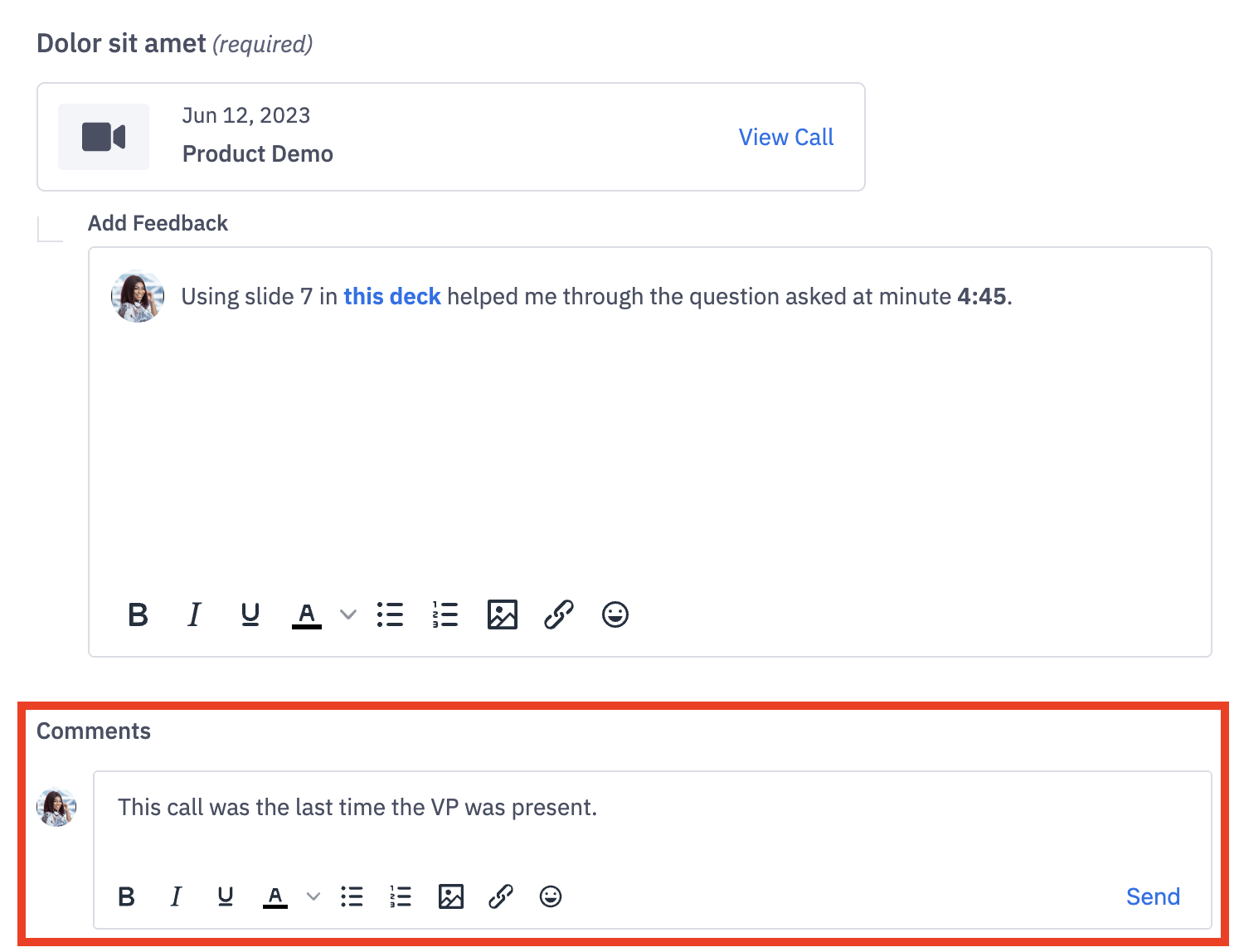 Do I have to answer all the agenda items at once?
The check-in does not have to be completed in a single sitting. You can work through the check-in as time permits. However, be sure to save your progress by clicking the Save Progress button after completing any items!
5. Click the Submit for Review button when all items have been completed. 
6. Once you've completed the check-in, the manager set as the check-in's approver will be notified both in Ambition and via email that your check-in is ready for review and approval.
After you've submitted the check-in for review, the status of the check-in will change to "Pending Approval". It is now the job of the approving manager to review the submitted answers and mark it complete before the check-in moves to a "Complete" status.
The check-in approver can also choose to request feedback or approve the check-in. You will receive notification of either action.