Formula Builder
Ambition allows you to combine two existing metrics (even coming from different systems) or combine a metric and a constant number into one metric. Formula builder metrics are helpful for measuring ratios and aggregating activity from multiple systems within Ambition.
Enable the Formula Builder
Users with the "Integrations: Edit" permission will be able to access the Integrations tab and create, edit, and delete all Metrics.
1. Open the left navigation and click Administration > Data > Integrations.
2. Click the + Enable Integration button.
If this is the first integration enabled in your instance, you will skip this step and begin at step 3.

3. Locate the Formula Builder integration and click "Enable Integration" in line with the Formula Builder integration name and icon. 
You will be redirected into the newly enabled Formula Builder integration.
A single formula builder integration will be available to enable. Once enabled, all formula builder metrics can be created within the single integration.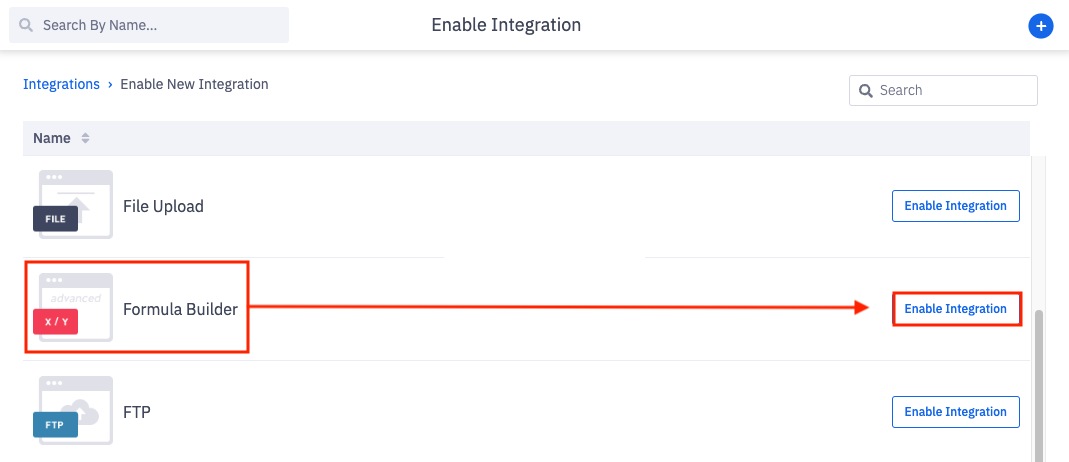 Upon enabling you will be redirected within the integration. To enter the Formula Builder integration anytime after original enabling:
Once enabled, the Formula Builder integration will appear on the Integration Management page.
4. Click Edit in line with the Formula Builder integration.

The integration is now enabled!
Learn how to create formula builder metrics here.