Managerial Dashboards and Group Dashboards
Being a Manager, you are concerned with the performance of your employees. In Ambition, there are several ways to access your employees and view their performance.
Where can I find the users I manage on my Managerial Dashboard?
Where can I find the Group's Members on a Group Dashboard?
How do I search for Users or Groups in Ambition?
Managerial Dashboard
1. Open the left navigation and select Dashboards > Managerial.
2. Clicking the Contributors button found on the header will display all Users that have you listed as a Manager either though a Group association or Manager in their User Settings.
Special Note if you manage another Manager - If you are listed as a Manager's Manager within their User Settings, any employees that roll up to them will also roll up into your Contributors list.
These names are clickable links that will take you to each individual's respective Dashboard.
Additionally, a Leaderboard for all managed Users can quickly be accessed by clicking the graph icon button.
Group Dashboard
1. Access any Group Dashboard (Role, Team, Location, etc).
↳ Group Names can be searched for through the Search Bar in the upper left.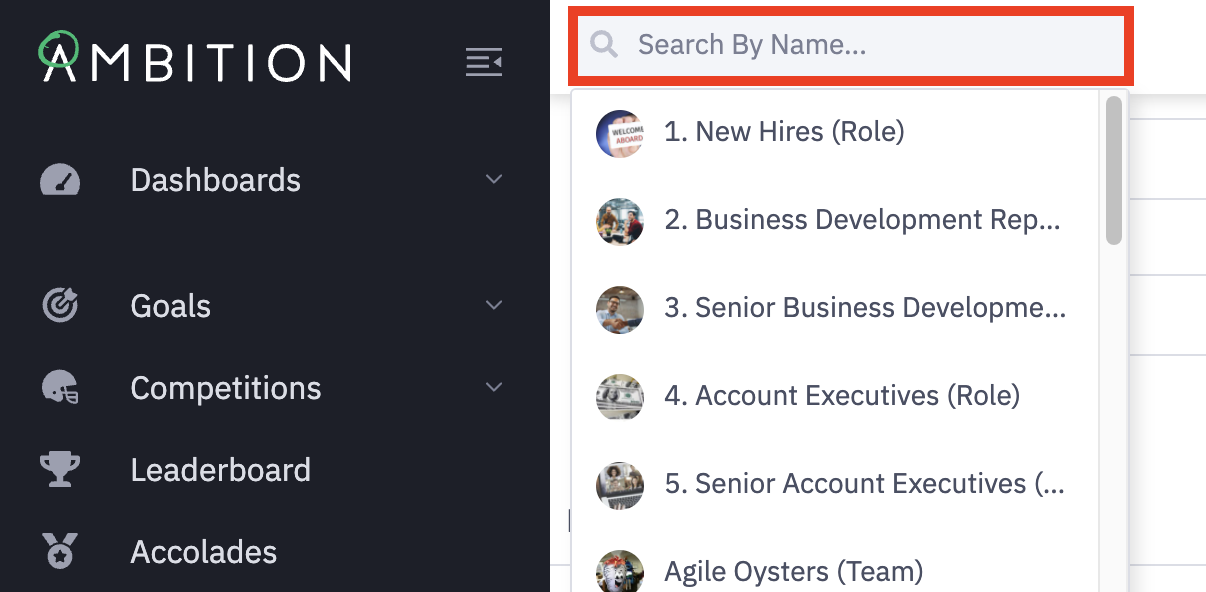 2. Click the Contributors and Managers button.
3. The contributors and managers panel will slide out revealing all the current Members and Managers of the Group.
A Member Since date will be listed alongside each member. The Member Since date represents the date in which the User was added to the Group.
Curious about how the Member Since date impacts Group data? Learn more here.
Additionally, a Leaderboard for all Users in the Group can quickly be accessed by clicking the graph icon button.
Search for Users
There is a search bar at the top of every page in Ambition. Here you can search for a specific User's name and will be taken to their respective Dashboard.
You can also use the search bar for any Group names that your Organization has established.