Ambition Challenges
A Challenge is a head-to-head competition between Users or Groups of Users; Ambition's solution for the common "SPIFF"
Select multiple Metrics, assign points, choose competitors, determine a time frame, and go. Simple and great for driving specific behavior.
By default, Managers cannot create Competitions.
If you desire for all Managers, specific Managers, or even end Users to Create, Edit, and Delete Competitions, ensure the Permission Competitions: All Access has been assigned!
Have questions about updating Permissions? Learn more here.
Create a Challenge
1. Create a new challenge through the quick actions button, Motivate and Recognize > Competition, or through the left-hand navigation, Competitions > Create.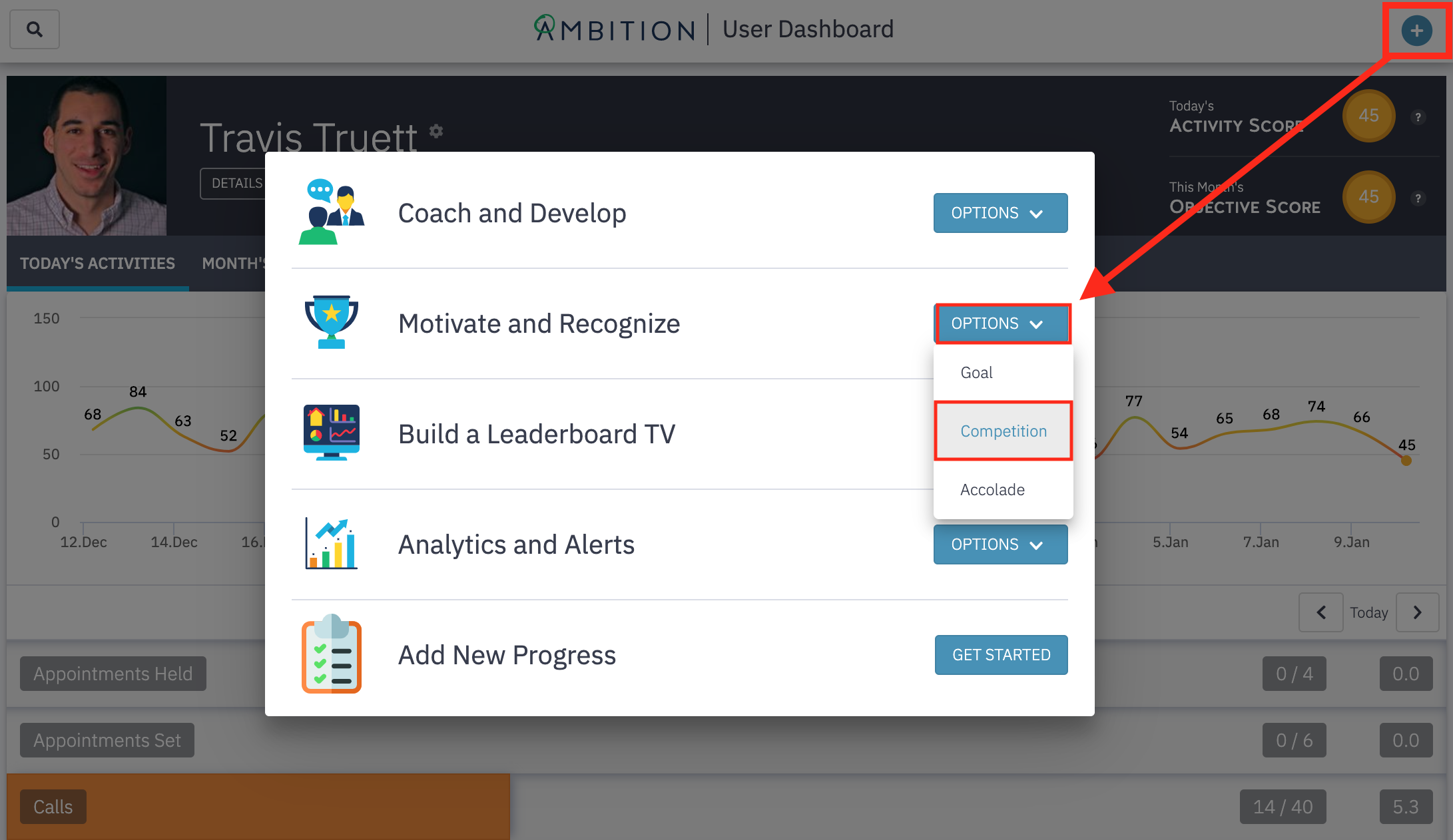 2. Click the green Create button on the Challenge tile.
3. Complete the Create New Competition Form. Fill out the following fields:
1. Name & Time Frame
Note: If you wish to compete on Objective Score you can only do so if the Challenge time frame matches the time frame of your Objective Score (weekly, monthly, quarterly).
Be mindful that a single-day or power hour Challenge won't be very impactful if your Metric data is pushed over every night at midnight.
Name: We recommend a name which explicitly includes Metrics and time frame.
Challenges can either take place once, or on a recurring basis. In this article, we'll discuss One-Off Challenges.
For Recurring Challenges, check out How do I create a Recurring Challenge?
For One-Off Challenges, leave the selector in the One-Off position
Start Date, Start Time and Time Zone
One-off Challenges cannot be shorter than 30 minutes, and cannot exceed a time frame of 365 continuous days.
Set the Start Date, Start Time and Time Zone, establishing the start of the Challenge
Note: Retroactive, or Challenges with a Start Date in the past, will default to have a Start Time of 12:00AM
End Date and End Time
Set the End Date and End Time for the Challenge, establishing the Challenge duration. The same Time Zone will be used.
2. Competitors
Hierarchy Level:
What level of competition will you create?
User vs User?

Team vs Team?

Division vs Division?
Read more about Ambition's Hierarchy Levels here
Competitor Selection:
Select whether all of the chosen hierarchy or just specific members of User / Groups will compete in the Challenge.
If a Custom or Within grouping is selected, pick specific Users / Groups to compete in the Challenge.

3. Scoring
This is the KPI or Metrics that will be used to calculate "points" for this Challenge. It's important to keep in mind the frequency with which your data is pushed to Ambition (hopefully real-time), in relation to the competition. Competitions can be both multi-metric and points-based.
Note:
Multi-Metric Competitions cannot exceed combining 5 metrics.
The same Metric cannot be utilized more than once in a single Challenge. ie. Cannot utilize both points and value scoring for the same metric.
If you wish to compete over Objective Score, ensure the Challenge's time frame matches your Objective Score time frame.
Ex. Weekly Objective Score = Challenge starts on Monday @12am. Monthly Objective Score = Challenge starts on the 1st of the month @12am.
Click the purple Add Score Parameter button to begin compiling your competition Metrics.
Select a Metric from the Metric drop down.
Select the Scoring Type
If Points is selected as the Scoring Type, complete adjust the Points Per Value selections to fit your needs.
Example above showcases where 5 points will be given per 1 Appointment Set
Determine and set options for the Scoring Parameter.
Use Per-User Average - Recommended for when competing groups are not the same size
Sum Daily Averages - Recommended for long durations where affecting the average becomes increasingly difficult
Exclude Weekends - Do not include weekends in the scoring calculation
Allow Benching - Benching will not apply if toggled off
Min Value - The floor that must be reached before score contribution is made
Max Value - The ceiling at which no additional score contribution is made
Note about Thresholds and Multi-day Challenges
A minimum or maximum threshold will be applicable to the Challenge's duration as a whole.
Repeat the above steps for each desired Score Parameter.
Multi-Metric Competitions can combine up to 5 different metrics.
4. Prizes

(optional)
Prizes are not required, but if appropriate can be granted based on Rank (1st, 2nd, 3rd...up to 10th) And/Or based on Threshold (everyone at or above x Score gets y prize)
Note: Threshold applies to the overall score. If multiple metrics or average scoring is being used, we would advise careful projections before stating the thresholds.
A combination of Rank and Threshold prizes can be used!
To include a Rank based Prize:
1. Select Rank from the Type dropdown.
2. Select which Rank (options for 1st-10th) you'd like to input a prize for in the Place dropdown.
3. Fill in the Prize that will be awarded in the Description field.
4. Click the blue + Add button.
To include a Threshold based Prize:
1. Select Threshold from the Type dropdown.
2. Input the respective threshold value to be reached
Again note that thresholds are for the overall score. If utilizing a multi-metric Challenge or averages, we would advise careful projections before stating the thresholds.
3. Fill in the Prize that will be awarded in the Description field.
4. Click the blue + Add button.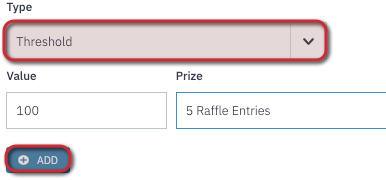 Learn more about Prize thresholds here.
5. Add to TV
(optional)
Optionally display your Challenge on an Ambition TV.
Select the respective TV(s) you'd like your Challenge to appear on from the Available list.
Optionally select a Start and End Date from the respective dropdown if you'd like the slide to being being displayed and/or stop being displayed at a specific point in time.
Finishing up
4. Once you've completed the Challenge Form, click the green Create Challenge button in the bottom right.
Participants will be notified via email before the Challenge begins, and can track progress via Dashboards. Don't forget to include this Challenge on a TV slide for added visibility and competition.
Preview Badge
If at any time you notice a black Preview badge listed alongside a Challenge's name in the Manage Competitions interface, that Challenge was created by a member of the Ambition team.
If you've been working with Ambition Support or your CSM regarding a Challenge's setup or scoring, a member of the Ambition team can create a challenge in Preview mode that allows you to "test drive" the Challenge's setup and scoring configurations without directly notifying your users.
The Challenge can be viewed, edited, and deleted like a normal Ambition Challenge but is hidden from any user without Admin Permissions in Ambition.
Preview Challenges cannot be created in Ambition by end-users, no matter the permission set. If you have any questions about a Preview Challenge in your instance, reach out to gethelp@ambition.com.