Graph
Graph Reporting allows you to view trends over specific periods of time.
Trends are powerful. Trends highlight patterns. Positive trends can be reinforced, while negative trends can be realigned. You can't do either of these if you are not aware of the trends of your Users.
Sorting by Time Frames and Metrics, you can analyze trends for the Users you manage as a whole while also being able to drill down to the individual level.
Can I customize the data and time frame shown on the Graph?
Access the Graph
1. Click the the quick actions button, Analytics and Alerts > Analytics, or the left navigation, Reporting > Analytics.
2. Click the Filters button to slide out the filter menu.
3. In the Filters pane, select Graph from the Mode dropdown menu.
4. Select the Display As filter to view your data across three different graph types:
Line Graph - Great for viewing trends over time (3 teams or 3 metrics at once).

Stacked Area Graph - Perfect for comparing part-to-whole relationships (ex: Meetings Set - Outbound with Meetings Set - Referral).

Column (Bar) Graph - Great for comparing teams across a single Metric.

5. Customize the Time Frame and Series that you wish to view data across.
a. Select the Time Frame that you are wanting to view data across: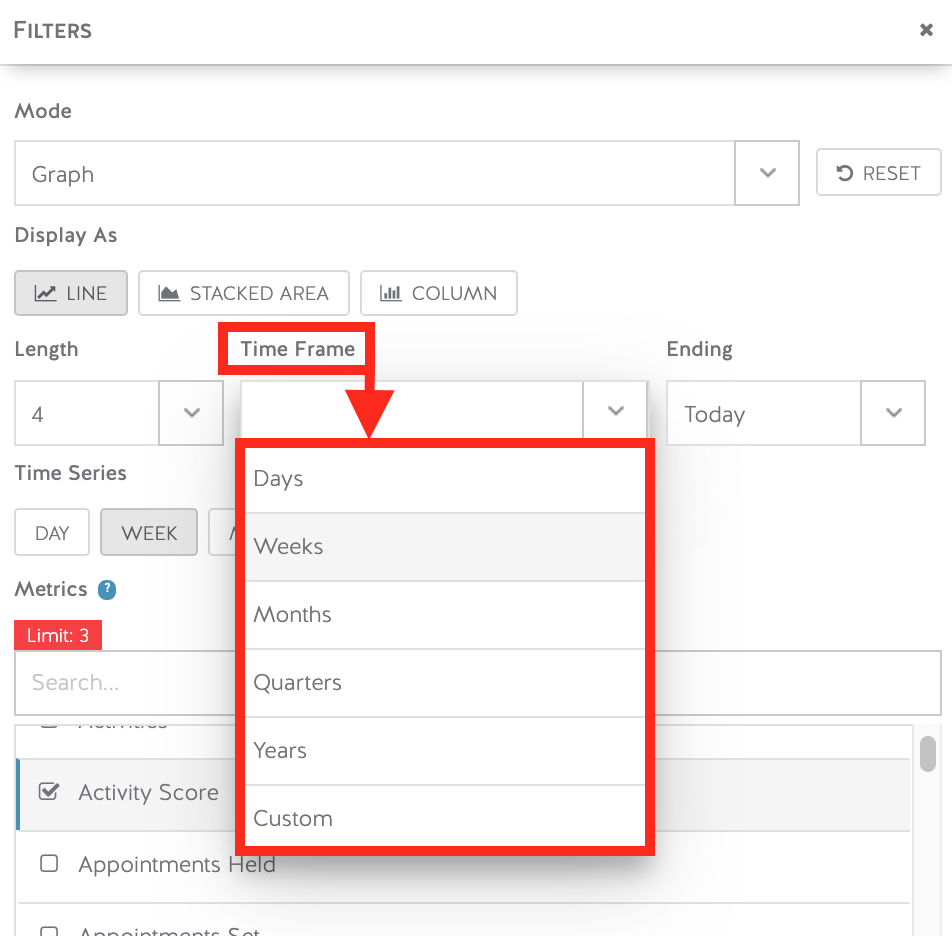 Time Frames Options include:
Day
Week
Month
Quarter
Year
Custom*
*As seen below, selecting Custom will allow you to choose a specific Start date through a calendar picker.
A custom End Date can be selected as well.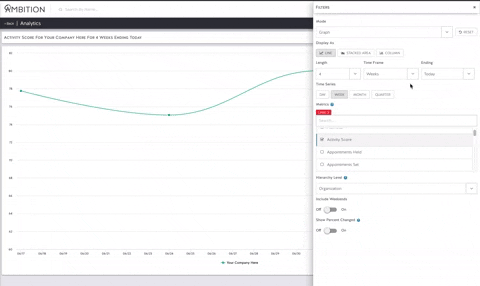 If a Custom start date is not selected, also update the Length of time you'd wish to view.
Length - Select between 1-98 units of time.
As well as selecting either Today or a Custom Ending time.

Ending - Show results leading up to today or a custom end-date.
b. Decide the intervals that you wish to see your data by selecting either Day, Week, Month, or Quarter. This will be your x-axis on your Graph!
5. Select the Metric you wish to analyze by clicking the dropdown under Metric. You have the ability to select up to 8 metrics at once within Graph Mode!
Note: You can either view 8 metrics at once for 1 entity, or 8 individuals at once for 1 metric.
6. Select the appropriate Hierarchy Level for the data you are looking to analyze.
Read more about Ambition Hierarchy Levels here.
Hierarchy Level is the level you wish to view data over
Do I want to compare data for 3 different Users? Do I need data for just one team›?
Selection Type will only display the Custom type.

Graph Mode will allow you to select up to 3 Users or Groups to display.
7. Next you will decide if you would like to include weekends or not by clicking the Include Weekend toggle:
8. Next you will decide if you are wanting to show the percent changed or true value by altering the Show Percent Changed toggle on or off. This is utilized if you are selecting more than one metric to analyze.
The % to change will appear in parentheses next to the value.
This is great for comparing two metrics with a large difference in values. For example, Revenue $ vs Activity Score. Revenue $ could get up to the millions while Activity Score will always be 0-100!
9. To save your changes, select the green Apply Filters button. This will reload your graph report using the newly selected filters.

Save Graph Reports
Instead of bookmarking frequently visited reports, save them directly in Ambition.
1. Once you're happy with your filters and visualization mode, click the Reports button.
2. Click + Save Report.
3. Name your report and click the green Save button.

All saved reports can be reaccessed through the Reports button.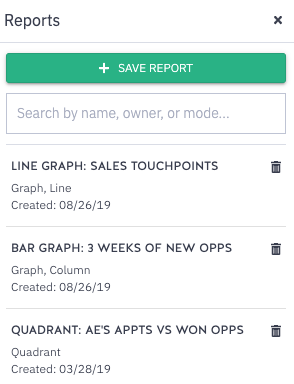 Note:
Saved Reports cannot be edited at this time, instead you will need to delete your Saved Report and create a new one.
Export Graph Data
Optionally choose to export an image of your Graph by clicking the green Image button.
If you wish to export the raw metric values feeding the Graph, they can be exported in CSV form via Ambition's Spreadsheet reporting utilizing the same filters for Time Range, Metric, and Hierarchy.