Spreadsheet
Ambition offers a single pane of glass look into all your Metrics for all Users. You can even export and save Ambition Spreadsheets for your internal reporting needs.
How do I access the Spreadsheet?
How do I adjust the time frame filters?
Can I save Spreadsheet reports?
Is Spreadsheet data exportable?
Access the Spreadsheet
1. Click the the quick actions button, Analytics and Alerts > Analytics, or the left navigation, Reporting > Analytics.
2. By default, Spreadsheet will be the selected Mode displaying Activity and Objective Scores for your Organization.
3. Click the Filters button to slide out the filter panel, allowing you to have drill-down capabilities to capture the exact Data, Metrics, Date Ranges and Hierarchy Levels you are desiring to see.

4. Select the type of data you would like to view.
Ambition has 3 options for viewing your data in Spreadsheet Mode:
Totals: Sums your Sum and Count Type metric data over time
Daily Averages: Averages your data over time
Time Series: Displays your data at successive times over equal intervals
5. Select the Time Frame that you are wanting to view data across: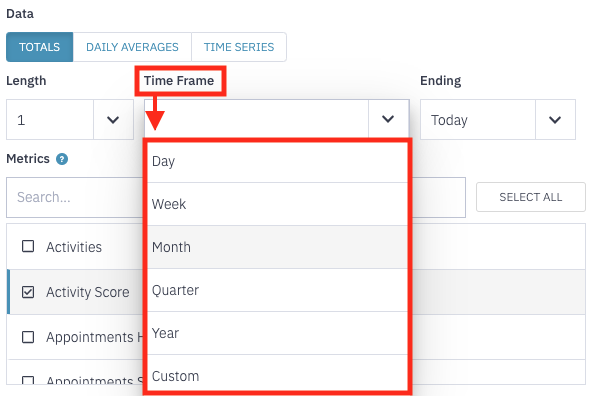 Time Frames Options include:
Day
Week
Month
Quarter
Year
Custom*
*Selecting Custom will allow you to choose a specific Start date through a calendar picker.
A custom End Date can be selected as well.
Note: The Custom Time Frame is not currently available in Time Series.

If a Custom start date is not selected, also update the Length of time you'd wish to view.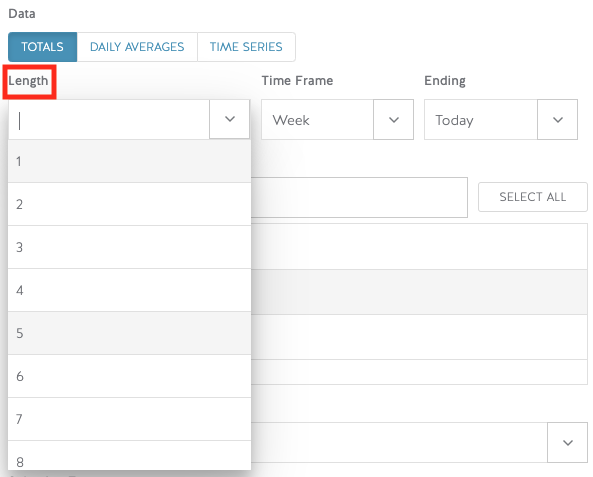 As well as selecting either Today or a Custom Ending time.
For additional help on Analyzing your data and understanding the Spreadsheet Time Frames, view this article.
6. Next you will need to select the Metric(s) you are looking to Analyze!
Each Metric that you select will be added to the Spreadsheet's columns.
Below is an example of the Activity Score, Objective Score, and Margin % metrics selected:
By default Activity and Objective Scores are selected, but they can be removed by un-selecting them as seen below: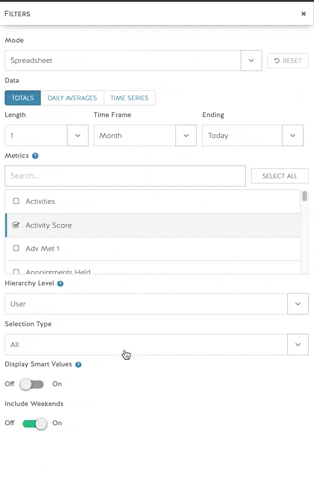 Note: You can only select 1 metric at a time within Time Series mode
7. Select the appropriate Hierarchy Level for the data you are looking to analyze.
Read more about Ambition Hierarchy Levels here.

Hierarchy Level is the level you wish to view data over
Do I want to view data for a User(s)? Do I need data for all of my teams?
Selection Type will display options of All, Within, Custom.
Is this data for Users > All? Users > Within > BDR Role? Users > Custom > Joe Smith?
8. Next, decide whether you want to Display Smart Values by clicking the Display Smart Values toggle:
Smart values will convert your duration based metrics into an easily-readable format as shown below:
9. Finally, you will decide if you would like to include weekends or not by clicking the Include Weekend toggle:
Note: Time Series Mode will always Include Weekends
10. To save your changes, select the green Apply Filters button. This will reload your spreadsheet report using the newly selected filters.
Save Spreadsheet Report
Instead of bookmarking frequently visited reports, you can save them directly in Ambition.
1. Click the Reports button.
2. Click + Save Report.
3. Name your report and click the green Save button.

All saved reports can be reaccessed through the Reports button.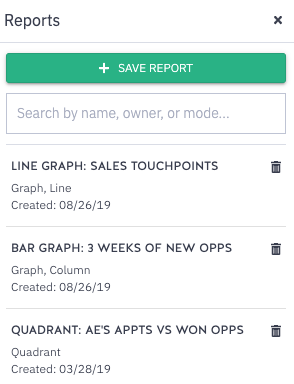 Note: Saved Reports cannot be edited at this time, instead you will need to delete your Saved Report and create a new one.
Export Spreadsheet Data
Optionally choose to export the Spreadsheet's contents by clicking the green CSV button.