Coaching Program
Coaching Programs are included in Coach, Pro, and Enterprise Packages.
How do I create a Coaching Program?
What types of agenda items can be incorporated in Coaching Programs?
What email notifications are associated with Coaching Programs?
Coaching Permissions
Default Admin Permission Sets allow Creation of a Coaching Program for any Manager. With default Manager Permission Sets in place, one can create Coaching Programs only to be utilized by the specific Manager with their subordinate Users..
What's a subordinate user?
A Manager must be listed as at least 1 User's manager, through Groups Types and Groups, or directly via User Settings in order to connect Users to them.
↳ Example of the Manager field in User Settings.

Updating the Permission, Coaching: Create Program, will allow for more or less restriction around creation of Coaching Programs.
Have questions about updating Permissions? Learn more here.
Create a Single Program
1. Click the Quick Actions button, Coach and Develop > Program, or the left-hand navigation, Coaching > Manage > Programs.

If you access Coaching through the left navigation, via the Coaching Manage > Programs tab, you'll see all the existing Coaching Programs you have access to.
Click the green + Program button to build a new program.
2. Select between a Single Program and a Managed Program
3. Complete the Create Program Form.
Details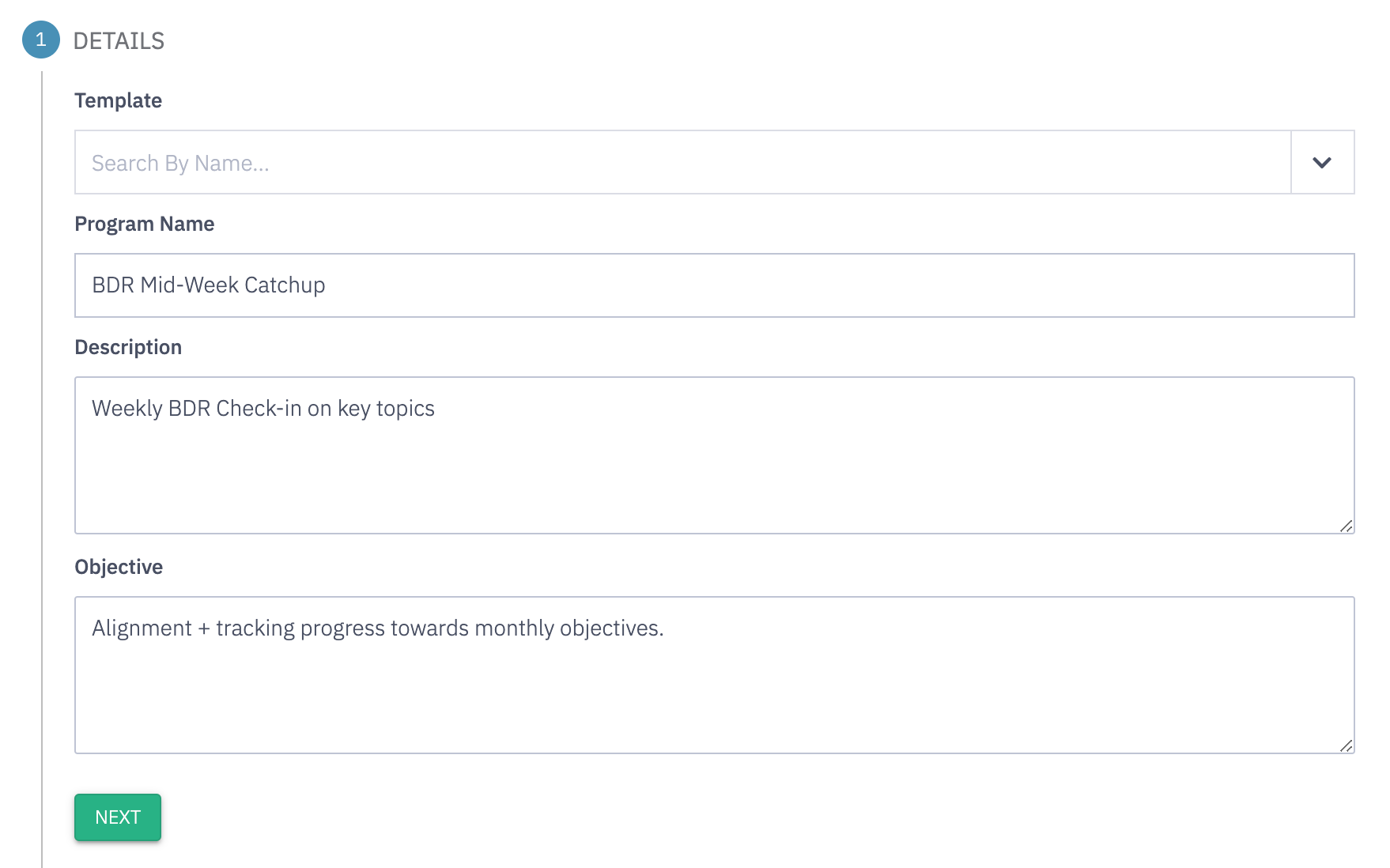 Template
Template is only visible for single programs. If a coaching program template has been made available to you, it can be selected in this dropdown menu.
Program Name
A name is required for the Coaching Program. We recommend names that incorporate the target contributors, topic of focus and frequency of check in.
Examples:
SDR Daily Update
AE Weekly Update
AE Monthly Pipeline Review
Employee Quarterly Performance Review
Description
A description is required. Simply describe the purpose of the Coaching Program
Objective
An objective is optional. If your Program has a specific purpose (and typically, an explicit start and end date) we recommend defining on objective.
Recurrence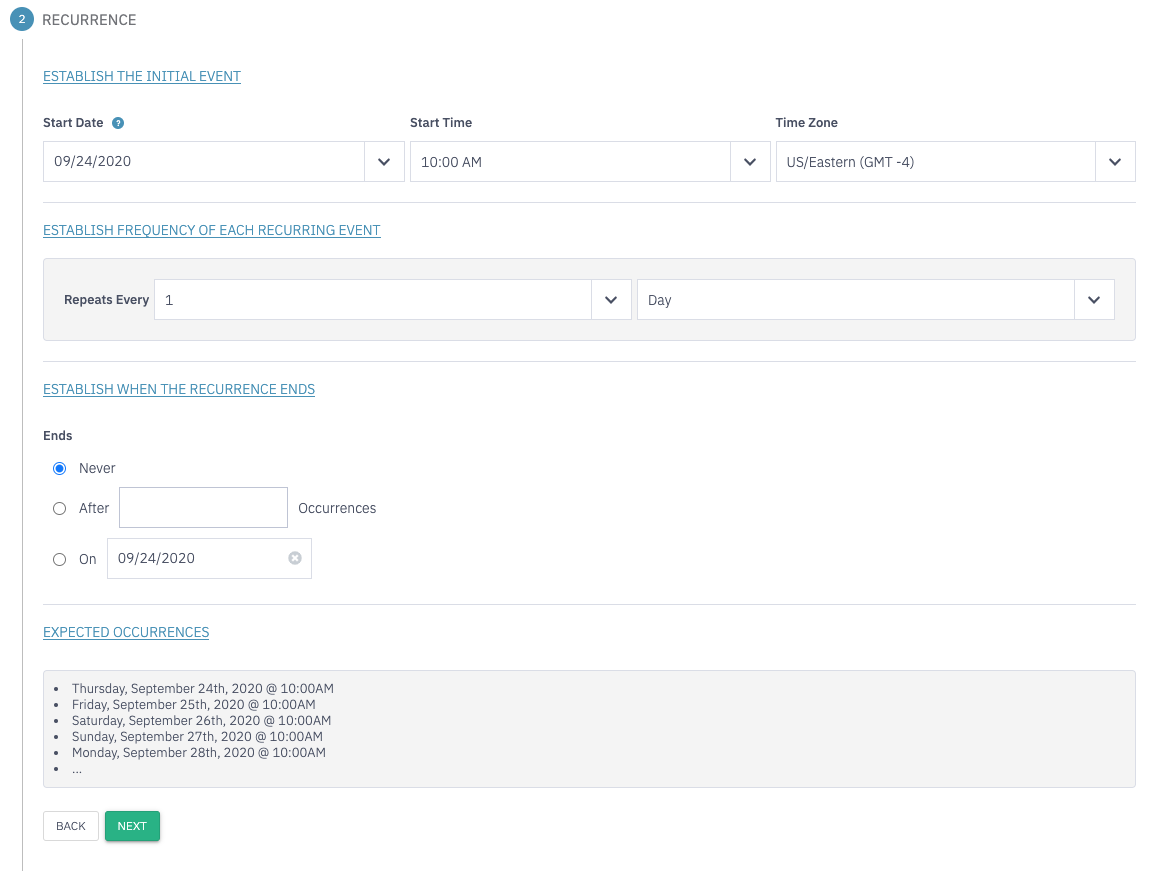 Initial Event
Establish the first Coaching Sessions by selecting a Start Date, Start Time and Time Zone.
The Date, Time and Time Zone are used to control when contributors are notified.
Frequency of Recurrence
Use the drop downs to select how often coaching sessions should be recreated.
Common cadences are:
Daily (Every 1 Day)
Weekly (Every 1 Week)
Bi-Weekly (Every 2 Weeks)
Quarterly (Every 3 Months)
Pro Tip: Want to schedule your Program to run on relative dates, for example the first Monday or the last Friday of the month? Set Repeat to "Month" and then select one of the options available.
Recurrence End
Will this Coaching Program ever end? If so, select a date or number of occurrences to end after.
If a date is selected, no new Coaching sessions will be created after the respective date.
If a number of occurrences is selected, the Coaching Program will occur for that many iterations before stopping.
Participants

Select the Manager's Name from the dropdown who the Program is being created for and then click the Employees Dropdown.
You have 3 choices when selecting participants:
All Employees Managed enrolls all Users who are managed by the respective Manager via Groups and User's individual settings.
↳ Example of the Manager field in User Settings.

Employees Managed Within Specific Groups prompts you to select one or more Groups which the respective Manager oversees. This will enroll all Users that are in the selected Group(s).
Specific Employees Managed prompts you to manually select which specific Users will be enrolled in the Program.
Agenda

Questions
What questions will you ask your contributors? Questions can be required or optional.
If you're feeling stuck, we've compiled a Question Library to help get some ideas flowing.
Want to see how others Coach? Check out our plug-and-play Coaching Templates.
Pro Tip: Want to rotate weekly questions? Build multiple coaching programs on alternating cadences to keep things fresh.


Polls
Managers can also poll their employees through the Poll agenda item. This simple set up allows users to answer questions on a likert (1-5 point) scale.
Example: On a scale from 1-5 (1=low & 5= high) what's your level of confidence in your product knowledge?
Custom Tabs
Does your team reference a learning management system, dialer service, or another platform for coaching? If so, you can create up a custom tab to view that information, alongside your Ambition data, directly within a coaching check-in.
To set up a custom tab within your coaching check-ins, reach out to the Ambition Support Team, gethelp@ambition.com.
The Support Team will need the following information:
Does the website support 3rd party embedding (iFraming)?
What is the url that should be shown?
What would you like to name the tab?
Important Notes:
Not all platforms allow 3rd party embedding.
We currently have customers using the following platforms in a custom coaching tab:

Chorus
Microsoft PowerBI
Google Sheets

The custom tab will be visible across all check-ins within the organization.
Attribution Metrics (optional)
Define up to ten Metrics that you would like tracked/correlated for the duration of the Program.
Similar to defining an objective, if your Program has a specific purpose (and typically, an explicit start and end date) we recommend establishing attribution Metrics.
For example, if you're running an eight week Program around setting great appointments you can define "Appointments Held" and "Appointments Set" as your attribution metrics to determine the Program's effectiveness over time, per-person.
If you're running a standard, weekly check-in, it probably does not make sense to set attribution.
Note: Attribution Metrics cannot be changed once the Program is saved.
How is Attribution Calculated?
First, a baseline value is derived by taking the four-week metric average leading up to the Program's start date. Then for every recurring session a current value is derived by taking the last FULL week's metric average. The % difference is then calculated between the current and baseline value.
We do not recommend using metrics typically measured on a monthly/quarterly basis for attribution given the attribution's usage of weekly averages.
Finish and Save
4. Click the green Create Program button to save your Coaching Program.
Employees will be notified via an email upon creation with Coaching Program details. Additionally, employees will receive emails per recurrence at the day and time you've chosen.