Create TVs
TVs are included in Recognize, Gamify, Coach, Pro, and Enterprise Packages.
The number of TVs that can be created is dependent on package.
| | |
| --- | --- |
| Package | # |
| Recognize | 10 |
| Gamify and Coach | 25 |
| Pro | 50 |
| Enterprise | Unlimited |
Create a TV
Users with the "TVs: Create" permission will be able to create new TV URLs. Creators are also able to edit and delete the TVs they create without needing "TVs: Edit" permission.
1. Open the left navigation and click TVs.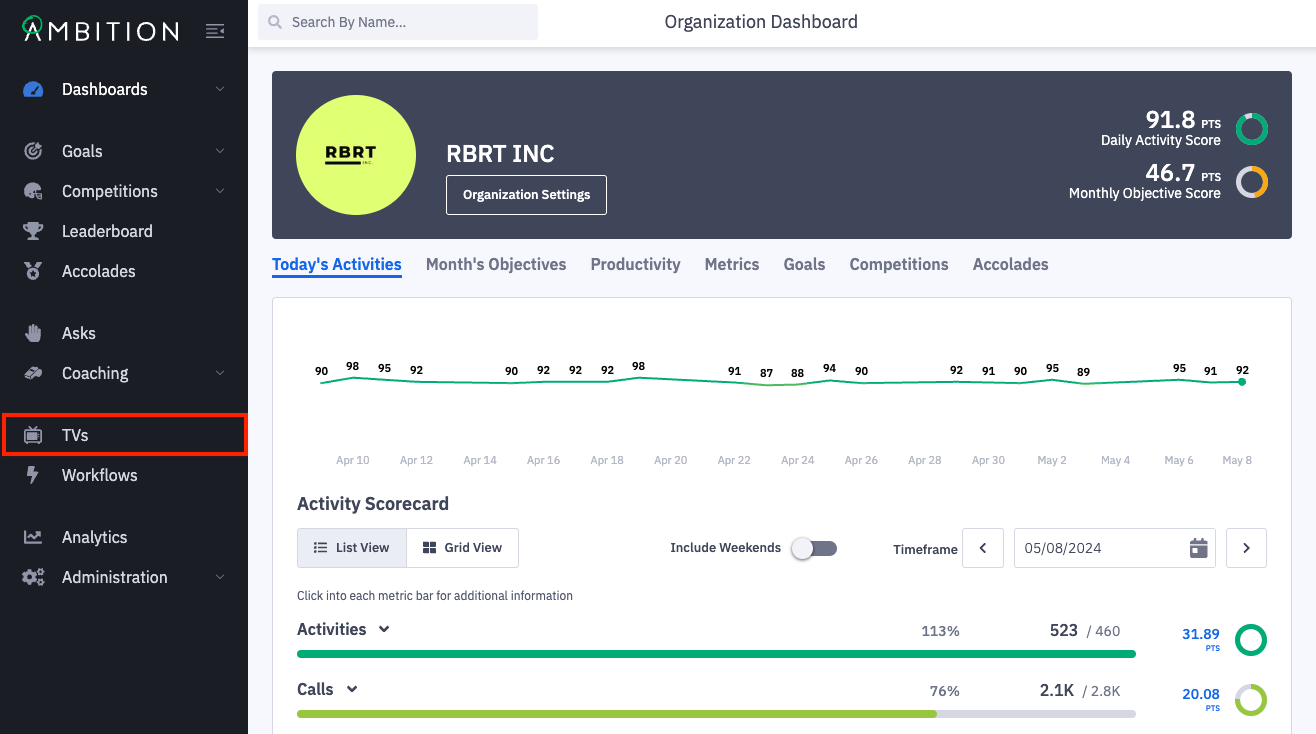 2. Click the + Create TV button.
3. Complete the TV Details form.
TV Details
Field
Field Description
Display Name

Required.

The TV's Display Name.

The Display Name will be displayed in the TV Management grid.

URL Name

Required.

The name/identifier to be used in the TV's URL.

Can only contain letters and hyphens with no spaces

The name will be a part of the TV's URL

Branding

Apply existing TV branding to this TV

Learn more about Custom Branding for Ambition TVs here.

Employee Anthems

Allow User or Group selected Anthems to play when a TV Workflow is recognizing them.

On by default.

An Anthem is a User or Group selected Youtube video to be displayed on the TV for personalized recognition.

Anthem Duration

Required.

How long the Anthem will be displayed on the TV.

20 seconds is the default. Options include 10, 20, 40, and 60 seconds.

Default Anthem

Required.

The video to be displayed if an entity has not set an anthem.

The default Anthem will be this video unless changed.
4. Click the Save button.
Upon save you will be redirected into the TV to build out Slides, Workflows, and Quotes.