Ambition Coaching
Coaching is included in Coach, Pro, and Enterprise Packages.
Coaching can be a black hole without visibility into the impact your 1:1s are having.
Our turnkey program builder allows you to build custom, scalable, and effective 1:1 coaching tracks for your entire sales organization. Personalize programs for reps that need the most help, or scale them to fit the needs of an entire team.
Benefits of using Ambition Coaching
Why Utilize Ambition Coaching?
Coach reps and drive success. Ambition's coaching platform is designed to help sales leaders drive actionable, metrics-driven conversations with reps, resulting in stronger relationships, increased productivity, and better performance.
Benefits of utilizing Ambition Coaching:
Everyone knows that coaching is important, but nobody knows why. Tie rep and team performance directly to coaching programs to see the exact impact that coaching programs (and your time!) are having on performance.

Make the most of your time together. Get answers to key questions in advance, look at rep performance and progress against goals without having to search for reports, and align on action plans.

Action plan alignment -- reps and managers leaves with the same, documented action items after the meeting. Zero confusion, total clarity.

Coaching via post-it or spreadsheet -- papers get lost and you don't remember what you talked about last time. Keeping coaching conversations in one place, tied to rep performance, lets you stay organized and spend more time developing your team -- not searching for reports, papers, and post-its.
Ambition Coaching Overview
Coaching is made up of 3 key components that work together. Check-Ins, Action Plans, & Notes.
Check-Ins bring Managers and Contributors together in more data-driven, prepared and effective 1:1 coaching sessions. These can either be hosted through one-off check-ins or through recurring programs, which are essentially recurring check-ins.
Action Plans track outcomes of coaching sessions, monitoring qualitative and quantitative measures of contributor improvement.
Shared & Private Notes allow managers to create shared notes with their employees or private notes for their own record keeping.
1. Check-Ins
A) One-Off Check-Ins
Managers can create one-off check-ins that are either scheduled or completed in line (live). Additionally, these one-off check-ins can be added to an employee's existing coaching program to ensure that they are tracked in the coaching utilization reports.
Optionally, teams can create one-off check-in templates that can be used to quickly build a check-in.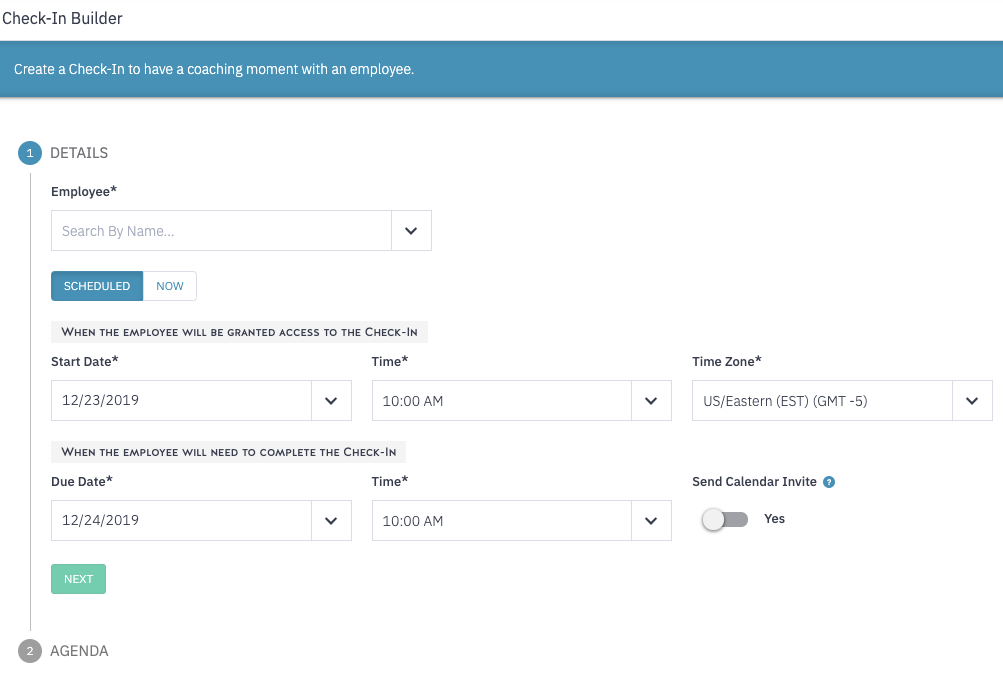 B) Coaching Programs (Recurring Check-Ins)
Each Coaching Check-In is part of a Coaching Program. Those Programs are Manager or Theme based collections of recurring check-ins that share a common manager and participants.
For example:
SDR Daily Update
AE Weekly Update
AE Monthly Pipeline Review
Employee Quarterly Performance Review
Depending on your organization's coaching structure, Ambition offers two types of coaching programs:
Single Programs: Built for a manager and their direct reports.
Managed Programs: Top down approach, built for multiple managers and their teams.
Coaching Sessions and Check Ins
Check ins generated from each Session can be found via the left navigation > Coaching > Check Ins. The amount of Check ins found here will be dependent on Permissions.
Check ins can be filtered by Status so one can quickly navigate to the specific items that need addressing.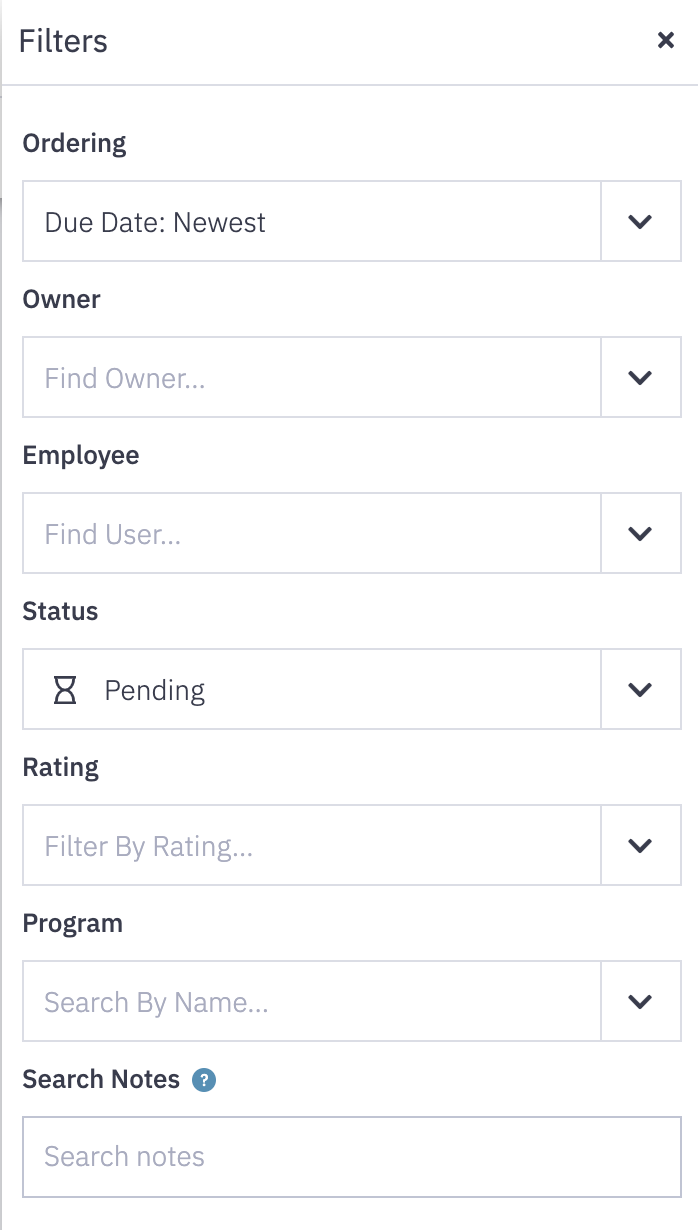 Each Coaching Session is generated for every Manager-to-Contributor relationship and repeated as desired in the Coaching Program.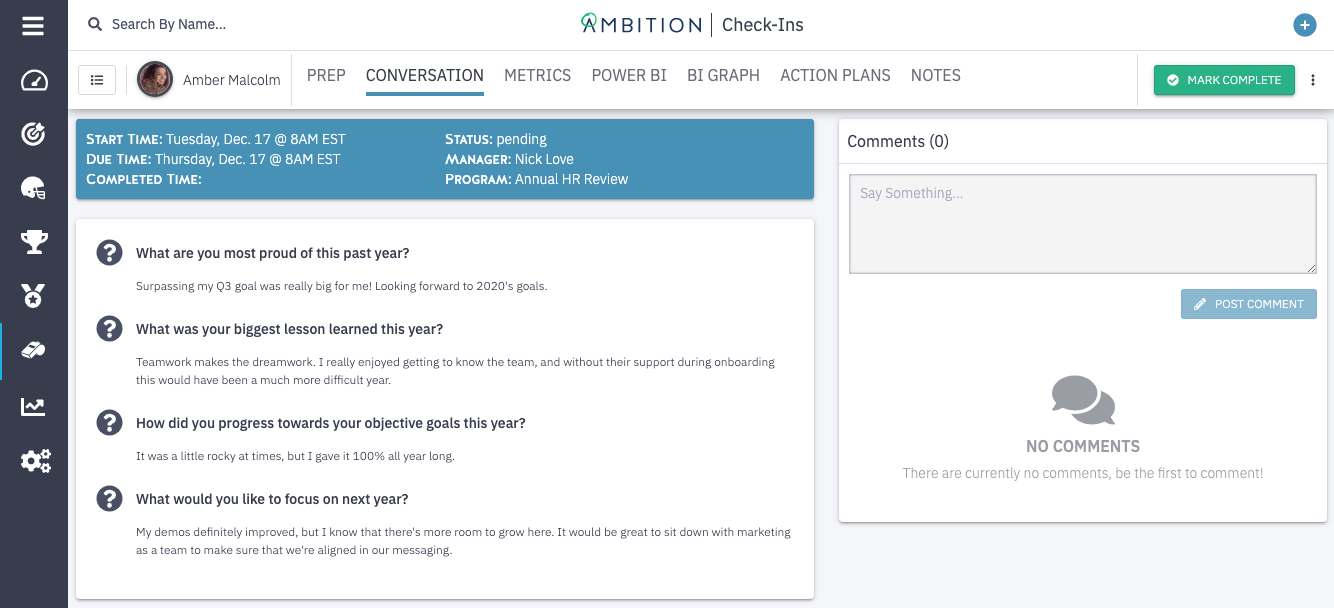 Contributors receive an email at a designated time with each week's coaching questions. They answer and submit those questions before the scheduled 1:1. This ensures that contributors come to coaching sessions prepared and ready to dive right into important topics.
Access to Current and Historical Performance within a Check In

During a check in, both Manager and Contributor have instant access to current KPIs, historical performance, goals, private notes and outstanding deliverables.
After a Check-In, Managers can choose to rate or excuse and then close the Coaching Check in which archives it for historical record.
Check out: How do I create a Coaching Program?
2. Action Plans
Action Plans track outcomes of coaching sessions, monitoring qualitative and quantitative measures of contributor improvement.
Action plans can exist both within a coaching session for week-to-week assignment of deliverables, goals etc... OR they can exist outside of the Coaching Program cadence, tracking longer-term goals, initiatives or improvement projects.
Check out: How do I create Action Plans?
3. Shared & Private Notes
Coaching notes can either be Shared or Private, and can include an attachment.
Shared notes are visible to both the manager & the selected employee.
Private notes are visible to the manager, not the employee.
All notes can be viewed at once within the manage coaching view or on the employee's dashboard (coaching tab).
Check out: How do I create Coaching Notes?