Fantasy Competitions
Fantasy Competition Creation FAQs
General Fantasy Competition FAQs
What is a Fantasy Competition?
A structured competition that involves a regular season and playoffs. Modeled after "Fantasy Football" where either individuals or groups compete against each other week-to-week with best performers entering into a playoff where ultimate winner is determined.
When will games begin?
All games start on Monday and run week-to-week.
How long can a Fantasy Competition run?
Minimum of 1 regular season week is required to create a Fantasy Competition.
40 weeks is the longest # of weeks a regular season can run.
2 additional weeks will be reserved for Playoffs as well.
Can I adjust the number of weeks the Playoffs occur?
No, Playoffs will always be two weeks due to the nature of the bracket.
Playoff Week 1:
Game 1: Seed 1 vs Seed 4
Game 2: Seed 2 vs Seed 3
Playoff Week 2 (Championship):
Winner of Game 1 vs Winner of Game 2
Loser of Game 1 vs Loser of Game 2
What do W/L, PF, PA, and Steak mean on the Standings Page?
The standings page will rank competitors and feature a few statistics about their performance over the season.
W/L = Number of Wins/Number of Losses
PF = Points For (the total points the user/team has scored this season)
PA = Points Against (the total number of points scored against the user/team this season)
Streak = How many games have been won in a row.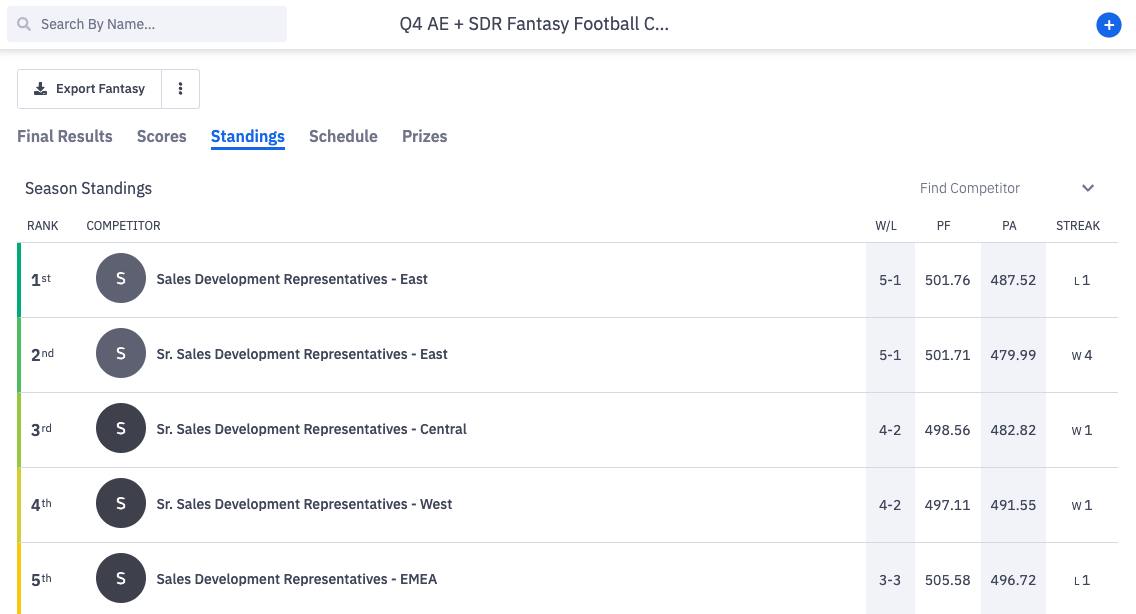 Can I export Fantasy Competition results?
Yes, challenges & fantasy seasons can be exported.
Individual Challenge Export Includes:

Challenge Details (start, end, number of competitors, last processed time, etc.)
Score Configuration
Scores & Prizes
Scheduled Time Off
Comments



Fantasy Season Export Includes:

Fantasy Competition Details (start, end, number of competitors, last processed time, etc.)
Score Configuration
Final Results (win/loss record, points for, points against, streak)
Scores (including regular season and playoff matchups)
If Prizes are set and awarded in a Challenge, each individual Challenge's prize winner can also be exported. Learn more about Prize Exports here.
Creation of Fantasy Competition
Do I have to keep up with and create brackets?
Nope! The schedule is determined automatically.
Ambition created the bracket, but can I rearrange or change any matchups?
No, at the current time the bracket is created automatically and cannot be manually adjusted.
Will I be able to view the schedule/bracket ahead of time?
If you created a Fantasy Competition where the Season starts the following week or any other week in the future, the schedule will not be accessible in Ambition until the Start Time.
If the regular season is coming to an end, the Playoff match ups will not be visible until the week the Playoffs begin.
I created a Fantasy Competition, but where did it go?
If you created a Fantasy Competition where the Season starts the same week you created the competition, don't panic if everything doesn't show up immediately. Ambition is compiling the bracket which may ~5 minutes to process, especially for large team competitions.
If you created a Fantasy Competition where the Season starts the following week or any other week in the future, the schedule will not be accessible in Ambition until the Season's Start Time.
You can see any Fantasy Competitions you've created through the left navigation > Competitions > Manage.
Filter for Competition Type = Fantasy.

Competitors
How will Users know about the Fantasy Competition?
Competitors will receive email notifications each week when a competition starts and ends.
Learn more about Competition emails here.
Does it matter how many teams I have?
You must have at least 4 competitors. If you have an odd number of competitors participating, an Ambition Phantom player will be created to ensure there is always a matchup between two players with no competitor sitting out.
What is the Ambition Phantom?
When an odd number of competitors are being used, the Ambition Phantom is a headless competitor to ensure that no competitor get a "bye" week, or a week with no competitor. The Phantom's score will be the average score of all competitors. We recommend multi-user style Grouping and average Metrics especially if the Phantom will be participating as a competitor.
Can one team be in two different Fantasy Competitions?
A competitor (for example, Team A) cannot compete in simultaneous Fantasy competitions.
In the case of desiring two full Fantasy Competitions back-to-back, the current Fantasy Competition will have to finish before a new Competition can be created.
Note: A User can compete in a User vs User Fantasy Competition while also being involved in another Fantasy Competition as a part a competing Group.
Ex. Joe Smith is competing as an individual in Fantasy Competition A, and also competition as a member of a Challenge Team in Fantasy Competition B.
What happens if a Team/Group/Role that's competing is disbanded or deleted during the Fantasy Competition?
In a case where a Team/User is deactivated or deleted during the course of an ongoing Fantasy Competition, the Phantom will take the place of the deactivated entity. If the Phantom was already participating in the Fantasy Competition, a second Phantom competitor will be generated as well.
Scoring
What is used as a tiebreaker?
In the case of a tie, the winner is determined by their projected score (which analyzes the past 12 weeks of historical performance).
Can I compete on Objective Score instead of a specific Metric?
If you wish to compete on Objective Score you can only do so if the Objective Score time frame is set to Weekly.
How are Fantasy Score Projections Calculated?
Within a Fantasy Matchup, Users can see how they or their team stacks up when compared to other competitors. A User can view progress towards each Metric in the competition, their score progression, and score projection (dotted line) which is calculated using historical performance data.
Projections are calculated by analyzing the past 12 weeks of data (if available) and makes an educated guess on what any individual user/team will score. The more data our system collects, the more accurate Projections get. With that being said, it is still just a prediction.