Salesforce Report2Metric
Ambition can translate Salesforce reports into Ambition Metrics. Which is perfect for saving time and handling complex multi-Object Metrics.
We recommend using the Metric Builder for all (except your most complex needs) as it uploads Data faster than through the report interface -- reports update every 10 minutes vs ~1 minute from an Object.
This is a comprehensive guide to setting up Salesforce Reports to be used as data sources within Ambition. We advise working through the entire document if this is the first time that your Organization has utilized Report2Metric within Ambition. Below are quick links to specific aspects of setting up Salesforce Reports.
What is required for Report2Metric?
How do I set up the Salesforce report?
What Salesforce Report formats are accepted?
How do I sync a Salesforce report with Ambition?
What if I have questions about my Salesforce report setup?
Report2Metric Requirements
Ambition reverse-engineers reports and runs the data through native Apex code to avoid incurring API calls. This is a tedious and imperfect process, there is a possibility that Ambition will not be able to translate your report into a Metric.
To ensure the best chance of success, the following requirements must be met:
Only Tabular and Summary reports are supported. Matrix and Joined reports are not.
The report must contain a Lookup(User) Field column indicating who will get credit.
The report must contain a Date Field column indicating when credit should be applied.
If the report is Tabular, it must contain an Object ID column to ensure record uniqueness.
The report cannot return more than 2,000 records for the given time range, this is a Salesforce limitation.
The report cannot contain a chart.
If the report contains Formula fields they must only utilize basic math (+, -, *, /).
Set up the Salesforce Report
Create a Report folder in Salesforce called Ambition (DO NOT TOUCH)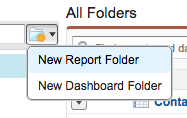 If the desired report already exists, save a copy into the new Ambition folder. Otherwise create a new report.
Once a report is synced with Ambition you CANNOT modify the report within Salesforce.  You will need to unsync the report, make your changes, and then resync. You will lose historical data doing this.
Establish report filters.
Set Date Field to field correlating to when credit should be received for metric.
Set the Range to Today, This Week, or Last 30 Days.
If you select a Range larger than 30 days, it will be overridden for compliance with the Salesforce limitation of 2,000 rows for a given time range.
Add logic as necessary, for example "Status equals Completed".
Establish the report format and columns. Save the report.
Accepted Report Formats
Tabular Format
With this format Ambition will not require you to select a User Field upon syncing. Tabular Reports will be treated as a Custom Object, and you will have the flexibility to build metrics around any User Lookup Fields your Report contains.
Add a User Field, Date Field, Object Id column. Ensure that the Date Field column matches the Date Field filter used above.
In the example below Ambition will create a metric with Jared receiving a value of 3 for 8/2/2016 and Travis receiving a value of 2 for 8/2/2016.
Summary Format
With this format Ambition will create 2+ metrics. The first will be derived from counting rows already grouped by user and date. The second and third will be aggregated metrics based on a summarized field. Use this format if you're wanting to track summed records like "New Opportunity Revenue" or "Talk Time".
Group by User Field and then Group by Date Field. Ensure that the Date Field matches the Date Filter used above.
Add a numerical column to the report, hover over the column header and click the arrow, click Summarize This Field, and then select Sum and/or Average.
In the example below Ambition will create a metric with Joey receiving a count value of 1 for 7/7/2016, 2 for 7/20/2016, 1 for 7/25/2016, and 1 for 7/26/2016.
In addition Ambition will create a metric with Joey receiving a sum value of $39,600 for 7/7/2016, $65,000 for 7/20/2016, $14,580 for 7/25/2016, and $9,900 for 7/26/2016.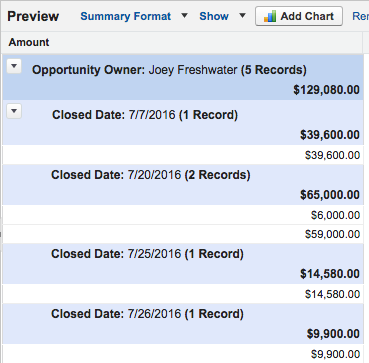 Sync Salesforce Report with Ambition
1. Open the left navigation and click Administration > Data > Integrations.
2. Click the Settings button to enter the Salesforce Integration.
3. Click the Report2Metric tab.
4. Search for and click the green Sync button next to the desired report.
If you do not see your report, click the Refresh button.
5. If Tabular, select the relevant Date Field. If Summary, select the relevant Date AND User Field.
-- Again note that a Lookup(User) Field is required --
6. Click the green Sync Report button.
6. Wait for verification that the report has synced.
6. Click the Metric Builder tab, find the newly created Metric(s), click Edit.
7. Rename the Metric and add a description. Click the Save button.
Your Report Metrics are now created. Depending on report size it might take 10-20 minutes for data to populate within Ambition.
Troubleshooting Report2Metric
If you are running into an error upon sync, email us at gethelp@ambition.com so that we can help diagnose the issue.
Including a screen shot of your report and it's filters in your original reach out will help us identify the issue and assist quickly.!