Ambition Quadrant
The Quadrant Reporting feature takes the guesswork out of productivity measures.
On the Quadrant, you can see each of your Users based on correlation to their Activity and Objective Scores.
Each point on the Quadrant represents a User. When the point is clicked on you will be able to see: the User's name, Activity Score, Objective Score, and Productivity Rate.
Based on where a User is displayed, you can have the appropriate game changing or encouraging conversation that needs to happen.
Access the Quadrant
1. Access Analytics via the quick actions button (Analytics and Alerts > Analytics) or through the left navigation (Reporting > Analytics).
2. Click the Filters button to slide out the filter menu.
3. In the Filters pane, select Quadrant from the Mode dropdown menu.
4. Use the advanced filters to find the desired data for cause and effect relationships.
Filters include: Metric Selection (x and y axis), Custom Dates, Time Frames, Hierarchy Level, Include Weekends, and Show Outliers.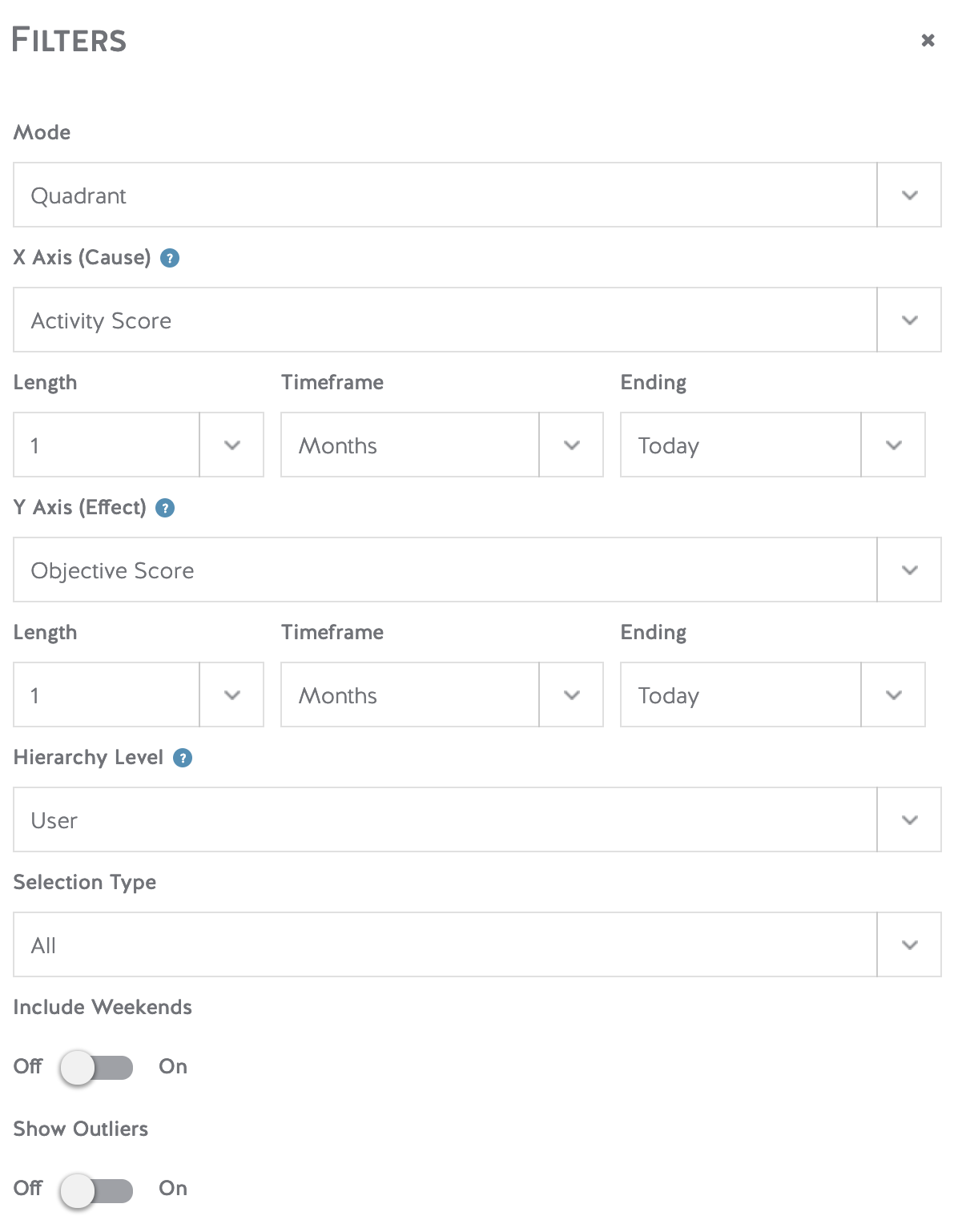 Utilize the Quadrant
Input? Output? What Am I Seeing?
The Quadrant is based on the cross section of Activity Scores vs Objective Scores.
The level of input is based on Activity Scores. What level of work is a User inputting on a daily basis?
The level of output is based on Objective Scores. What level of output is a User generating on a monthly basis?
Watch how National Business Capital uses the Quadrant to catch red flags.
High Input, High Output
Average Daily Activity Score: 98
Monthly Objective Score: 94
These folks deserve a high five, a shoutout, a congratulations from their Manager. Let them know you recognize their hustle.
"Great job this month!"
Low Input, Low Output
Average Daily Activity Score: 23
Monthly Objective Score: 22
These Users need some long term strategies. This is not a one and done fix, but a chance to work on the whole process.
Set a Goal first thing. Pick a Metric on the front end of the sales process.
Once that Goal is met and exceeded, create a new Goal further in the sales process.
"Alright, well you didn't hit any of your Goals which makes sense as you didn't put in much effort. Let's address your lack of motivation and have an honest conversation as to whether you fit into the role."
High Input, Low Output
Average Daily Activity Score: 104
Monthly Objective Score: 19

Lots of work is being done without much payoff. Let's change that and move these Users into the High Input, High Output.
Find where the gap in process is occurring. Present an area that can help fill the gap and turn out results. "If you do five times more of X, this is what your bonus could look like."
If the high input with no results continues, these Users can easily burn out and shift to the left in the Quadrant.

The drive is there. Let's focus on turning that work into results.
"I love the hustle, now let's work together to see results. Let's setup time next week for me to shadow some calls and appointments."
Low Input, High Output
Average Daily Activity Score: 31
Monthly Objective Score: 123
First, make sure Users are correctly logging their Activity. If logging is correct and you want more revenue? These are the Users to motivate!
For little input they have achieved high output, which makes you wonder what's their true potential if motivated to step up their input.
It may be these Users send captivating emails or are magic at converting leads. No matter the reason, finding out what they are doing to achieve high output can only help your Organization.
"Well... great job as your numbers are outstanding. I'm curious, would you mind helping me understand your low Activity Score? Maybe you forgot to log some things, or maybe you're process involves tasks we're not currently measuring/scoring but should be?"