Interact with Coaching Sessions and Check Ins
New Coaching Sessions (and subsequently, each employee's Check-In) will be generated based on a Program's cadence.
The Manager, Contributor, and Ambition Admin can see the shared Coaching Sessions. While Admin will not directly interact, they can access the Coaching Check-ins as an "Observer" if they desire.
How will my employees interact with Ambition Coaching?
How do I interact with Check Ins?
How do I rate or excuse Check Ins?
How do I search for Check Ins?
How do Managers Interact with Coaching?
Managers will be notified both in-product and via email when an employee's Check-In is ready for review and approval.
Navigating to Check Ins within Ambition:
1. Open the left navigation and click Coaching > Check Ins.
You see all coaching sessions that are applicable to your account as a User AND as a Manager.
Managers

will see all check ins that they host and, if applicable, any check ins that they are personally required to do with their corresponding supervisor.

Employees

will be shown a list of their personal check ins, listed by date and status.
They will then navigate to the Check-In where they will have the options to:
review the answers
provide a rating that is visible to both employee and manager
excuse the check in if necessary
optionally leave comments (No notification is sent upon leaving comment)
either click the Conversation Bubble to Request Feedback or the green Check Mark to complete
Requesting feedback typically corresponds with leaving comments where a manager will ask for additional clarification or details. The employee will be notified that the Check-In has been reviewed but has not been approved.
Upon clicking Complete the employee will be notified that the Check-In has been reviewed and has been approved.
Check in Rating
Clicking the blue Star button will allow a Manager to Rate or Excuse a respective Check-in.
Rate
There are four different ratings that can be assigned to a Check In:
Exceeded Expectation (Score of 3)
Met Expectation (Score of 2)
Below Expectation (Score of 1)
Did Not Complete (Score of 0)
Excuse
A Check In can be marked Excused as necessary; for example, when an employee is on vacation.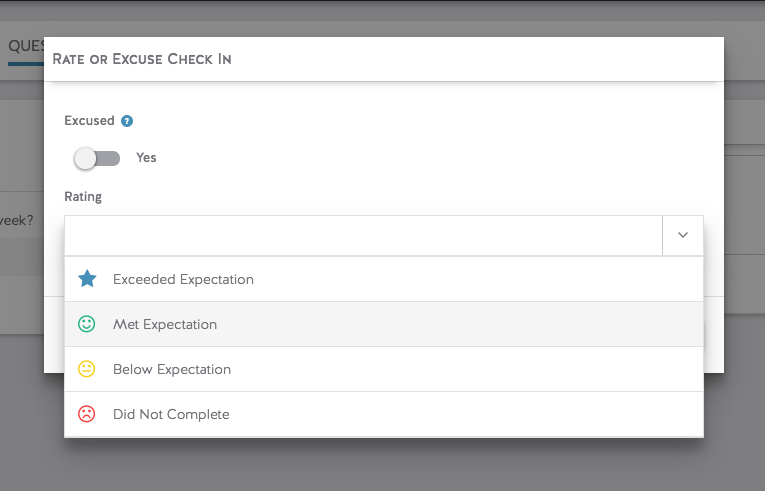 Search for Coaching Check Ins
1. Open the left navigation and click Coaching > Check Ins.
2. To begin your search, click the blue Filters button.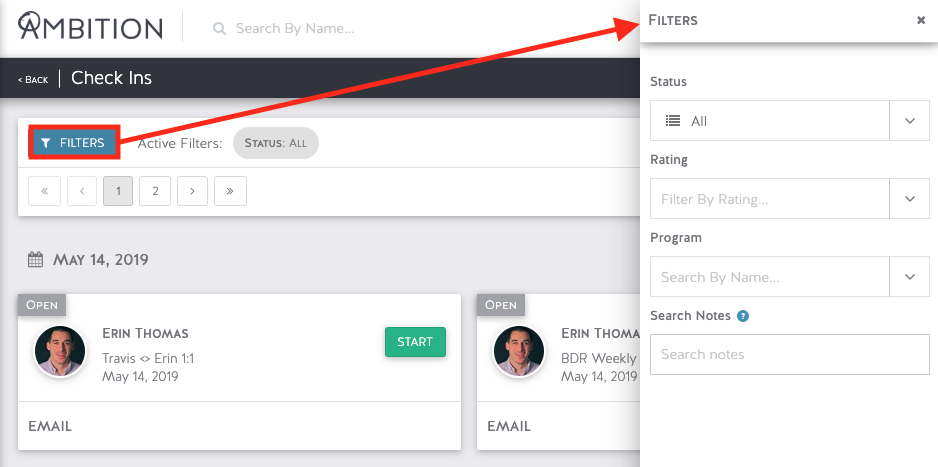 Managers can search for Check Ins through the following methods:
Owner: Search for managers or admins who own the check in.
Status:

Open

: Action is required either from the manager or employee before it's complete.

Pending

: Waiting for the manager to review the employees response.

Complete

: Signed-off by both parties.

Closed, Not Complete

: Expired before being completed by both parties.

Excused

: Excused by the manager, for events like vacations.

Upcoming

: This filter will only show upcoming one-off check-ins. Recurring program check-ins are made available just-in-time, and will be shown in the open filter.

All

: Pulls in all check ins, regardless of status.

Rating: Search for completed check ins based on employees performance:

Exceeded Expectation
Met Expectation
Below Expectation
Did Not Complete

Program: Search for check ins by program name.
Search Notes: Search through your private notes from previous check ins.