Ambition Goals
Goal Overview
In Ambition, a Goal has a very specific meaning. A Goal is a milestone or threshold that individual Users or a Group works together to achieve.
Ambition offers a flexible, powerful Goal Management system that can be used both standalone or as part of the greater performance management system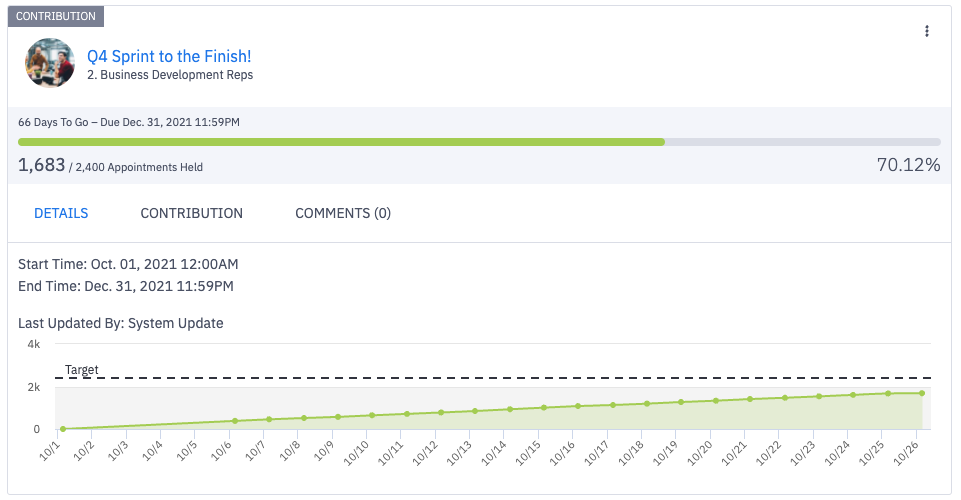 Why create Goals in Ambition?
More visibility equals more success. Keep your reps focused on progress towards goals by visualizing how each activity gets them closer to success. Seeing is believing.
Your Goals deserve a home. Goals are typically discussed only on occasion and are hidden in systems, spreadsheets, and piles of paper. How are reps supposed to know how close they are to hitting them, providing the motivation to work to reach key goals?
For a how-to guide on creating Goals in Ambition, click here.
Goal Categories
Ambition explicitly supports the following categories of Goals:
Contribution: The most common Goal. Positively impact bottom line of company, group, or self. Typically tracked automatically through Ambition Metrics.
Connection: Acquire new knowledge, skill, or competency.
Career: Build, develop, or reinforce relationship(s).
Capability: Take action to grow professionally.
We recommend adhering to the S.M.A.R.T system where each Goal is Specific, Measurable, Achievable, Relevant, and Time-Bound.