Recurring Challenges
Recurring Challenges happen again and again on a predictable schedule. They are ideal for weekly, monthly, or daily competitions.
Create a Recurring Challenge
1. Open the left navigation and click Administration > Competitions > Challenges.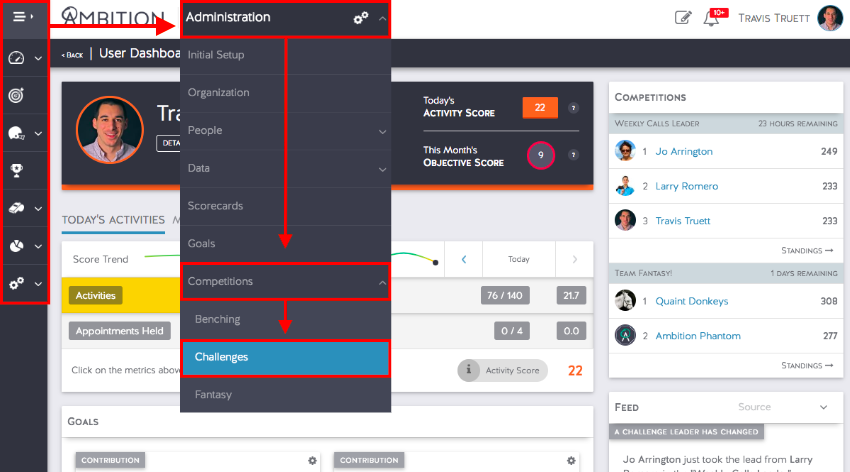 2. Click the green + Create Challenge button in the top-right.
3. Complete the Create Challenge Form. Fill out the following fields:
1. Challenge Details
Name: We recommend a name which explicitly includes Metric and time frame.
2. Schedule
Like to see some examples of Recurring Challenges?
Challenges can either take place on a single or recurring basis. In this article, we'll discuss Recurring Challenges.
For Recurring Challenges, move the selector to Recurring

Establish the Initial Event

Start Date, Start Time and Time Zone
Set the Start Date, Start Time and Time Zone, establishing the start of the Initial Challenge
Note: Retroactive, or Challenges with a Start Date in the past, will default to have a Start Time of 12:00AM
End Date and End Time
Set the End Date and End Time of the first Challenge, establishing the Challenge duration. The same Time Zone will be used.
The duration, or period between Start Date/Time and End Date/Time of this competition will be used for all future recurrences of this Challenge
Establish Frequency of Each Recurring Event
The frequency of recurrence determine how often this Challenge will repeat. The "smart" selector below will anticipate your intention allowing for both discrete dates and relative-weekly scheduling.
The flexibility of this interface enables recurring schedules such as:
Every Week
Once per Month
2nd Monday of Every Quarter
Last Friday of Month
Establish When The Recurrence Ends
Recurring events will continue on forever, unless an end is defined. Recurring Challenges can end after a certain # of occurrences or after a specific date.
3. & 4.   Challenge Setup & Competitor Selection
Competition Metric:
This is the KPI or Metric that will be used to calculate "points" for this Challenge. It's important to keep in mind the frequency with which your data is pushed to Ambition (hopefully real-time), in relation to the competition.
A single-day Challenge won't be very impactful if your Metric data is pushed over every night at midnight.
Hierarchy Level:
Select which Hierarchy Level to compete at. Read more about Ambition Hierarchy Levels here.
Competitor Selection:
Select whether all or specific members of User / Groups will compete in the Challenge.
Scoring Type:
If selecting a grouped competitor type (not User level hierarchy), determine if the Group's scores will be Averaged or Summed.
Averaging is a great way to normalize for unbalanced quantities of contributors on a Team.
Summing is a great way to normalize for differing degree of skill between Teams.
Competitor Selection:
If All Users or Groups will compete there is no need for Competitor Selection, and this section will remain blank.
If a Custom or Within grouping is selected, pick specific Users / Groups to compete in the Challenge.
5. Prizes 
(optional)
Prizes are not required, but if appropriate 1st, 2nd, 3rd place prizes can be listed here.
These prizes are displays along with the Challenge on Dashboards.
6. Add to TV
(optional)
Optionally display your Challenge on an Ambition TV.
Select the respective TV(s) you'd like your Challenge to appear on.
Select an End Date from the End Date dropdown if you'd like the slide to stop being displayed at a specific point in time.
At this time Recurring Challenges can be displayed on a Challenge slide, but will need to be saved to the most recent recurrence based on the chosen cadence.
Ex. Weekly Challenge that recurs every Monday. Each Monday the slide will need to be resaved to the latest recurrence of the Challenge by selecting the last occurrence of the Challenge's name in the Which Challenge dropdown.
Finishing up
Once you've completed the Challenge Form, click the green Create Challenge button in the bottom right.
Participants will be notified via email before the Challenge begins, and can track progress via Dashboards.