My Settings
As you check out your "My Settings" page, you may find that several parts of your form is locked. This is due to how your organization calculates data and assigns it to you. We will walk through setting up the sections of the form below as it needs your personal touch!
Details
First Name, Last name, and Email most commonly be locked. These will be publicly displayed on your Dashboard.
Title (optional per Organization) will be publicly displayed in the Details section of your Ambition Dashboard.
Cell Phone will not be displayed, but privately held for not-yet-launched mobile notifications.
Work Phone (optional per Organization) will be publicly displayed alongside your Email in the Details section of your Dashboard.
As mentioned, the majority of this information will be displayed by clicking the Details button on your Personal Dashboard. 
Profile Image
If your Organization utilizes our Salesforce Integration, your Salesforce profile picture will have been synced over. If not, please take the time to upload a profile picture!
1. Click Choose File.
2. Select and upload the desired image from your device.
Running into an error? Make sure your image size does not exceed our 2MB file size.
Bio 
(optional per Organization)

You are given the option here to write a short bio about yourself, your role, your history with your organization, etc.
Your bio will also be viewable by clicking the Details button on your Dashboard. 
You may be given internal guidelines or requirements as to what information needs to live here, but even if not required -- please take a moment to tell your co-workers about yourself!
Anthem URL
What is an Anthem?
An Anthem is your personalized YouTube video that will play on an Ambition TV when you've reached company-defined accolades.
Your Anthem can also be viewed in the Details section of your Dashboard and on the Leaderboard when you're in the Top 3.
How do I set my Anthem?
1. Find your desired video on YouTube
2. Click on Share found under the right corner of the video
A pop-up will be generated containing the video's shareable URL.
Want only the chorus or a section of the video?
Ambition supports the ability to start your video at a specific time. Feel free to check the "Start At" box and set the start time which will update the shareable URL.
3. Update the Start At time if desired, and click Copy.
4. Paste the URL into the Anthem URL field. Click the blue Test button to preview your anthem within Ambition.

GIF URL

Set a custom GIF to add extra personalization to your profile image, presence on Leaderboards, and Slack Triggers.
If a GIF is set, it will reveal itself when a profile picture is hovered over or you are in the Top 3 on a Leaderboard
If your Organization utilizes our Slack Integration, this GIF will be displayed within Slack-based Triggers you initiate.
Start Date/Birth Date
Because Ambition supports the capability to recognize birthdays and work Anniversaries, be sure to set both of these notable dates.
Set yourself up for that work anniversary and birthday shout-out by setting these two dates!
1. Clicking on the down arrow will populate a calendar where you can select the Month and Date for each occasion.

2. Use the side arrows to toggle to the correct Month. Click on the correct Day and then click Ok.
No need to fret, the year of your birth date will not be displayed!
However, be sure to select the correct Year for your Start Date so you can be recognized correctly for your tenure.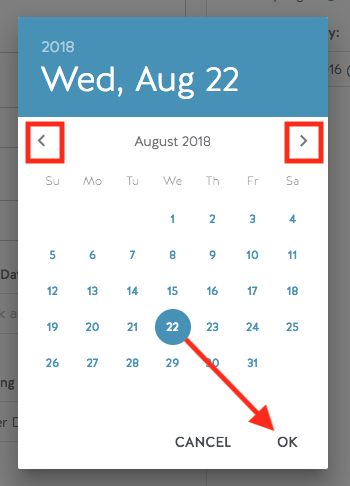 After all your updates are made, be sure to click the green Save Changes button at the bottom of your settings.