Personal, User Dashboard
Dashboards are included in Gamify, Coach, Pro, and Enterprise Packages.
If you've had a chance to log in already, you've seen a Dashboard similar to the image below.
To help familiarize yourself with Ambition, we will walk through each section of your Dashboard.
Dashboard Breakdown
You'll first notice your name! This is because it's your personal Dashboard.
A Dashboard exists for every Group within Ambition, ex. Role, Team, Location, but this one is all yours! You will also notice the designation "User Dashboard" above your name to let you know just where you are.
Upon clicking the Details button, more information about yourself will be shown.
If the information has been provided in your settings, your Bio, Work Phone, and Start Date will be shown.
If you've set an Anthem, the Anthem Not Set text seen above will change to a See Anthem button. When clicked, See Anthem, will play the selected YouTube video directly on your Dashboard.
The Memberships listed on the right side are determined by which Groups you have been associated with in Ambition. Each Group's name is a clickable link to that Group's Dashboard.
Quick Actions
In the upper right corner, you'll find the Quick Actions button.
Clicking the Quick Actions button will reveal a modal which provides quick access to the action you may want to take in Ambition.
The options shown and features you have access to will be dependent on your Permissions and your Organization's Ambition package.
Dashboard Tabs
Scorecard
Scorecards are included in Gamify, Pro, and Enterprise Packages.
A Scorecard generates super-scores for you: Activity Score and Objective Score.
These measure your weighted attainment of Metric benchmarks. Similar to grade-school, these scores are measured on a 0-100+ scale.
We want you to have no questions about where you stand for the day, week, or month. A 0-100 scale in conjunction with the red - orange - yellow - green color progression gives you a quick, concise look into your performance.

Why is My Scorecard Blank?
If at any point in time you see a blank Scorecard like the one below, whether it's the first time you log in or a year later, you will want to reach out to your Manager or Admin and have them verify your Group Memberships.
Since your Scorecard setup, benchmarks, and weights are determined by your Groups, most often Role, if you don't belong to a Role with a configured Scorecard a "No Data" message will appear.
Coaching
Coaching is included in Coach, Pro, and Enterprise Packages.
If you are involved in a Coaching Program(s) within Ambition, you can interact with your Check-ins right on your Dashboard!
Through the Coaching tab you can:
Respond directly to open Check-in and Action Plan agenda items
View historical Check-ins, Action Plans, and Notes
View Coaching Analytics
View open and historical Asks
Metrics
The Metrics tab is included in Gamify, Coach, Pro, and Enterprise Packages.
While metrics that are a part of your Activity and/or Objective Score will display by default, the Metrics tab allows you to view your contribution towards all other metrics that are not a part of your Scorecard as well.
↳ Click the Displayed Metrics button, to view metrics that are not a part of your Scorecard.
Scroll and Search for Metrics you wish to view on your Dashboard's Metric Tab.
Check the box next to a metric you wish to view on the Metrics tab. Uncheck the box next to any metrics you wish to remove from viewing.
Choosing Select All will display all active metrics your Organization is utilizing in Ambition.
Note, these selections do not permanently update the metrics shown as the Metrics tab will always default to just your Scorecard metrics.
Metric cards are able to be sorted Alphabetically, by metric name, or by Rank, your place on the Organizational level Leaderboard.
The values you are viewing will be representative of the Time Frame selected in the Time Frame drop down in the right corner. ex Today, This Week, Last Month, etc.
Trends are viewable by clicking the Trend icon on each Metric Card.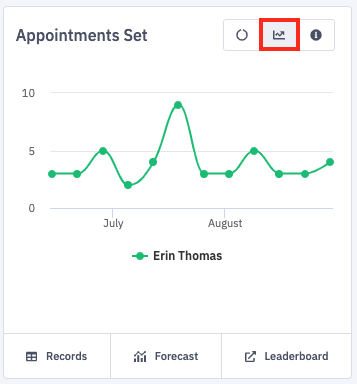 To generate a Comparison Trend line, you will first select a User, Role, Team, etc to compare yourself against through the Comparison drop down.
You will then be able to view your historical trend line against the User, Role, Team, etc you selected to be compared against by clicking Trend icon on each Metric card.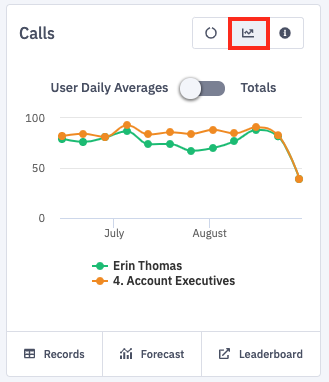 You can also compare your contributions against other Users, Role, Teams in your Organization through the Leaderboard option.
Clicking Leaderboard on a metric card will navigate you into a Leaderboard for the respective metric and time frame.
Forecasts
Forecasts are included in Gamify, Coach, Pro, and Enterprise Packages.
When viewing a week, month, quarter, or year time frame, at the bottom of each Metric card, you will see a Forecast button. The Forecaster feature predicts your team's achievement of a particular metric based on previous efforts.
Over time, this feature will become more and more accurate as it analyzes performance trends.
As mentioned in the Forecaster description, viewable by clicking Explanation, we need at least 4 months of data to accurately display your forecasted organizational contributions.
Historical data is are utilized to display potential achievements as well as tracking the selected time frame data against last time frame's record progress, in the example shown This Week vs Last Week. A percent change is calculated as well.
Goals
Goals are included in Coach, Pro, and Enterprise Packages.
Ambition was built on the idea that employees should be given the opportunity to own their success. To support this belief, we utilize goal setting, both on a public and private scale.
On your Personal Dashboard, under your Scorecard, you will be able to see any Goals that have been set for you or you've set for yourself. This will serve as a personal tracker of any ongoing Goals that you are contributing towards either as an individual or member of a Group.
Competitions
Competitions tab is included in Gamify, Pro, and Enterprise Packages.
Active Competitions that you are competing in as an individual or a team member can be monitored right on your Dashboard!
You will be able to see your rank in the competitions on your Dashboard, Erin is in 23rd and 25th respectively, and clicking View Game will navigate you into the specific competition for more details on scoring, ranks, and any available prizes!
Learn more about how to see your rank in a Competition.
Accolades
Accolades are included in Gamify, Pro, and Enterprise Packages.
Any Accolades that you've received will be featured on your Dashboard as well as the ability to pin your favorites!
Learn more about viewing and pinning Accolades.
Feed
Feed is included in Gamify, Coach, Pro, and Enterprise Packages.
A cumulation of applicable highlights associated with Ambition.
The Feed is not customizable at this time, but can be filtered through the Source dropdown.