Slack and Ambition
Prerequisites:
Organization has an existing Slack Account
The Slack integration within Ambition has been enabled and authorized
How do I send Ambition Workflows to Slack?
How do I use Slash Commands in Slack?
Workflows
An Ambition Workflow is a data-driven push notification, commonly used to recognize a person/group for reaching a metric threshold. Through the Slack integration you can send Workflow notifications to a specific Slack channel (alongside the Ambition TV).
Learn more about the different types of Workflows here.
Example Slack Notification Workflow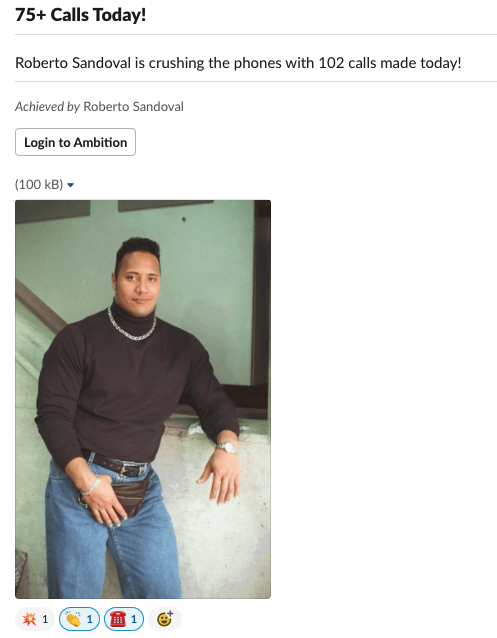 If an employee's Ambition email matches their Slack email we will @tag the user within the Slack notification, otherwise we will display their name.
Slash Commands
If your Organization used the Ambition Slack Integration prior to October 14th, 2020, reauthorization of the integration is needed to access Slash Commands.
Once your organization has enabled the Slack integration within your integration settings, you will be able to use Ambition's slash commands.
Learn more about Ambition's slash commands here.
If you have any questions about Slash Commands or the Slack Integration, please reach out to
gethelp@ambition.com
.