Metric Reprocessing
When changing a Metric's logic you have the ability to determine if this change should apply retroactively or moving forward.
This allows your operations team to have maximum flexibility in keeping process changes in-sync with Ambition Metrics.
How is existing data impacted?
How do I reprocess historical data?
When do I need to opt out of reprocessing historical data?
How is Existing Data Impacted?
By default, Ambition will not reprocess your existing data to reflect the new changes, your new logic will only apply from today forward and all historical Metric values will be LOCKED in-place.
If you need the changes applied retroactively you can select a specific date from which the changes should be in place. This will result in Ambition reprocessing your historical data.

Any changes to the Object, User Field, or Date Field will require all relevant data to be re-uploaded/re-imported in order to accurately reprocess historical Metric values. If your Organization utilizes our Salesforce Integration, reimporting will kick off automatically. API/FTP/File Upload will require data to be resent to Ambition.
If you have a question about whether or not Metric Logic has already been "locked", reach out to gethelp@ambition.com
Reprocess Historical Data Upon Editing a Metric
These steps begin after a Metric has been Edited. If you have questions on accessing your Organization's Metric Library, or how to put Metric Logic in place, navigate:
Here for Salesforce Integrations
Here for API Integrations
Here for FTP Integrations
Here for File Upload Integrations
1. Click the green Confirm and Save Changes button.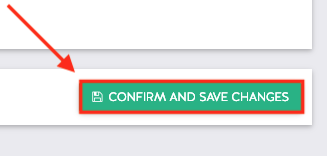 2. Confirm Metric Changes.
In this example, a filter has been changed.
If you see changes listed that you do not wish to occur, click the white Cancel button in the lower left hand corner.
3. Toggle Reprocess Historical Data to Yes.
4. Click on the Reprocess Date dropdown to reveal a Calendar picker.
Select the Date from which you need the Metric changes to be applied.
The Calendar will default to Today's date.
5. Verify that Reprocess Historical Data Toggle is set to Yes, and the Date from which you need the Metric changes to be applied is correct.
Click the green Apply Changes button.
Example Use Case for Opting Out of Historical Reprocessing
You are a new company and you're currently using Salesforce and have built an Outbound Calls metric that looks at the Task Object using the logic below.
Subject CONTAINS Outbound Call
This is typically how organizations start out but realize over time it's imperfect, it would be more accurate to transition from the Subject Field looking for a phrase (assuming it was entered correctly) to a Type Field where you simply pick the correct option from a dropdown.
Type EQUALS Outbound Call
You can now transition your Ambition Metric from looking at the Subject Field to the Type Field and maintain historical accuracy by telling Ambition exactly when to take your change into effect. Since the Type field is a new field in your SFDC instance, there is no need to reprocess historical data because the field did not exist.