Ambition Inteface Language Translation
Ambition has Users all around the globe, and we want everyone to feel engaged!
Will Ambition be translated into my native lanaguage?
While Ambition will not inherently be translated based on your Location or Time Zone, the Ambition interface can easily be translated through Google's built-in translation tools.
Tranlate Ambition's Interface with Google Chrome
Steps from Google's Help Documentation found here.
On your computer, open a Google Chrome browser window.
Login to Ambition
At the top, click

Translate.
Chrome will translate the webpage this one time.
Not working? Try refreshing the webpage. If it's still not working, right-click anywhere on the page. Then, click Translate to [Language].
You can opt to "Always Translate" to ensure each time you access Ambition, you are ready to go!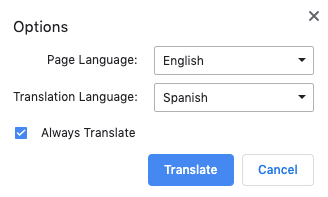 View of Organization Dashboard translated into Spanish
View of a Leaderboard TV Slide translated into Spanish
View of a Competition Slide translated into Spanish