Syncing Hierarchy from Salesforce
Take the administrative work out of managing your Ambition Hierarchy.
Using Ambition's User Hierarchy Sync, you can automatically map over changes in user attributes from Salesforce to Ambition. Administrators can configure these sync settings for multiple Ambition User Fields at once (i.e. Roles, Permissions, Groups, Locations.).
Once the User attributes are mapped over to Ambition, any changes to the User's profile in Salesforce will automatically be reflected in Ambition.
Note: If you wish to Map Users into specific Group Types - Location, Competition Team, Department, etc - ensure those Group Types exist in Ambition before attempting to sync.
Learn more about Groups and Group Types here.
Sync Organizational Hierarchy from Salesforce to Ambition
1. Open the left navigation and click Administration > Data > Integrations.
2. Within your Active Integrations, click on the Settings button to enter the Salesforce Integration.
3. Click on the Data Configuration tab.
4. Locate the User Object, User labeled in Green on the Data Configuration page.
5. Click Configure Sync Attributes.
6. Click Add to begin mapping your Salesforce User Attributes to the corresponding Ambition field.
Salesforce Fields: Salesforce User fields that contain the input value to map to Ambition. For example, when mapping to an Ambition group, choose the Salesforce field that contains the name of the group.
These fields include any attribute found in your Salesforce account. In order to quickly find the correct field, begin typing to search by name.
Fields that don't belong directly to the user, instead belong to some related object, will have a black tag next to their name.
Changes Made in Salesforce will be mapped to Ambition.
Ex: Spelling Errors: If a field (team, department, etc.) is misspelled in Salesforce, Ambition will create a new Group with the incorrect spelling and assign the User with the incorrect spelling to the newly created Group in Ambition.
Ambition Fields: Ambition user attributes that serve as the destination for the mapped value.
These fields consist of User permission levels, User integration IDs, and any Group Type available in your account.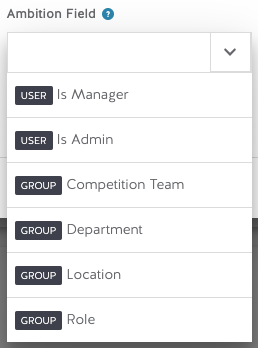 7. Once you're finished mapping over the Salesforce User Attributes, click the green Submit button.
After your sync'd attributes are submitted, Ambition User data will automatically update whenever the selected fields are updated in Salesforce.