What's new in Q1 at Ambition?
The Ambition team works to improve our platform every day. These updates include everything from major improvements, feature request from our customers, and bug fixes. Each week we'll organize those changes by new, improvements, and bugs. If you have additional suggestions for improvement, please let us know.
Click here for Q4-2019's release notes.
March 31, 2020
🎁New:
Weekly Admin / External VIP Digest: This weekly email provides a snapshot into feature utilization and interesting data points for your organization, every week. This digest, which is sent on Mondays, can be sent to any email (even those who aren't licensed Ambition users). Click here to learn more.
🛠Improvements:
Admin Users Can Now View Coaching Timelines: When an admin user visits an employee's dashboard, they can now view the coaching timeline. Previously they could only find coaching check-ins through the left-hand navigation (Coaching > Manage > Check-Ins).
External URLs in Coaching

: The external URL agenda item has been improved to ensure that only valid URLs are submitted for employees to complete. This now requires the user to copy/paste the full URL (ex: https://www.ambition.com as opposed to ambition.com).
🐛Bugs:
Competitions - 5 Metric Limit Error Reached at 4 Metrics

: When a new competition is created, the user is redirected back to the create competition form. If this form was completed a 2nd time (immediately after creating the first competition) the user was exposed to a bug that prevented 5 metrics from being selected. This has been corrected.
March 24, 2020
🐛Bugs:
Saving Hierarchy in Histogram Reports

: When revisiting saved histogram reports in analytics, the hierarchy was being overridden by the default report hierarchy (which is all users). This update ensures that the saved hierarchy is shown upon load of the saved histogram report.



Salesforce Hierarchy Sync, Filter Out Deleted Group Types

: Inactive collection types will no longer be shown in the account settings. This only impacts users who have an active Salesforce Hierarchy Sync.
March 17, 2020
🎁New:
Beta Program - Employee Asks: Employee Asks is a simple, performance-centric system where employees can make asks and managers can take action. Coaching, competitions, goals, clubs, awards, you name it. Everything is powered by your company's data, trackable, exportable, critical to ensuring culture is exactly where you want it. Click here to learn more
If you're interested in joining the Beta program, please let us know at gethelp@ambition.com
March 10, 2020
🎁New:
Custom Check-In Rating Categories: When a manager approves an employee's check-in, they have the ability to rate the employee's performance. With this update, organization can customize the rating categories to fit their needs.


At Ambition we rate our team members on their preparedness, engagement, and coachability.
If you'd like to learn more about creating your own categories, click here.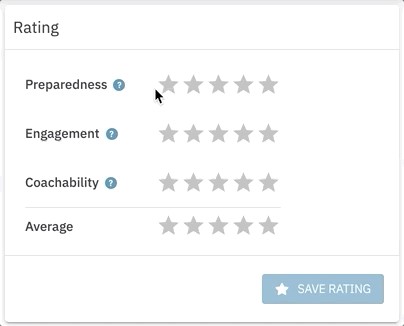 New One-Off Check-In Form: The check-in creation form now allows managers to designate the explicit meeting time. The improved date and time selector also supports 5 minute meeting intervals and custom durations.
New Coaching Tool - Request an Update: Ambition now offers a passive coaching tool that allows managers to send a brief agenda for their employee to complete. The format is similar to a 1:1, but does not require a specified meeting time.

🐛Bugs:
Coaching Calendar Invitations for Managers: Previously, calendar invites for coaching check-ins were only sent to the employee. Now, both the manager and their employee receive calendar invites for the selected check-in date & time.


Blank Scorecard Overrides: This update prevents metrics from one scorecard being transferred over to roles that do not have metrics on their scorecard.
February 25, 2020
🛠Improvements:
Analytics Graph Slide Resolutions: The Analytics Graph & Goal TV Slides have been updated to use responsive styles to render all data at higher TV resolutions.


Dashboard Productivity Quadrant Title: The quadrant report (that can be found from a dashboard's productivity tab) now has a title. This comparison tool provides insight into historical trends, without having to consider daily fluctuations in scores. The report's title shows the historical time frame that's being used to calculate the historical activity score and objective score.

🐛Bugs:
Display Smart Values for Negative Duration Metrics: Within Analytics' filters, using 'Display Smart Values' for duration metrics wasn't correctly handling negative duration values. The toggle now supports negative metric values.
Benching in Navigation for Managers: Managerial users with the permission to bench were missing the Benching section from their left-hand navigation. This has been add back.
February 18, 2020
🛠Improvements:
Trigger Log Timezones: Trigger Logs were previously shown in UTC, now they are shown in the user's local timezone.
February 4, 2020
🐛Bugs:
Purged Data Fix for New Integrations: Uploading data in purged integrations would not produce metric values. This was isolated to new integrations that went through a purge. The issue has been fixed.


Get Help - Contact Us Form: For a brief period of time on Tuesday, February 4, Ambition's Get Help Form was un-editable, leaving fields like 'category' and 'subject' blank. This has been fixed.
January 28, 2020
🎁New:
Trigger Logs: Ambition's trigger log will allow manager & admin users to view the notifications for each trigger. This can be extremely helpful when troubleshooting trigger configurations. Click here to learn how you can find Slack, TV, and email notifications all within Ambition.

January 10, 2020
🛠Improvements:
Benching Notification Text: When submitting a 'bench employee' form, the description has been updated to state: "Bench employees so that they do not negatively impact group-based competition scored on daily, averaged metrics. If any employee is marked as benched they will not receive any values for those days and will not go into the computation of any team averages."


Leaderboard 'Rank By' Descriptions: Leaderboard filters have been improved to help clarify the various 'Rank By' options. The new help text is visible within the in-app Leaderboard as well as the TV Leaderboard slide builder. Value, Percent-to-Target, Most Improved Value, & Most Improved Rank now have the following help-text:
Company Support in Ambition's Get Help Modal: A company's internal support information is designated by their administrator. If a company administrator email address is provided within the organizational settings, the Company Information modal (as shown below) will present it as a button that states 'Email Company Admin'.
Updates to Goal Management:

The Manage Goal table now has filters, allowing users to filter across names, users, and status.
Upon the creation of a new goal, users will now be redirected to the overview page for the newly created goal.
🐛Bugs:
Deleting Saved Reports in Analytics

: Previously, deleting a saved report would also reload that same deleted report. If a user is viewing Report A and they delete Report B, they will no longer be redirected back to Report B's filter selections upon deletion.
Create Action Plan Button from the Manage Coaching Table: From the Manage Coaching page > Action Plan tab, the button to create a new action plan was removed in December's update. This has been added back to the Action Plan management table.

Recurring Challenge Expected Occurrences Not Displaying Correctly: When creating a recurring challenge, the creation form will now compute and display the expected occurrences. Previously the computation would display varying end dates, however this has been updated so that the end recurrence options are correctly based on the selected start options.


Graph Doesn't Load if there's no Activity Score: The default report for any Analytics mode includes the metrics Activity Score & Objective Score. In the event that a team deactivated the Activity Score, Analytics' Graph would display an error. This has been corrected, now requiring the user to select a metric before a report is loaded.
January 3, 2020
🛠Improvements:
Analytics Apply Filters Button: Within the Analytics platform, the filters have been improved to decrease load time. Previously, each filter click would reload the report in the background. Now, the Apply Filters button will apply all new filters at once, making it easier to build a report. This applies to all report modes: spreadsheet, graph, quadrant, & histogram.