Managing Features within Ambition
Below is a comprehensive list of Ambition features that are included across product packages.
Depending on your organization's package, each of these features can be toggled on/off within the Manage Features page.
How do I enable and/or disable features?
Can I see an overview of a specific feature?
Access Features
Users with system admin permission can access the Features tab.
1. Open the left navigation and click Administration > Features.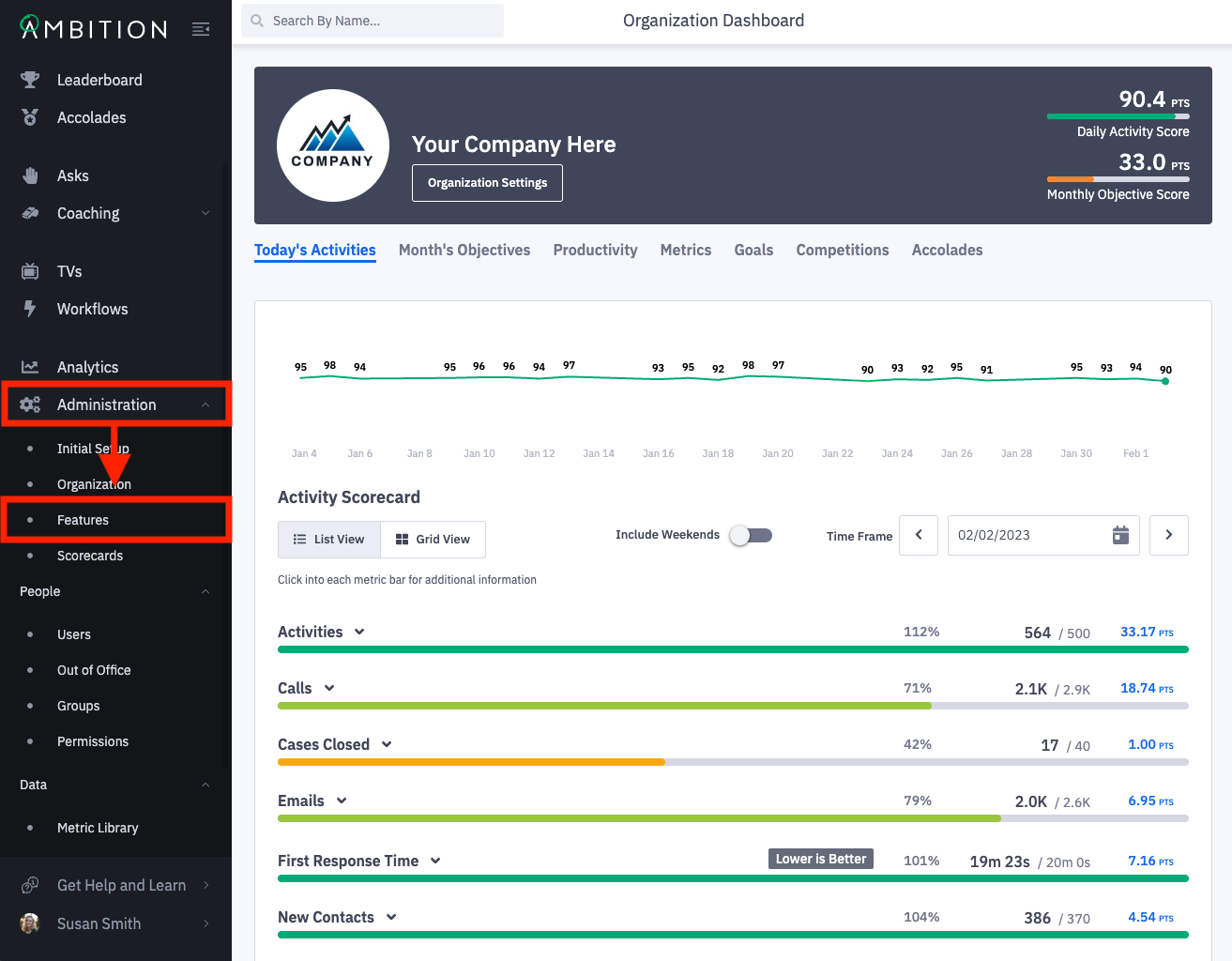 Under the features tab you will have access to viewing package contents, enabling and disabling features, and viewing your organization's limits.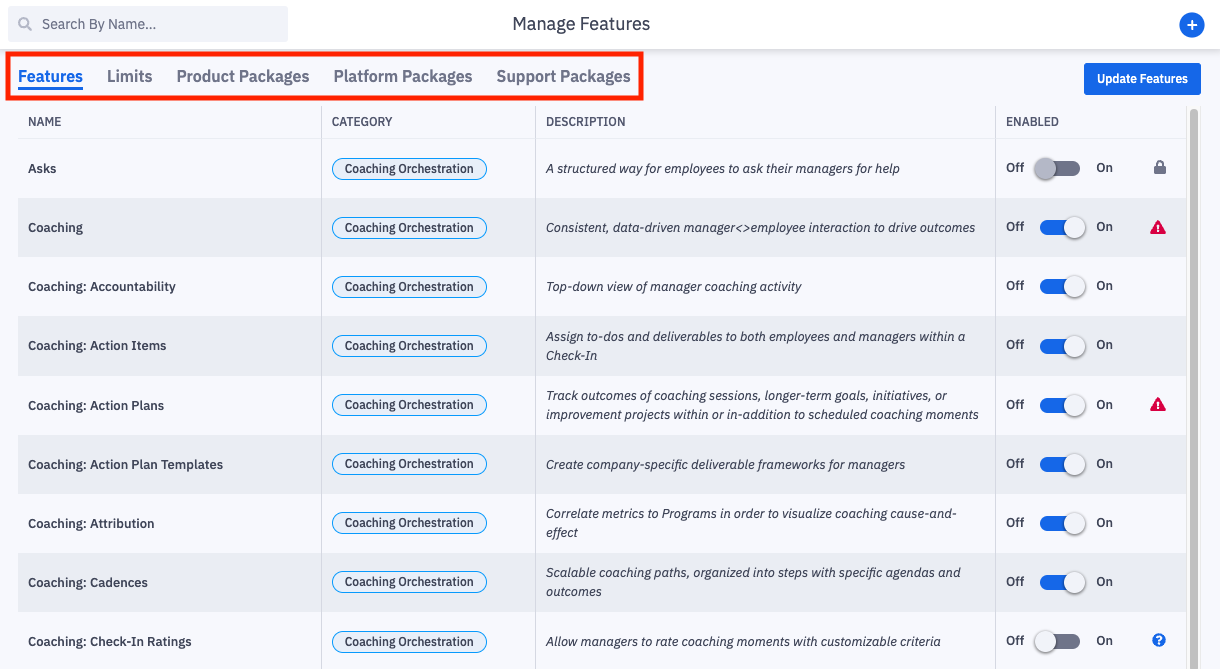 Enable/Disable Features
Users with system admin permission can enable and disable features.
1. Open the left navigation and click Administration > Features.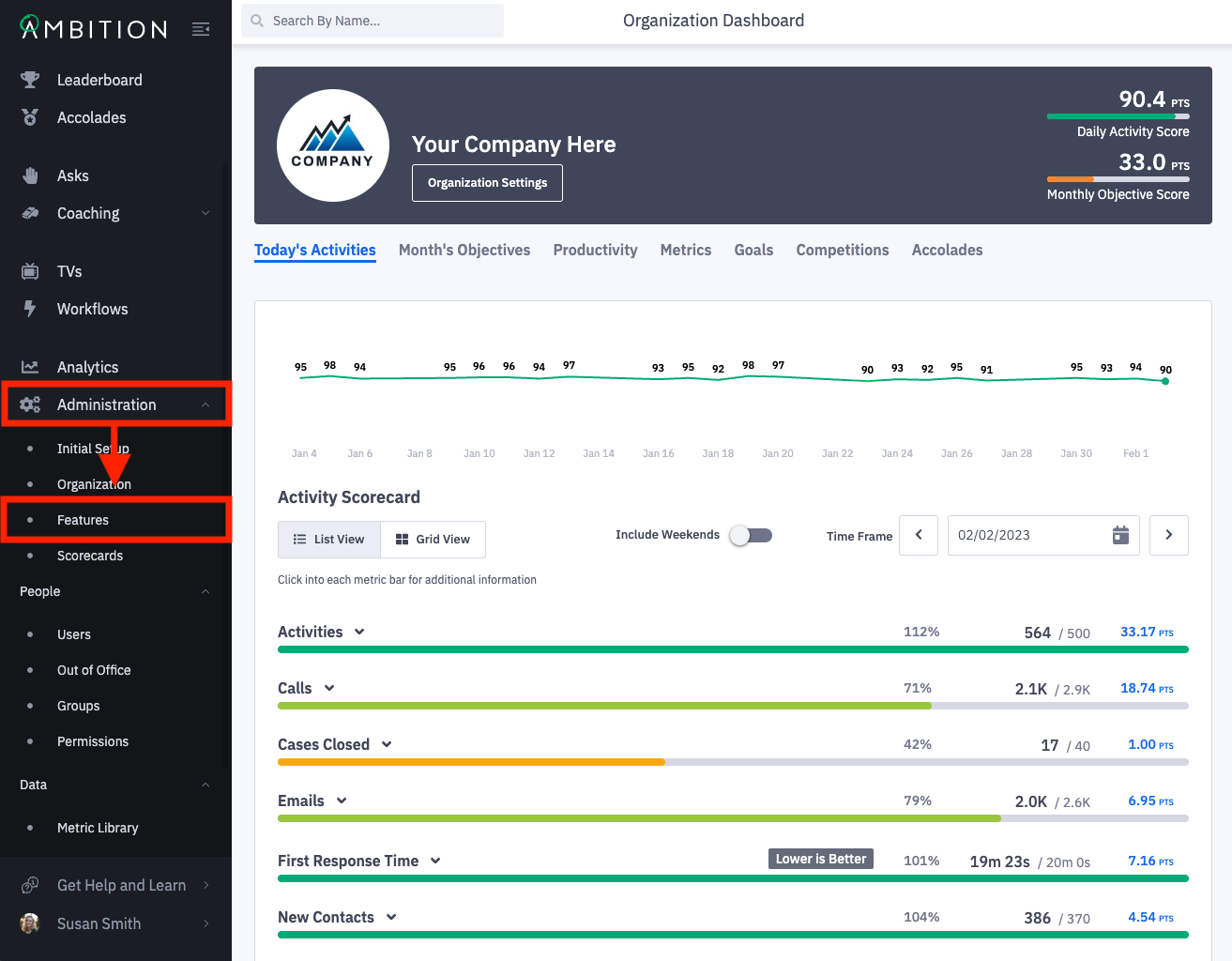 2. You will be navigated to the Features page.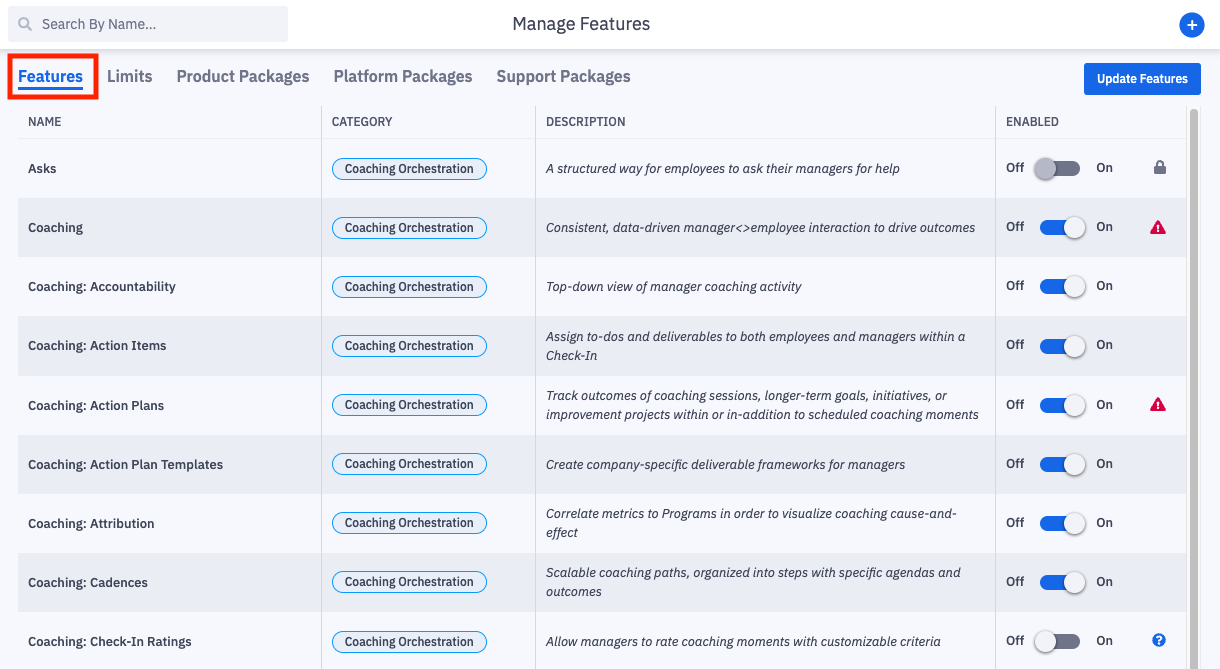 3. Locate the desired feature, and toggle Enabled to On or Off.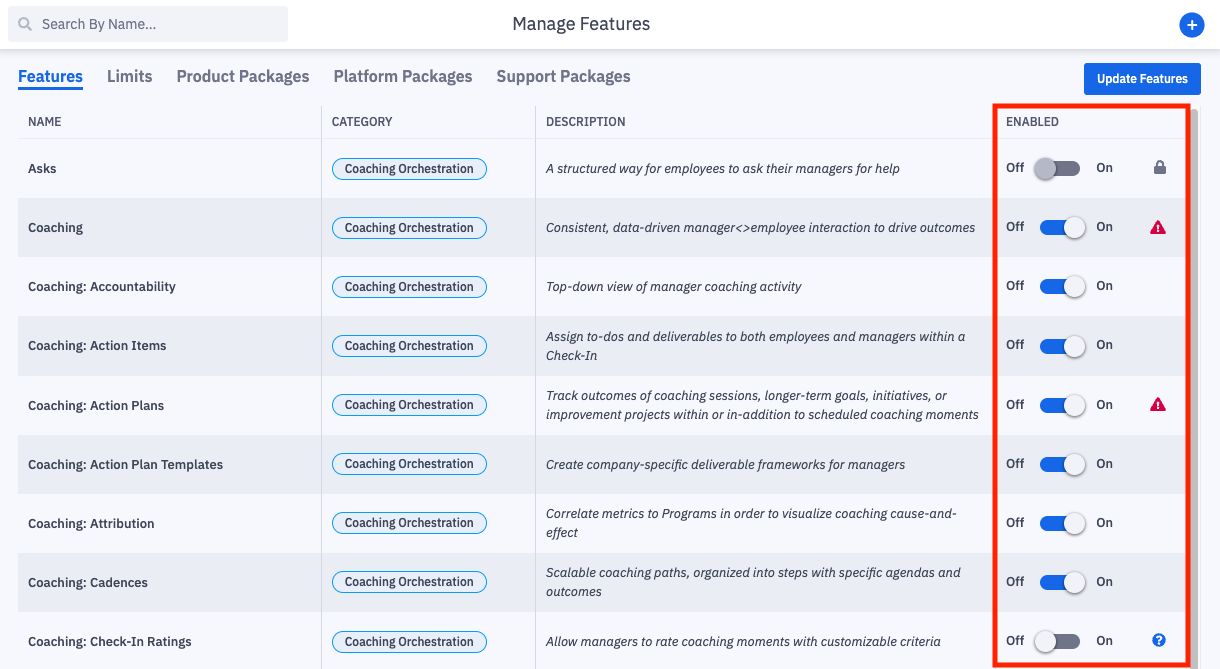 If you are trying to enable a feature that is listed as locked, reach out to your CSM or gethelp@ambition.com for more information!

4. Click the Update Features button to save your changes.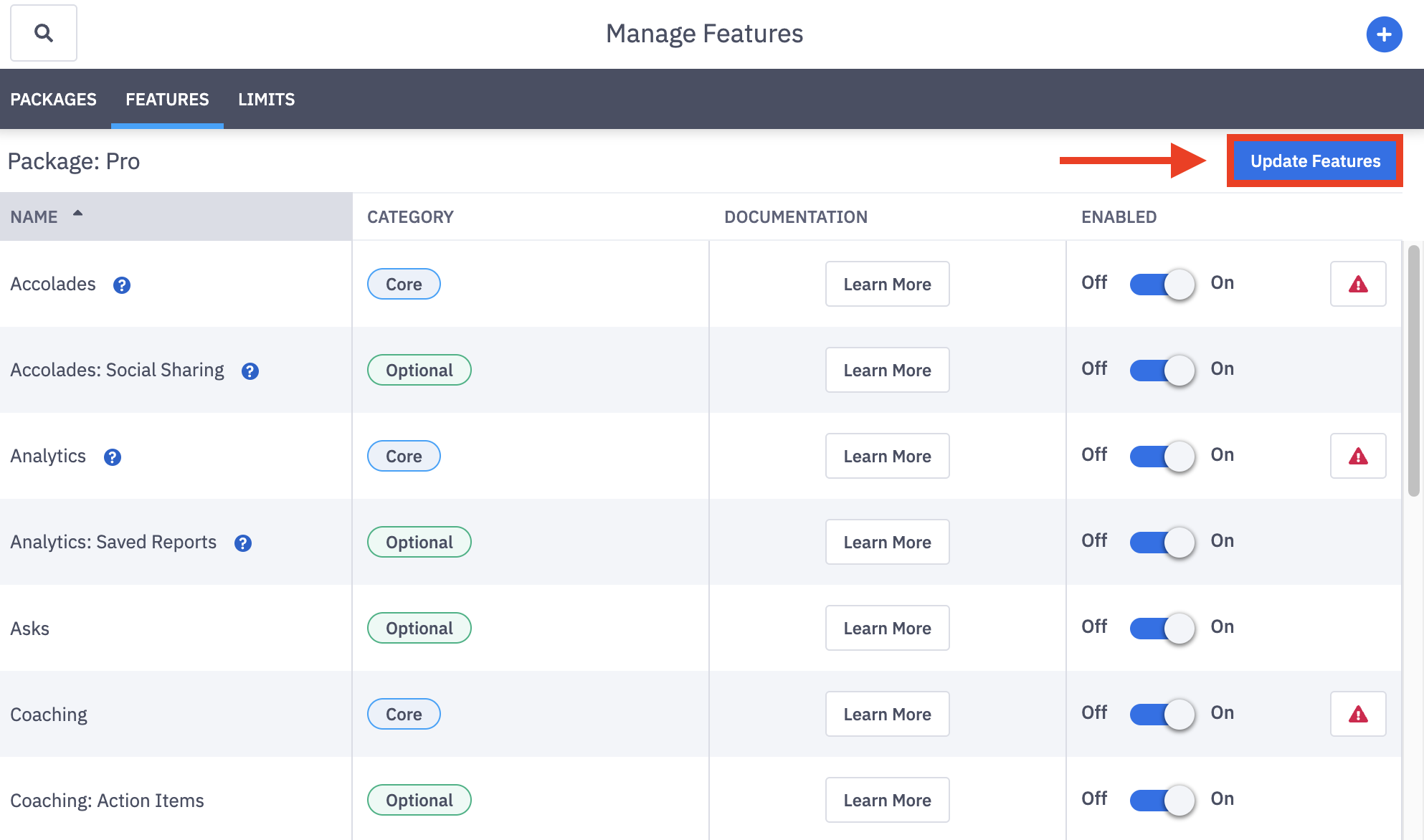 Feature Overview
Overview of each Ambition feature that offers a feature flag, sorted alphabetically:
Accolades 🏅
An Accolade is an organization defined achievement represented in Ambition. Accolades delivers the ultimate flexibility to sales teams, supporting both rewards programs that are automatically derived from metrics and programs that are manually derived at a manager's discretion. 
Learn more here.
Accolades: Social Sharing 
🐦
Accolade achievements can be shared externally! When activated, each achievement generates a third party URL. Turning on this feature provides an external share link which can be shared to LinkedIn, Facebook, Email, and more.
Learn more here.
Analytics 📊
Ambition Analytics drives insights to help sales leaders build strong sales teams - that drive real revenue. Ambition offers a variety of options for accessing, visualizing, and deriving actionable insight from your data.
Analytics includes spreadsheets, graphs, histograms, and quadrants. 
Learn more here.
Analytics Saved Reports 💾
Instead of bookmarking frequently visited reports, you can save them directly in Ambition for frequent return visits. Users can save spreadsheet, graph, histogram, and quadrant reports. 
Learn more here.
Asks 👋
Employee Asks is a simple, performance-centric system where employees can make asks and managers can take action. Coaching, competitions, goals, accolades, edits, you name it. Everything is powered by your company's data, trackable, exportable, critical to ensuring culture is exactly where you want it. 
Learn more here.
Calendar Sync Integration 📅
The Calendar Sync integration will keep Ambition's scheduled coaching check-ins in sync with a manager's Microsoft Outlook calendar by allowing for bi-directional rescheduling. If a 1:1 needs to be rescheduled, the date and time can be updated either on the calendar event or within Ambition, and both the calendar event and Ambition will be updated accordingly.
Learn more here.
Coaching 📣
Ambition coaching is made up of 3 key components that work together: Check-Ins, Action Plans, & Notes. This platform brings managers and contributors together in more data-driven, prepared and effective 1:1 coaching sessions. These can either be hosted through check-ins or through programs.
Learn more here.
Coaching: Accountability 📊
View weekly or monthly check-in stats for managers, filter to a specific manager/group of managers, and sort by completion rates. Track the number of employees being coached, how many check-ins were started, completed, and expired over a time frame.
Learn more here.
Coaching: Action Items 📝
Action Items are text based deliverables created within a coaching check-in. Check-Ins are great conversation starters, and action items are created to document an outcome/to-do that arises out of a coaching session.
Learn more here.
Coaching: Action Plans 🗺
Action Plans track outcomes of coaching touch points, monitoring qualitative and quantitative measures of contributor improvement. 
Action Plans can exist both within a coaching session for week-to-week assignment of deliverables, goals, etc...OR they can exist outside of the coaching program cadence, tracking longer-term goals, initiatives or improvement projects.
Learn more here.
Coaching: Action Plan Templates 📂
Bring standardization, consistency, and predictability into the action plan creation process by using templates. Create templates that align with company goals, serve as development playbooks, or outline onboarding tasks.
Learn more here.
Coaching: Attribution 📈
Associate metrics to coaching programs in order to visualize coaching cause-and-effect.
Learn more here.
Coaching: Cadences ⏩️
Cadences are a series of steps with specific agendas that make up a training, onboarding, or coaching program. 
Cadences are built to ensure that employees and managers across the enterprise are adhering to best practices and completing required content.
Cadences allow you to streamline your coaching and programs by enrolling employees into flexible multi-step cadences.
Cadences enable coaches and sales enablement to coach, train, onboard, and run programs all at scale.
Learn more here.
Coaching: Check-In Ratings ⭐️
When a coaching session is closed out, each check-in has an optional rating (these ratings are scored on a 1-5 point scale). Ratings provide an outlet for managers to give feedback directly to their employees.
The default rating categories for check-ins are Preparedness, Engagement, and Coachability. However, these can be customized to fit your needs.
Learn more here.
Coaching: Check-In Templates 🗃
Check-in templates can be created for quicker and consistent check-in creation! Templates can be editable or locked as needed for flexibility or compliance needs.. For example, if managers are frequently coaching reps on their call performance, a template that requires each manager to use the same basic format for their Check-Ins could be created.
Learn more here.
Coaching: Co-Coaches 🤝
A co-coach is a third-party individual who has managerial access to the coaching check-in. Co-coaches are a great fit for assistant managers or HR professionals who play a role in the coaching process. A co-coach can be any Ambition user, regardless of their permission level.
Learn more here.
Coaching: Group Check-Ins 🧑‍💻
Group check-ins support team meetings and group coaching events. Group check-ins are recurring (auto-generated) conversations between a team lead and a group of participants. Group check-ins result in clear action items and agreements which can be reviewed in subsequent meetings.
Learn more here.
Coaching: Group Check-In Templates 📝
Support predictable team meeting agendas by creating group check-in templates. Outline the topics to be covered and include standardized links.
Learn more here.
Coaching: Managed Programs 📂
Managed Programs are a distributed coaching program for multiple managers and their employees. These programs are centrally managed, so any changes you make will cascade down. 
Managed Programs are great for:
Sales Enablement, Sales Leadership, Human Resources
Promoting top-down accountability, alignment, consistency
Ensuring compliance and oversight
Learn more here.
Coaching: Metric Snapshot Items 📸
With Ambition coaching, you can automatically embed and review employee performance metrics directly within a check-in! The metric snapshot agenda item allows managers to pre-select a metric, time frame, and supporting question to review during each coaching session.
Learn more here.
Coaching: Program Templates 🗃
Most managers want to coach, but they don't always know where to start. Templates help de-stress the situation, turning any manager into a prepared & effective coach.
Coaching program templates are true to the term template. The structure of the coaching program (questions, key metrics, etc.) can be put into a template so that when a manager is ready to initiate a coaching program, they can select the pre-built template as a basis for their program.
Learn more here.
Competitions 🏆
Ignite the competitive spirit on your sales floor, creating fun (and accountability) at the same time. By running strategic competitions, sales leaders can quickly and easily drive performance against KPIs, encouraging lasting behavior changes that make reps stronger sellers in the long term. There are two competition frameworks available: Challenge and Fantasy.
Learn more here.
Competitions: Fantasy 🏈
Fantasy allows your organization to draft into teams and compete over a "season" comprised of weekly head-to-head matchups. 
At the end of the "regular season" the top four Teams (determined by regular season wins + tie-breakers) will compete in a two week "playoff" bracket, while the rest of the competitors participate in a consolation group. 
Learn more here.
GIPHY 🥳
Users can set a custom GIF to add extra personalization to their profile image, presence on leaderboards, for being the top 3 in a competitions, and in Ambition's Slack/Microsoft Teams workflows. The GIPHY Integration allows users to search & select a GIF directly in their user settings.
Learn more here.
Goals 🎯
Goal-setting is critical to enhancing reps' performance — which has a direct impact on your bottom line. With goals in Ambition, leaders have an active lever to focus their teams' energy and provide visibility into goals and progress. That means you can keep teams on track, and reps can see how each activity gets them closer to success. 
Learn more here.
Leaderboards 🥇
Ambition leaderboards align your teams on the metrics that matter most and reinforce behaviors that lead to big wins. Giving your whole team visibility into performance keeps everyone accountable to goals and each other — because no one wants to be at the bottom of the leaderboard. Ambition Leaderboards offer ranking by value, percent to target, & most improved.
Learn more here.
Out of Office 📅
Out of Office allows for group-based competitions and scorecards, when prorating is also enabled, to take into account when a user is not contributing activity due to being out of office so that group scores are not negatively impacted by a missing member.
Learn more here.
Salesforce User Field Syncing☁️
Using Ambition's user attribute sync, you can automatically map over changes in user attributes from Salesforce to Ambition. You can configure these sync settings for multiple Ambition User Fields at once (i.e. Roles, Permissions, Groups, Locations.).
Once the user attributes are mapped over to Ambition, any changes to the user's profile in Salesforce will automatically be reflected in Ambition.
Learn more here.
Salesforce User Activation Management ☁️
Using Ambition's Salesforce user provisioning tool, custom filter rules can be configured to automatically activate and/or deactivate Salesforce users in Ambition. 
Learn more here.
SAML / Single Sign-On 🔐
Benefits of Single Sign-On:
Users authenticate into Ambition using company-managed credentials
Users already signed into company network will automatically be signed into Ambition
Ambition access will automatically be revoked once employees are removed from company-defined HRMS system
Learn more here.
Scorecards 📈
Ambition scorecards create employee-level transparency and accountability around process. 
Daily accountability, long-term results. Our methodology combines target baselines of activity and effectiveness, with continual progress tracking of the long-horizon goals. Managers have the power to create scorecards for every role with custom metrics and scoring weights.
Learn more here.
Scorecards: Advanced Options 🛑
Set a Start or Stop for specific activities and objectives or add lower-is-better metrics to a scorecard.
Learn more here.
Scorecard: CSV Upload ⬆️
Scorecard custom target uploads offer the ability to mass update, through .CSV file upload, individual scorecard targets for Ambition users.
Learn more here.
Scorecard: Custom Targets 🎯
Set ramp targets, individual targets, or accommodate seasonality by manually overriding scorecard targets for specific users.
Learn more here.
Scorecards: Target Prorating  📊
Prorating allows for scorecard targets to automatically adjust based on how many working days per scorecard time frame a user is marked out of office.
Learn more here.
TVs 🖥
Custom URLs that allow you to highlight key leaderboards, competitions, goals, and more anywhere from your sales floor to home offices.
Learn more here.
Workflows 🎉
Workflows enable the automation of business processes and are built on a set of if/then rules. Depending on the criteria, Ambition can send updates and notification to Ambition TVs, emails, Slack channels and direct messages, Webex spaces and direct messages, and Microsoft Teams public or private Teams and public Channels!
Learn more here.