Coaching Overview
How do I access the Coaching Overview?
What information is in Coaching Insights?
Can I view data about Attribution metrics?
Are check-in Ratings viewable?
Where can I export Coaching data?
Access Coaching Overview
Users with the "Coaching: All Access" permission will be able to access the Coaching Overview tab.
1. Open the left hand navigation and click Coaching > Overview.

Coaching Insights
Weekly Coaching Insights
The Insights tab provides details into coaching events for a selected time frame and group. Changing the Start Date, End Date, and Group filter will allow Admin users to view coaching activity broken down by week.
Utilization Metrics
These filters also provide insights into general coaching analytics, including number of active Programs, Check-ins, Action Plans, Notes, etc..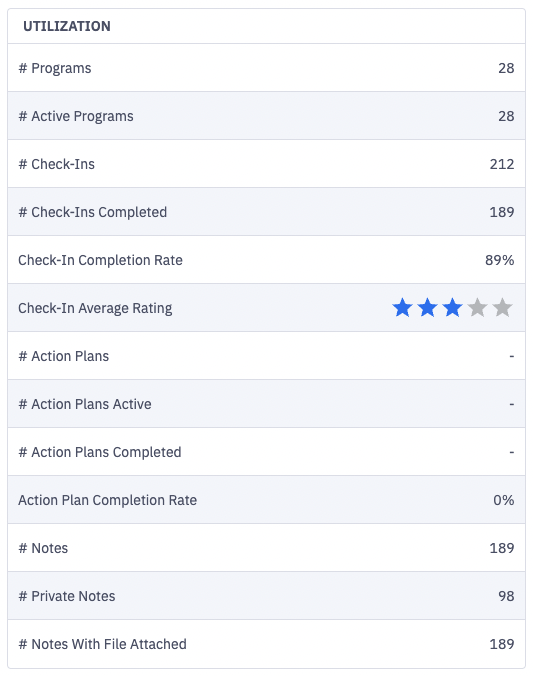 Employees Without 1 Completed Check-In
Additionally, these filters show which employees have not completed a single check-in within the selected time frame. From this table, the admin user can quickly act and alert the employee's manager to create a check-in for the employee. If the Employee Asks feature is enabled, the admin user can complete a pre-filled Coaching Ask for the manager.
Program Attribution Metrics
The Attribution tab provides in-app visualization of the attribution metrics that are assigned to a recurring coaching program. Selecting a Program, Employees, and the individual Metrics will display a historical line graph for the coaching program's performance.
Check-In Ratings
The Ratings tab provides historical ratings across the organization's coaching check-ins. Using the filters, the admin user can sort ratings by program, group, manager, employee name, & rating category. Each column in the ratings table can also be sorted.
For deeper context or troubleshooting, the user can click on the Check-In button to be taken directly to the check-in where the manager provided the rating.
Coaching Reports / Exports
From the Reports tab, an Admin user can download CSV reports for Employee Utilization, Manager Utilization, and specific Programs.
Learn more about exporting coaching data here.