Activation Times
What is a User's Ambition Activation History?
Are Activation History and Activation Times different?
How do Activation Times impact data?
What is the impact of Activation Times on Scorecards?
Do Activation Times impact Goals or Competitions?
Can I update Activation Times?
Activation History
A User's Activation History indicates 1. How long the user has been active in Ambition and 2. The point in time the user's data will begin being aggregated into Organizational totals for metrics.
A User's Activation History can be seen on the right hand side of their User Settings.
In the example below, this User would begin contributing data to Ambition from Jan 1, 2016 forward.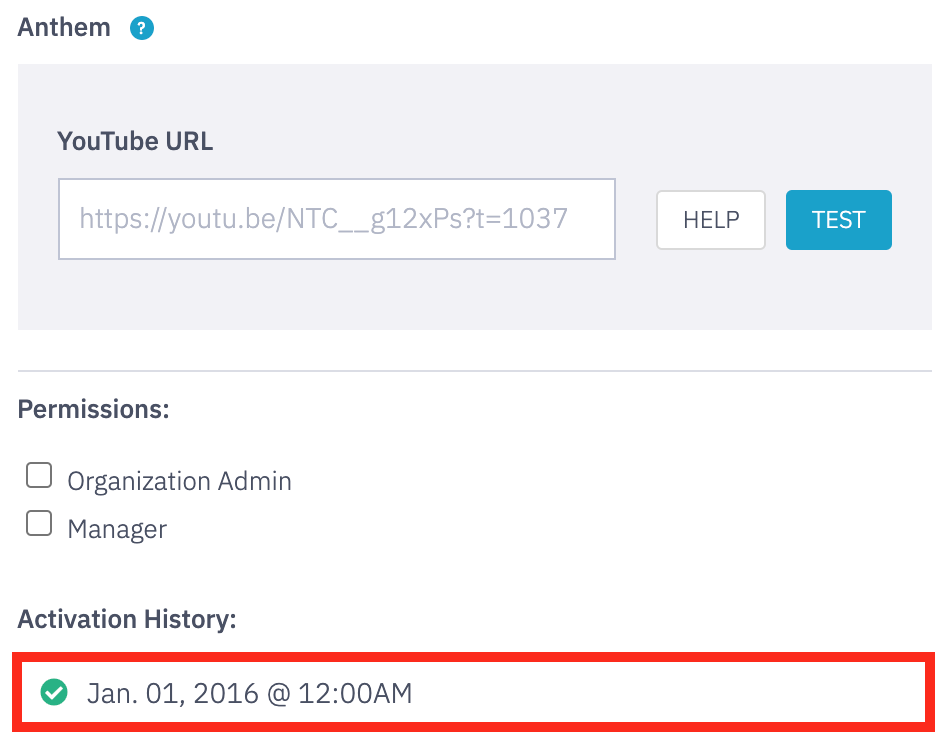 Activation History and Activation Times
Activation History = Relationship between User and Ambition
Activation Time = Relationship between User and Groups in Ambition
A User must first be added to Ambition before they can belong to any Groups within Ambition.
Example below shows a User with an Activation History of Jan 1, 2016 with Activation Times ranging from 2016 to 2020.
Activation Times can also be viewed on the Groups Dashboard by clicking the Members button.
A Member Since date will be listed alongside each member. The Member Since date represents the Activation Time for when each User was added to the respective Group.
Impact on Data
Activation History and Activation Times have an impact on data at both the individual and Group level.
Users only generate Metric totals in Ambition from their Activation History date forward.
↳ Example: Jane Smith is added to Ambition on June 1st. Even though Ambition has received data for Jane dating back to March 1st, Ambition only processes data from Jane's Activation History date, June 1st, forward.
When a User changes Groups, their historical data is not moved from Group to Group. The User will stop contributing to their old Group and begin contributing to their new Group based on the Activation Time correlating to the new Group.
Users only contribute Metric totals to Groups they participate in, for the duration of their membership.
↳ Example below shows a User being moved into the Solutions Department Group on March 11, 2020. None of the data points the user contributed prior to March 11, 2020 will be calculated into the Solutions Department's metric totals or averages.
Activation Times and Scorecards
Scorecards are most commonly set up on a Role, job function, basis. Because Role is a Group in Ambition, there is also an Activation Time associated with that relationship that impacts Scorecards.
While individualized Scorecard Targets can be set in Ambition, Scorecard Targets will be prorated based on when in the Activity or Objective Score time frame a user is added to their Role. Example if a User is not added into their Role until the 20th of the month, their monthly Objective Score Targets will differ from an individual that was added to the Role on the 1st of the month.
If you are seeing a User
without
an individualized Scorecard Target set, but displaying a
differing Target
on their Scorecard than other users in their same role, reach out to
gethelp@ambition.com.
Impact on Goals and Competitions
Users will only contribute to Group based Goals and Competitions from their Activation Time in the respective Group forward.
Example:
Betty was moved into the Rural Wolves team for a Calls Competition. While the competition started on Monday, October 12th, Betty's Group Membership in Ambition was not updated until Wednesday, October 14th.
The Rural Wolves team is noticing that their overall Calls total in Ambition is lower than expected, and they should be winning the Challenge.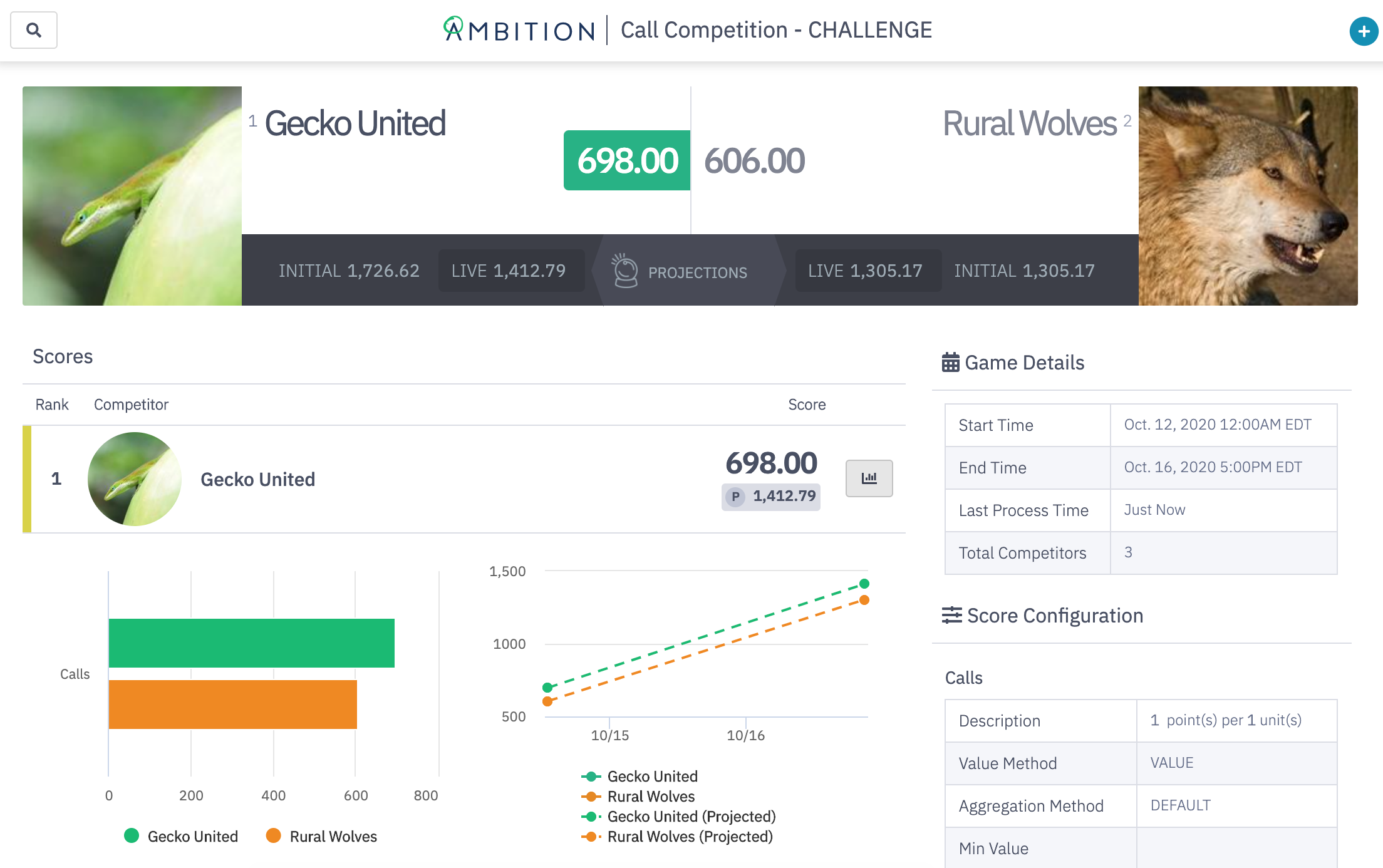 The Manager of the Rural Wolves team notices Betty's "Member Since" date should be changed, and the Manager submits a support ticket calling out the discrepancy.
The Ambition Support Team updates Betty's Activation Time in the Rural Wolves team, and the team's total in the Competition raises to include Betty's calls from Monday forward.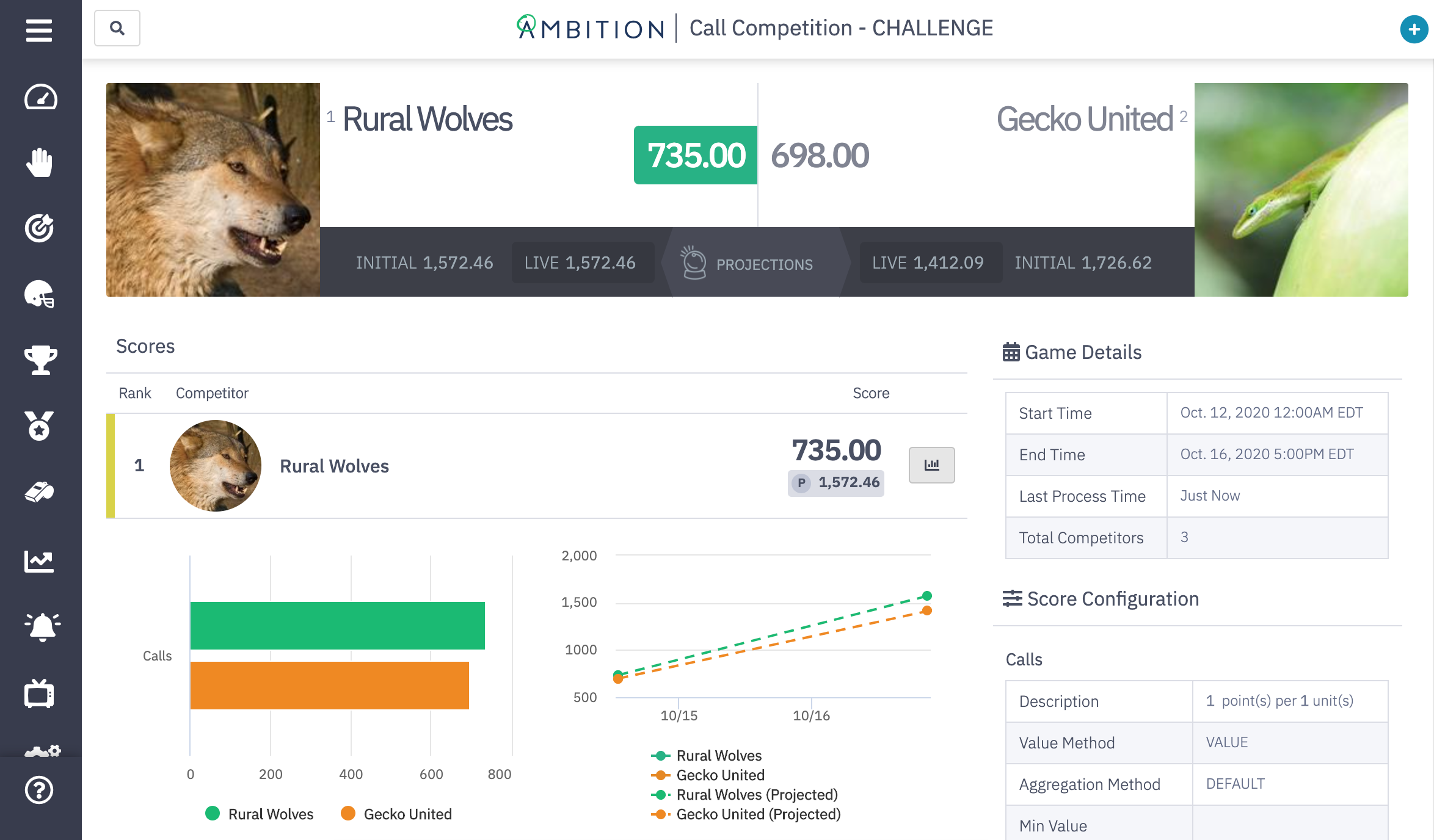 Update Activation History or Activation Times
Activation History and Activation Dates are not editable by the end user at the current time.
If you notice a data discrepancy that's the product of a User needing their Activation History or Activation Time(s) updated, reach out to gethelp@ambition.com.