Managerial Dashboard
Dashboards are included in Gamify, Coach, Pro, and Enterprise Packages.
Once you've been assigned Manager permissions in Ambition and been set as a Manager of users, either through Managing Groups in Ambition or being set as a Manager in a User's profile, you will have access to a Managerial Dashboard.
How do I access my Managerial Dashboard?
How can I see which User's I manage in Ambition?
How can I interact with the tabs on my Managerial Dashboard?
How is the Scorecard on my Managerial Dashboard calculated?
Access Managerial Dashboard
1. Open the left-hand navigation and select Dashboards > Managerial.
View Users You Manage
1. Open the left-hand navigation and select Dashboards > Managerial.
2. Click the Details button under your name.
All Users that have you listed as a Manager either though a Group association or Manager in their profile will be listed.
These names are clickable links that will take you to each individuals respective Dashboard.
Quick Actions
In the upper right corner of any page in Ambition, you'll find the Quick Actions button.
Clicking the Quick Actions button will reveal a modal which provides quick access to the action you may want to take in Ambition.
The options shown and features you have access to will be dependent on your Permissions and your Organization's Ambition package.
Interact with Tabs on Managerial Dashboard
Dashboard Tabs:
Scorecard
Scorecards are included in Gamify, Pro, and Enterprise Packages.
A Scorecard, the Activity and/or Objective tabs, on a Managerial Dashboard is a cumulative "super-score" of all the Scorecards for user's you manage.
A Scorecard on a Managerial Dashboard measures the weighted attainment of all Metric benchmarks for users you manage. Similar to grade-school, these scores are measured on a 0-100+ scale.
A 0-100 scale in conjunction with the red - orange - yellow - green - blue color progression gives you a quick, concise look into your team's performance.
Clicking the information button next to the Score will reveal a thorough score breakdown.
Why is My Managerial Dashboard Scorecard Blank?
If at any point in time you see a blank Scorecard like the one below, whether it's the first time you log in or a year later, you will want to reach out to your Manager or Admin and have them verify the Group Memberships of users you manage.
Since Scorecard setups, benchmarks, and weights are determined by the Groups your users belong to, most often Role, if the users you manage don't belong to Roles with a Scorecard configuration, you won't have a Scorecard on your Managerial Dashboard.
Productivity
Analytics are included in Pro and Enterprise Packages.
On the Quadrant, you can see each of your Users based on correlation to their Activity and Objective Scores. The center is the median of each axis' values, which designates the red & green areas of the graph.
Each point on the Quadrant represents a User. When the point is clicked on you will be able to see: the User's name, Activity Score, Objective Score, and Productivity Ratio.
Learn how the Quadrant can help power coaching conversations here.
Coaching
Coaching is included in Coach, Pro, and Enterprise Packages.
If the users you manage are involved in a Coaching Program(s) within Ambition, you can interact with your Check-ins right on your Dashboard!
Through the Coaching tab you can:
Create a Note, Check-in, Action Plan, or Program
Respond directly to a Check-in or Action Plan's agenda items (questions, polls, etc.)
View historical Check-ins, Action Plans, and Notes
View Coaching Analytics
Metrics
The Metrics tab is included in Gamify, Coach, Pro, and Enterprise Packages.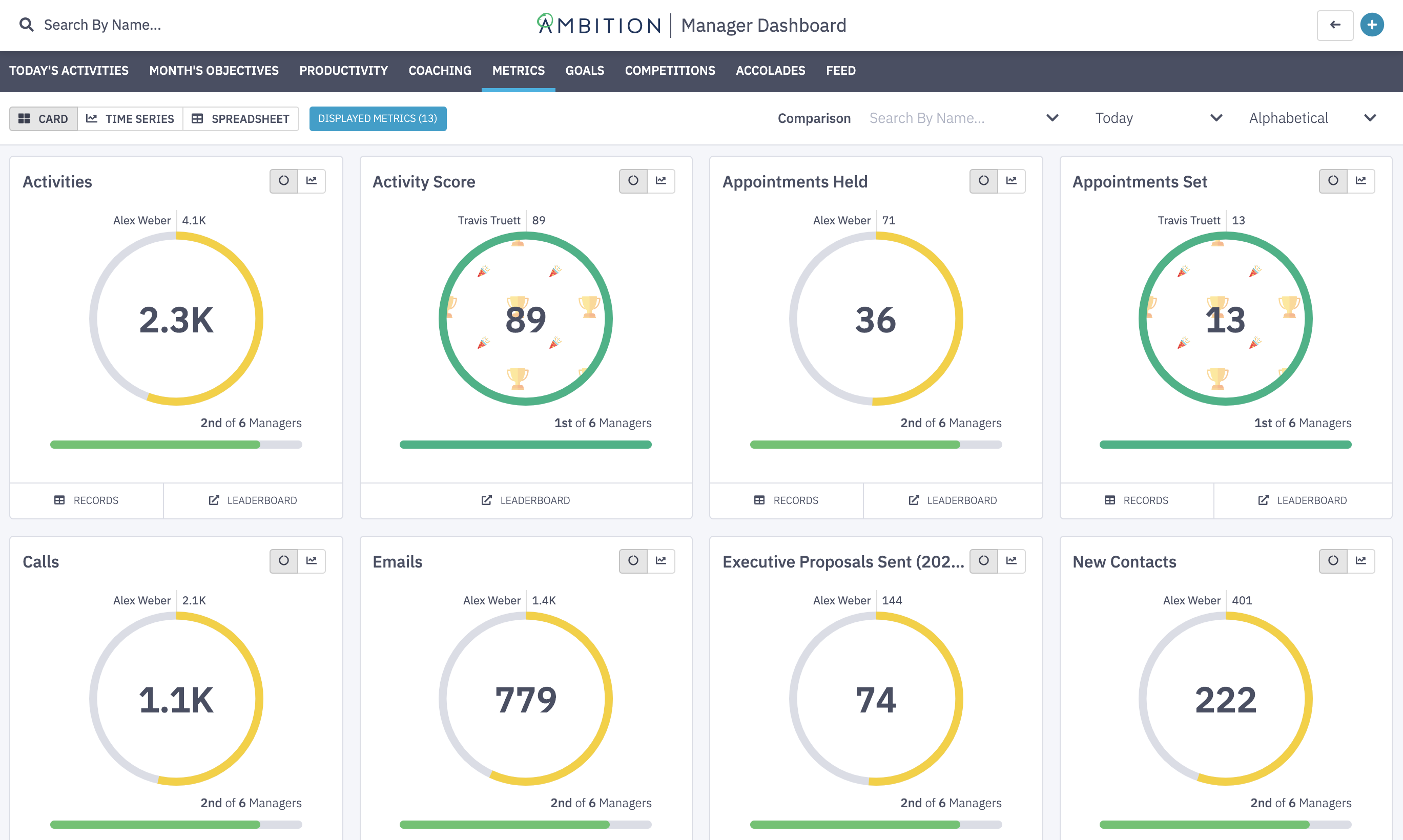 The Metrics tab allows you to view your team's contribution towards all other metrics that are not a part of your Managerial Scorecard.
Metric cards are able to be sorted Alphabetically, by metric name, or by Rank, the placement of your cumulative users against other Manager groups..
The values you are viewing will be representative of the Time Frame selected in the Time Frame drop down in the right corner. ex Today, This Week, Last Month, etc.
Trends are viewable by clicking the Trends button on each Metric Card:
You can also compare your team's contributions against other Users, Role ,Teams in your Organization through the Leaderboard and Trend options.
Clicking Leaderboard a metric card will navigate you into a Leaderboard for the respective metric and time frame.
To generate a Comparison Trend line, you will first select a User, Role, Team, etc to compare yourself against through the Comparison drop down.
You will then be able to view your team's historical trend line against the User, Role, Team, etc you selected to be compared against by clicking Trend button on each Metric card. Here you can view User Daily Averages or Totals.
Forecasts
Forecasts are included in Gamify, Coach, Pro, and Enterprise Packages.
When viewing a week or month time frame, at the bottom of each Metric card, you will see a Forecast button. This is a feature that associates your team's achievement of a particular metric based on previous efforts.
As mentioned in the Forecaster description, we need at least 4 months of data to accurately display forecasted contributions. Prior to this point in time, Ambition will calculate projections based on similar transactions of other Ambition Users.
Historical data is are utilized to display potential achievements as well as tracking the selected time frame data against last time frame's record progress, in the example shown This Week vs Last Week. A percent change is calculated as well.
Goals
Goals are included in Coach, Pro, and Enterprise Packages.
A Managerial Dashboard will show all active Goals for Users and/or Groups managed in Ambition.
Learn more about creating Goals here.
Competitions
Competitions tab is included in Gamify, Pro, and Enterprise Packages.
A Managerial Dashboard will show all current Competitions that Users managed in Ambition are participating in.
Learn more about monitoring your team's Competitions in Ambition.
Accolades
Accolades are included in Gamify, Pro, and Enterprise Packages.
Any Accolades that the users you manage have received will be featured on your Managerial Dashboard.
Learn more about viewing and socially sharing Accolades.
Feed
Feed is included in Gamify, Coach, Pro, and Enterprise Packages.
The Feed serves as a cumulation of applicable highlights associated with Ambition.
The Feed is not customizable at this time, but can be filtered through the Source dropdown.
Managerial Dashboard Scorecard Calculation
Groups Dashboards are perfect for seeing how specific Teams, Roles, Locations, and other Groups in Ambition are performing.
However, instead of having to view each individual User's or Group's Dashboard, a look at a Managerial Dashboard can show collective progress.
Ambition compiles data from each User using weighted averages that take into account the varying Scorecards, Metrics, and Targets to generate a collective group score.
Learn more about Group Scorecard Calculations and view examples here.