2020 Ambition Release Notes
The Ambition team works to improve our platform every day. These updates include everything from major improvements, feature requests from our customers, and bug fixes.
If you're looking for 2021's release notes, here they are!
December 15, 2020
🎁
New:
Invite Only Mode for the Slack Integration: Ambitions Slack integration now offers two authorization types: Public Access & Invite Only. This allows organizations to have more control over which Slack channels can interact with Ambition's Triggers & Slash Commands.



Public Access (Recommended

): Ambition has access to all public channels, as well as any private channels that Ambition has been explicitly invited to.

Invite Only

: Ambition only has access to channels it has been explicitly invited to.
Click here to learn more about the Slack integration.

🛠 Improvements:

Dashboard - Metric Configuration on Each Metric Card

: Each metric card now has a button to view its configuration. Here, each card will display which integration the metric is connected to as well as its corresponding user field, date field, and metric type (sum or average).
Ability to Export Metric Configurations: Within each integration, Admin users now have the ability to export the metric configurations found in the metric library. This CSV download will provide:

Metric Name

Description

Source-of-Truth field

Depot/Object

User Field

Date Field

Computation Type

Computation Field

Logic
More Intuitive Metric Builder Form: The Metric builder form has been improved, adding contextual awareness and supportive help text.
Coaching Template Selectors: The template selector found in the Check-in builder and the Program builder now both support search.


🐛 Bugs:
Disabled Updating Finished Competitions: Competitions are now no longer editable once the event has finished.
December 1, 2020
🐛 Bugs:
Weekly Digest: Users who were marked both an "Admin" and a "Manager" were not receiving the Weekly Digest. This has been fixed.


Scorecard Translations with Google Chrome's Translator: Users utilizing Google Chrome's built-in translator were seeing different metric totals and target numbers on their Activity and Objective scorecards. These components have been updated to prevent inconsistencies.
November 10, 2020
🎁
New:
Co-Coaches for Check-Ins & Programs

: The Ambition coaching platform now offers a new feature titled Co-Coach. A co-coach is a third-party individual who has managerial access to the coaching check-in. This is a great fit for assistant managers or HR professionals who play a role in the coaching process. A co-coach can be any Ambition user, regardless of their permission level. Read more here.
🛠 Improvements:
Check-In View:

From the

Coaching

>

Check-Ins

page, users will see a horizontal navigation bar with Check-In Tabs across the top of the page. Each tab provides the user with a quick way to view each check-in type.
Coaching Notification Badges: The red notification badge for coaching has been improved to highlight (where applicable) each check-in that requires their attention.

For example: A red "3" on the Manager tab highlights that this user has three check-ins pending their review.
Populate Employee Selector for Coaching: When creating a Check-In or an Action Plan from a User's Dashboard (via the Coaching Timeline) the form's Employee selector is now automatically populated.
🐛 Bugs:
Feedback Action Item for Check-In Templates: The Feedback Action Item Content fields are no longer required to complete when creating a Check-In Template. The content field is designed to be completed by the manager when creating a check-in, not the template itself.


Non-Editable-Check-In-Templates: Non-editable Check-In Template action items could be edited and excluded when creating a Check-In from the template. Users will now not be able to change the content, remove the item, or change it's required status.
October 27, 2020
🛠 Improvements:
Competition Created By & Modified By Time Stamps: The Manage Competitions page (

/competition/manage/

) has been updated to include four new columns going forward. They include:

Created Time
Created By
Last Modified By
Last Modified Time
🐛 Bugs:
End Smart Benchmarking Configuration: Smart Benchmarks can be removed by inserting a '-' into the benchmark override. Learn more here.
October 13, 2020
🎁
New:
Slackbot Slash Commands

: The Ambition Slackbot has been updated to support slash commands, including a

/ambition leaderboard

command. Click here to learn more.
New Dashboard Metric Tab

: The Metrics tab and metric cards on user and group dashboards have been updated with the following improvements:
🛠 Improvements:
Open Action Plans are Shown in the Coaching Timeline: The coaching tab for a user has been improved to show open Action Plans:



Productivity Tab: Users are Clickable

: From a group dashboard's productivity tab, each user's name within the quadrant can be clicked to take you directly to their personal dashboard.



Spreadsheets: Users are Clickable: Each user's name or group's name shown in a spreadsheet can be clicked, which will take you directly to their respective dashboard.

September 15, 2020
🎁
New:
Threaded Agenda Comments

: Within Check-in & Action Plan agendas, participants can now engage in threaded conversations for each agenda item.


🛠 Improvements:
Save Partial Progress for Check-In Agendas

: Employees now have the ability to save partial progress towards their check-in agendas, regardless of how many agenda items have been completed.


Increased Attribution Metric Limits

: Up to 10 Attribution Metrics can be designated for single Programs, Managed Programs, and Program Templates.
September 2, 2020
🛠 Improvements:
Flexible Due Dates for One-Off Check-Ins: When creating a single check-in, managers can now fully customize the check-in's timeline of events to better fit their coaching cadence. Previously, the Agenda Due Date had to be before the 1:1 Meeting Time. Now, the Due Date can be before or after the 1:1 Meeting time. Additionally, the frontend representation of the dates has been simplified.


Accolade TV Slide Improvements

: The Accolade TV slide will show each achievement level for a multi-level accolade and the icon for the accolade itself. Click here to learn more about Multi-Level Accolades.
🐛 Bugs:
Administrators Change Ask Status

: Organization Admins can now change the status of an Employee Ask on behalf of the owner or employee.




Coaching Overview - Employees Without One Check-In

: In the Coaching Overview page, the section which shows

Employees Without 1 Completed Check-In

was incorrectly filtering when a

Group

was chosen. This is now filtering correctly for group types.
TV Analytics Graph Slide - Series Colors

: Additional series colors were provided to support Analytics' 12-series maximum for saved graphs on TV slides. This applies to line graphs, bar graphs, & stacked area graphs in-app or on TVs.
TV Leaderboard Custom Metric Header Values: When creating a new Leaderboard TV slide, the column headers and sub-headers can be customized.


Manager Dashboard - Coaching Analytics

: The Coaching tab on a Managerial Dashboard shows a Manager's coaching timeline; this is a roll-up of all direct reports that they coach. The Coaching Analytics table now pulls data for all of the employees who report to the manager.
August 19, 2020
🎁
New:
Accolades Version 2.0

: Our Accolade system allows organizations to host their clubs & awards programs directly in Ambition. These can be automatically awarded based on metric criteria or manually given based on user's discretion. Click here to learn more.

To further build upon this system, our latest update includes the following improvements:

Multi-Level Accolades
Peer-to-Peer Accolades
Social Media Sharing
New Image Library
Improved Look & Feel
Pinning to Dashboards
New All Access Coaching Permission

: This permission setting provides the same level of visibility that Admins previously had, but it also introduces the ability for those users to view coaching notes. It can be assigned as an individual permission, which is a great fit for HR team members who need Admin access to coaching without also having Admin access to other areas, like data integrations for example.

Click here for a full breakdown into what these users can & can't do.
August 4, 2020
🛠 Improvements:
Metric Cards: Improved Support for Long Metric Names: Metric cards (shown on a Dashboard's metric tab) have been expanded by seven characters to better support long names. In the event the metric name is still too long and is cut off, hovering the mouse over the metric name will display the full title.
July 30, 2020
🐛 Bugs:
Trigger Form: Admin users were briefly unable to create new triggers or edit existing triggers on July 30. This was quickly resolved.
July 28, 2020
🛠 Improvements:
Multi-Currency Support Status: From the Salesforce Integration Management Page, Admin users can now see the connector status if Multi-Currency is enabled.


🐛 Bugs:
Competition Prizes: Fixed an error which prevented rank-prizes and threshold-prizes from having the same value.


Trigger Owner Changes: Ambition will no longer change the listed owner of a trigger if it is edited by an Admin user.
July 7, 2020
🛠 Improvements:
Removed Manager's Deadline to Approve a Check-In: Previously, managers were on a timeline to approve/close a check-in before it expired. This expiration date no longer applies to check-ins that are pending managerial review.
Check-In Form UI Improvements: The labels of the Check-In creation form have been updated to include help text for Start and Due Dates. Additionally, the start, due, and completed date labels within the check-in now match the creation form.


🐛 Bugs:
Group Management with Search: Admins were receiving a "Well This is Embarrassing..." error when attempting to create a new group while searching for a group in the "Search Groups..." field on the Group Manager page.


Rank TV Slide Percent to Target: TV Leaderboard Slides with Percent-to-Target ranks have been updated to ensure that each entities progress bars are the same width.
June 30, 2020
🎁 New:
Ability to Reopen & Extend Check-In Due Dates

: This update provides managers with two new options:

Reopen Expired Check-Ins

and/or

Extend the Due Date

of Pending Check-Ins.
June 23, 2020
🎁 New:
Coaching Overview Page for Insights and Reports

: The Coaching Overview page allows Admin users to view all (company-wide) coaching data and reports. These updates include:

Coaching Insights & Actions
Program Attribution Metric Visualization
Check-In Rating History
Improvements to Utilization Reports

🛠 Improvements:
Dashboards - Metric Card Trend Comparisons: The metric cards found on a dashboard have been updated to better compare

metrics. Previously, comparing a group to a user would provide a line graph showing a sum vs. an average (apples to oranges). Now, users can compare their daily average against the user daily average for their role/group (apples to apples):
June 9, 2020
🎁 New:
Custom Time Frames for Leaderboard & TV Rank Slides

: Ambition Leaderboards now provide better support for organizations with fiscal calendars.

When viewing a leaderboard or creating a new leaderboard TV slide, select Custom from the Time Frame picker to set your Start Time and End Time.

🛠 Improvements:
Improved Coaching Notes with Rich Text: Ambition's Coaching Notes now support rich text:

Bold, Italicized, & Underlined Text
Numbered & Bulleted Lists
Hyperlink support
Headers & more
Mobile: Improved Manual Entry Form: The Manual Entry Form input is now a decimal input instead of numeric to allow floating numbers and not just integers. Support for iOS & Android browsers.
🐛 Bugs:
Analytics: Time Series To Use Totals Instead of Daily Averages: Time Series Reports will revert to showing totals instead of daily averages for time frames larger than day. This was changed in our release on 4-14-20, which refactored Time Series CSV exports.
June 4, 2020
🎁 New:
Giphy Integration - User Settings: Employees can easily preview, search, & select new gifs directly from their user settings. The default search window pulls in trending "win reactions" and the settings page shows a preview. The Giphy Integration is a default-off feature. If you'd like to turn on the feature, please reach out to your CSM or to gethelp@ambition.com.
From the user settings page, you can preview a gif link or choose a gif from the Giphy API:
May 26, 2020
🛠 Improvements:
New Metric Builder Operators (Blank / Is Not Blank): The Metric builder filters now have operators for Is Blank or Is Not Blank.
May 12, 2020
🎁 New:
🛠 Improvements:
Improved Navigation: Ambition's left-hand navigation has been improved to provide a better user experience while navigating the Ambition platform. Updates include:


Separating Triggers & Analytics into their own navigation items (previously were found under reporting).
Brought TVs up into the main navigation.
The Administrative section has been cleaned up, removing duplicates from the sections above.
🐛 Bugs:
Goal Contribution Ranking: User contribution within a team goal has been reverted to sort users from high-to-low, instead of alphabetically.
May 5, 2020
🐛 Bugs:
Schedule Triggers No Longer Include Future Data: Scheduled triggers will no longer duplicate users in an email if their future data meets the trigger's criteria.


April 28, 2020
🐛 Bugs:
Feed - Removed Duplicate Events: Group & User dashboard's will no longer show duplicate event updates on the Feed tab.



Metric Editor - Duplicate Salesforce Object Display Names

: If an organization had a custom object with the same name as a standard object, only one of those objects would appear in the Object Field (within the metric builder). When this happened, users could not distinguish between the two. This update removes the filter for distinct display names and adds the Salesforce object api name to the display, allowing administrators to differentiate objects.


Internet Explorer 11 - Account Dates: Users in Internet Explorer 11 were previously unable to save updates to user account dates (group memberships, birthdays, and start dates) in the User Settings page.
April 14, 2020
🎁 New:
Employee Asks: Employee Asks is a simple, performance-centric system where employees can make asks and managers can take action. Thank you to our beta-testers for your feedback. The new and improved system allows for the escalation of asks, reminders of asks, and more. View all updates here.
Analytics Home Page: When visiting Analytics, users will now land on a new 'home page.' Here users can select between loading a saved report or exploring data in a new format (spreadsheet, graph, quadrant, or histogram). Previously, Ambition would automatically load a spreadsheet report of current Activity & Objective Scores. This new page will decrease the number of clicks to a saved report and significantly decreases loading time overall.

🛠 Improvements:
Analytics - Show Zeros in Spreadsheet Mode: This new filter toggle will include users who haven't contributed to the selected metric(s) for the selected time frame, bringing in zeros or null values.
Analytics - Sort Columns in Time Series Mode: Added sorting capability to time series spreadsheet. Clicking on each time series column header will first sort highest-to-lowest; a secondary click will resort the column lowest-to-highest.
🐛 Bugs:
Analytics - Time Series CSV Export: The CSV file download from a time series report ran into data issues when its pagination exceed two pages. This has been fixed, ensuring all data is present in the export.
April 7, 2020
🎁 New:
Salesforce Multi-Currency Support: This update allows organizations to

translate multiple currencies into a standard currency within Ambition.

Read more here.


File Upload Action Item: Managers can create a "File Upload" agenda item for both

Action Plans

and

One-off Check-Ins

. The uploaded file is to be acknowledged by the employee before approval.
🛠 Improvements:
Assign TV Branding in Bulk: TV Branding can now be applied to multiple TVs as once. From the Brand's settings, select which TVs should receive the branding's logo, default background, & accent color. Learn more about TV branding here.
March 31, 2020
🎁New:
Weekly Admin / External VIP Digest: This weekly email provides a snapshot into feature utilization and interesting data points for your organization, every week. This digest, which is sent on Mondays, can be sent to any email (even those who aren't licensed Ambition users). Click here to learn more.
🛠Improvements:
Admin Users Can Now View Coaching Timelines: When an admin user visits an employee's dashboard, they can now view the coaching timeline. Previously they could only find coaching check-ins through the left-hand navigation (Coaching > Manage > Check-Ins).
External URLs in Coaching

: The external URL agenda item has been improved to ensure that only valid URLs are submitted for employees to complete. This now requires the user to copy/paste the full URL (ex: https://www.ambition.com as opposed to ambition.com).
🐛Bugs:
Competitions - 5 Metric Limit Error Reached at 4 Metrics

: When a new competition is created, the user is redirected back to the create competition form. If this form was completed a 2nd time (immediately after creating the first competition) the user was exposed to a bug that prevented 5 metrics from being selected. This has been corrected.
March 24, 2020
🐛Bugs:
Saving Hierarchy in Histogram Reports

: When revisiting saved histogram reports in analytics, the hierarchy was being overridden by the default report hierarchy (which is all users). This update ensures that the saved hierarchy is shown upon load of the saved histogram report.



Salesforce Hierarchy Sync, Filter Out Deleted Group Types

: Inactive collection types will no longer be shown in the account settings. This only impacts users who have an active Salesforce Hierarchy Sync.
March 17, 2020
🎁New:
Beta Program - Employee Asks: Employee Asks is a simple, performance-centric system where employees can make asks and managers can take action. Coaching, competitions, goals, clubs, awards, you name it. Everything is powered by your company's data, trackable, exportable, critical to ensuring culture is exactly where you want it. Click here to learn more
If you're interested in joining the Beta program, please let us know at gethelp@ambition.com
March 10, 2020
🎁New:
Custom Check-In Rating Categories: When a manager approves an employee's check-in, they have the ability to rate the employee's performance. With this update, organization can customize the rating categories to fit their needs.


At Ambition we rate our team members on their preparedness, engagement, and coachability.
If you'd like to learn more about creating your own categories, click here.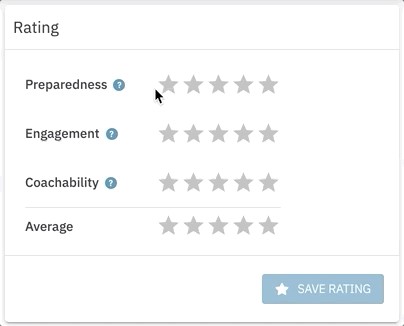 New One-Off Check-In Form: The check-in creation form now allows managers to designate the explicit meeting time. The improved date and time selector also supports 5 minute meeting intervals and custom durations.
New Coaching Tool - Request an Update: Ambition now offers a passive coaching tool that allows managers to send a brief agenda for their employee to complete. The format is similar to a 1:1, but does not require a specified meeting time.

🐛Bugs:
Coaching Calendar Invitations for Managers: Previously, calendar invites for coaching check-ins were only sent to the employee. Now, both the manager and their employee receive calendar invites for the selected check-in date & time.


Blank Scorecard Overrides: This update prevents metrics from one scorecard being transferred over to roles that do not have metrics on their scorecard.
February 25, 2020
🛠Improvements:
Analytics Graph Slide Resolutions: The Analytics Graph & Goal TV Slides have been updated to use responsive styles to render all data at higher TV resolutions.


Dashboard Productivity Quadrant Title: The quadrant report (that can be found from a dashboard's productivity tab) now has a title. This comparison tool provides insight into historical trends, without having to consider daily fluctuations in scores. The report's title shows the historical time frame that's being used to calculate the historical activity score and objective score.

🐛Bugs:
Display Smart Values for Negative Duration Metrics: Within Analytics' filters, using 'Display Smart Values' for duration metrics wasn't correctly handling negative duration values. The toggle now supports negative metric values.
Benching in Navigation for Managers: Managerial users with the permission to bench were missing the Benching section from their left-hand navigation. This has been add back.
February 18, 2020
🛠Improvements:
Trigger Log Timezones: Trigger Logs were previously shown in UTC, now they are shown in the user's local timezone.
February 4, 2020
🐛Bugs:
Purged Data Fix for New Integrations: Uploading data in purged integrations would not produce metric values. This was isolated to new integrations that went through a purge. The issue has been fixed.


Get Help - Contact Us Form: For a brief period of time on Tuesday, February 4, Ambition's Get Help Form was un-editable, leaving fields like 'category' and 'subject' blank. This has been fixed.
January 28, 2020
🎁New:
Trigger Logs: Ambition's trigger log will allow manager & admin users to view the notifications for each trigger. This can be extremely helpful when troubleshooting trigger configurations. Click here to learn how you can find Slack, TV, and email notifications all within Ambition.

January 10, 2020
🛠Improvements:
Benching Notification Text: When submitting a 'bench employee' form, the description has been updated to state: "Bench employees so that they do not negatively impact group-based competition scored on daily, averaged metrics. If any employee is marked as benched they will not receive any values for those days and will not go into the computation of any team averages."


Leaderboard 'Rank By' Descriptions: Leaderboard filters have been improved to help clarify the various 'Rank By' options. The new help text is visible within the in-app Leaderboard as well as the TV Leaderboard slide builder. Value, Percent-to-Target, Most Improved Value, & Most Improved Rank now have the following help-text:
Company Support in Ambition's Get Help Modal: A company's internal support information is designated by their administrator. If a company administrator email address is provided within the organizational settings, the Company Information modal (as shown below) will present it as a button that states 'Email Company Admin'.
Updates to Goal Management:

The Manage Goal table now has filters, allowing users to filter across names, users, and status.
Upon the creation of a new goal, users will now be redirected to the overview page for the newly created goal.
🐛Bugs:
Deleting Saved Reports in Analytics

: Previously, deleting a saved report would also reload that same deleted report. If a user is viewing Report A and they delete Report B, they will no longer be redirected back to Report B's filter selections upon deletion.
Create Action Plan Button from the Manage Coaching Table: From the Manage Coaching page > Action Plan tab, the button to create a new action plan was removed in December's update. This has been added back to the Action Plan management table.

Recurring Challenge Expected Occurrences Not Displaying Correctly: When creating a recurring challenge, the creation form will now compute and display the expected occurrences. Previously the computation would display varying end dates, however this has been updated so that the end recurrence options are correctly based on the selected start options.


Graph Doesn't Load if there's no Activity Score: The default report for any Analytics mode includes the metrics Activity Score & Objective Score. In the event that a team deactivated the Activity Score, Analytics' Graph would display an error. This has been corrected, now requiring the user to select a metric before a report is loaded.
January 3, 2020
🛠Improvements:
Analytics Apply Filters Button: Within the Analytics platform, the filters have been improved to decrease load time. Previously, each filter click would reload the report in the background. Now, the Apply Filters button will apply all new filters at once, making it easier to build a report. This applies to all report modes: spreadsheet, graph, quadrant, & histogram.