Microsoft Teams Integration
Permission Prerequisites:
Microsoft Teams Account - Authorization will require Account Administrator permissions within Microsoft Teams
Ambition - Authorization will require Admin Permissions to access integrations.
How can I utilize the Microsoft Teams integration with Ambition?
How do I enable and authorize the Ambition app?
How do I add the Ambition app to Teams and Channels?
How do I share an Ambition Leaderboard within Microsoft Teams Channels?
What information from Microsoft is Ambition accessing?
Microsoft Teams Overview
Ambition's integration with Microsoft Teams creates an ecosystem of encouragement & delivers actionable insights within Microsoft Teams. Managing remote sales teams is hard, but maximizing employee performance with recognition and performance alerts is easy and effective with Ambition for Microsoft Teams.
Through Ambition's Microsoft Teams Integration you can send Workflow notifications directly to your public and private Teams to drive employee engagement and recognition. Enabling the Microsoft Teams integration will also allow users to share Leaderboards on the fly.
Enable and Authorize Microsoft Teams Integration
1. Open the left navigation and click Administration > Data > Integrations.
2. Under Available Integrations, click the Enable Integration button in line with the Microsoft Teams integration.
Upon enabling, you will be taken into the Microsoft Teams Integration.
3. Now that integration has been enabled, the administrator will be redirected to the Microsoft Teams Setup page.
4. Click the Authorization tab.
5. Click Sign-in with Microsoft
If you utilize Ambition within Salesforce, log into your Organization's stand alone instance of Ambition, yourcomanyname.ambition.com, as attempts to be redirected to sign in to Microsoft within the Salesforce UI will be blocked.
If you are unsure of your Organization's Ambition domain, reach out to gethelp@ambition.com.
As noted above, the Authorization step must be completed by a user with administrator capabilities for the associated Microsoft Teams account.
6. You will be redirected to Microsoft Teams where your company's Microsoft Teams account administrator will need to sign in.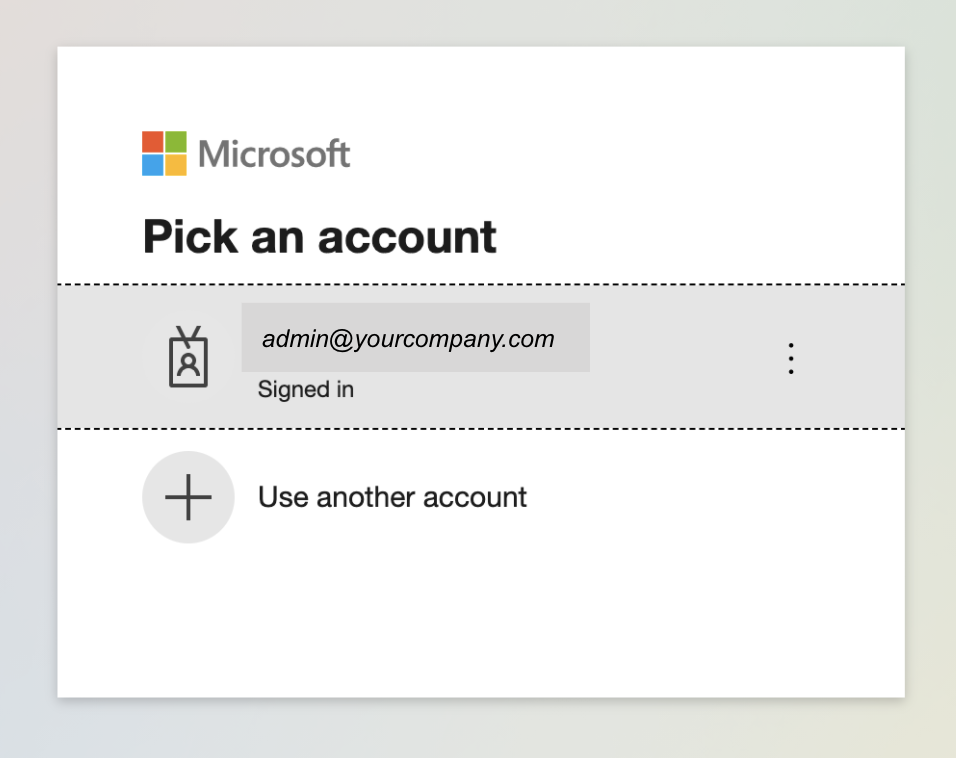 7. Once signed in, your company's Microsoft Teams account administrator will be presented with the permissions requested by the Ambition application.
- Click the checkbox to "Consent on behalf of your organization."
- Click Accept to authorize the permissions requested.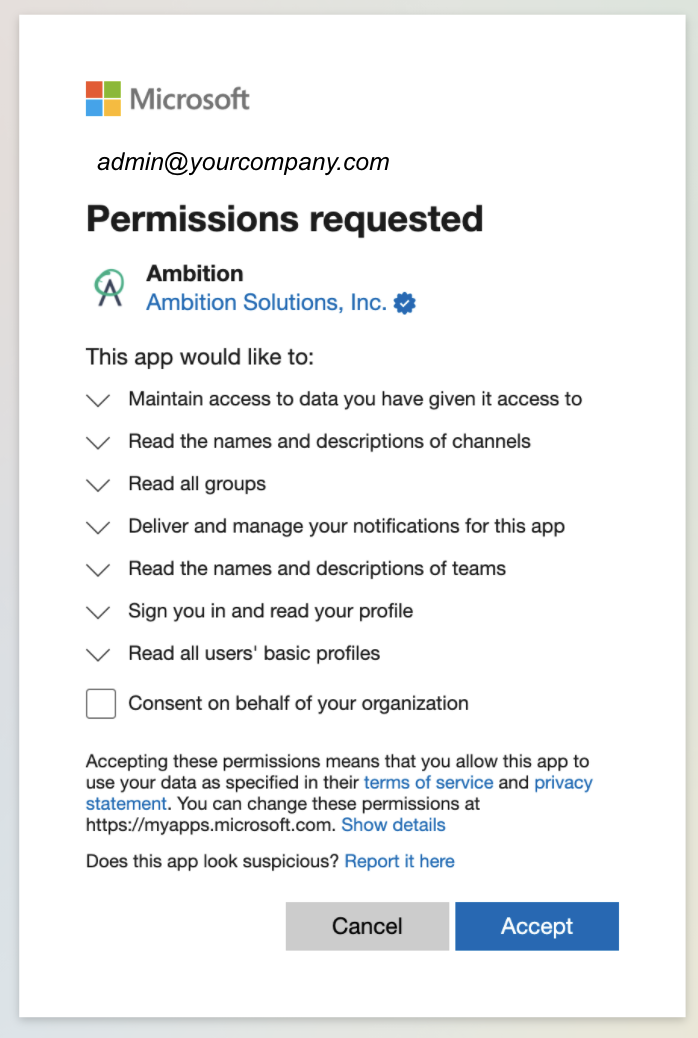 8. The authorization is now complete. You will be redirected to the Microsoft Teams integration management page in Ambition.
Here you can click + Get Ambition For Microsoft Teams which will redirect you to Ambition's listing on the Microsoft Teams App Store.
Before being able to send Ambition notifications to Microsoft Teams, Ambition will need to be added to the preferred Microsoft Team Channels.
Add the Ambition App to Microsoft Teams and Channels
Now that the Microsoft Teams Integration has been authorized, the Ambition app will need to be added to the appropriate Teams & Channels for use.
You can use Ambition in a public or private Team.

You can only use Ambition in public Channels. Platform limitation by Microsoft: Private channels in Microsoft Teams - Microsoft Teams

To use in the public Channels of a public Team, install Ambition to any user or any team in the workspace.

To use in the public Channels of a private Team, install Ambition to that team's General channel.
How to add the app to a Team:
1. From a Team, click settings > Manage team.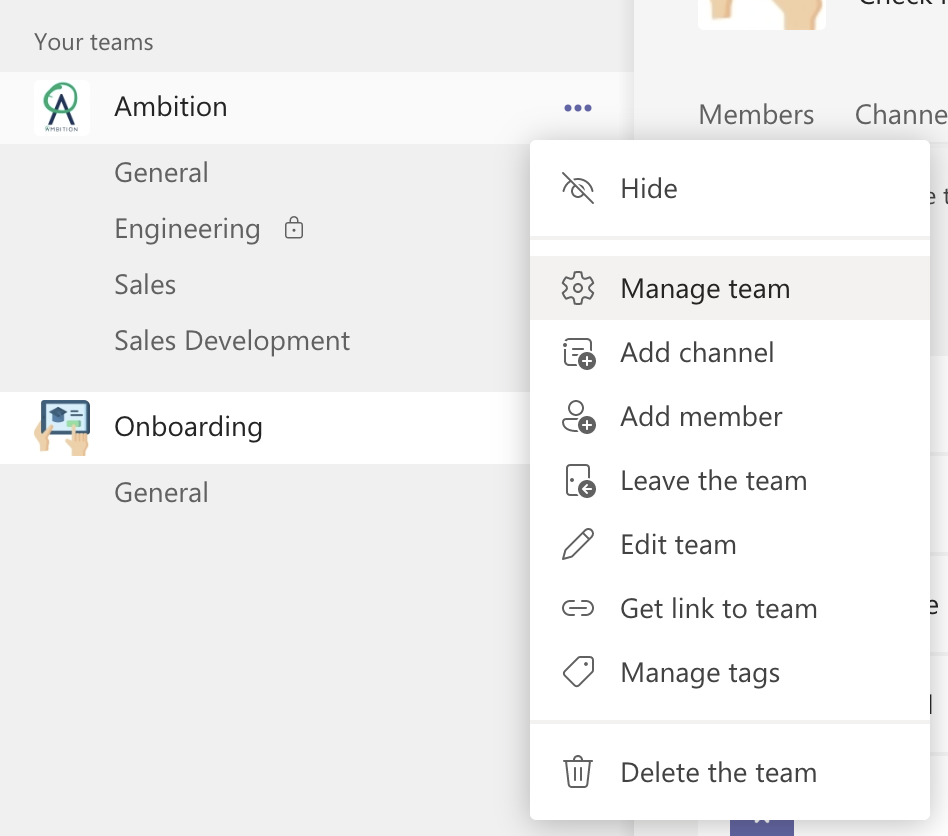 2. From the Apps tab, click More Apps.

3. From the Apps page, search and select Ambition.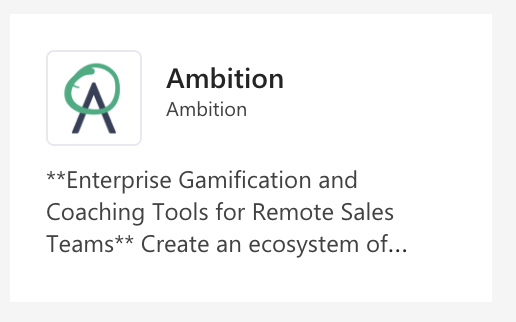 4. This will open the Ambition app description.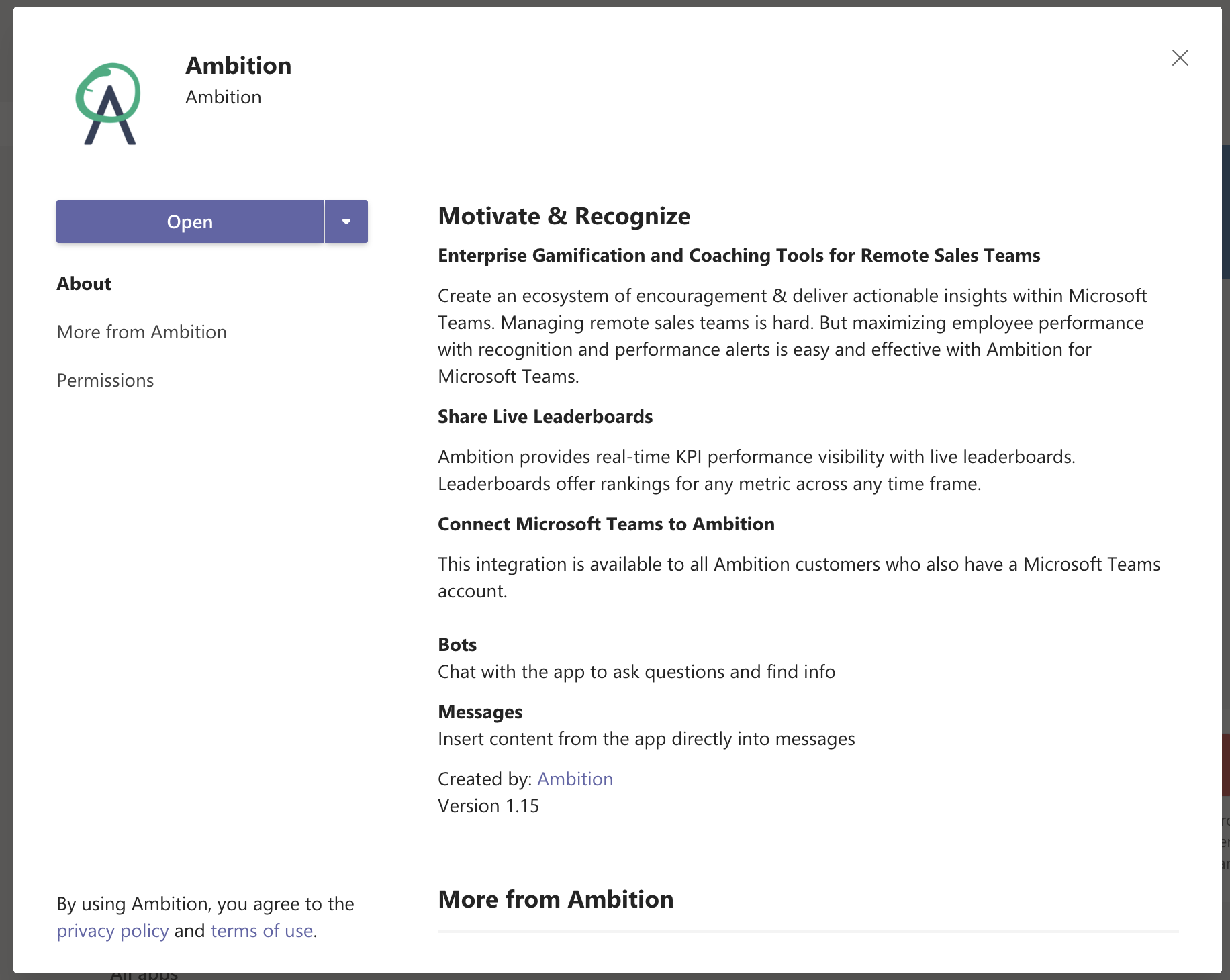 5. From the Open menu, select Add to a team.
The Ambition app can be added to both public and private Teams!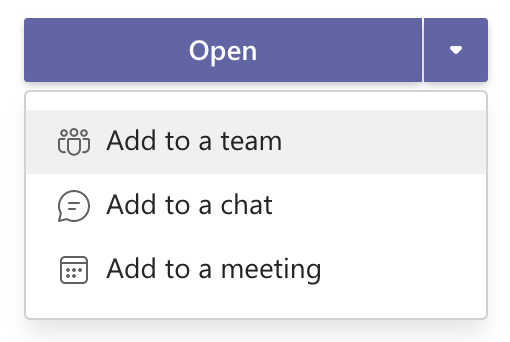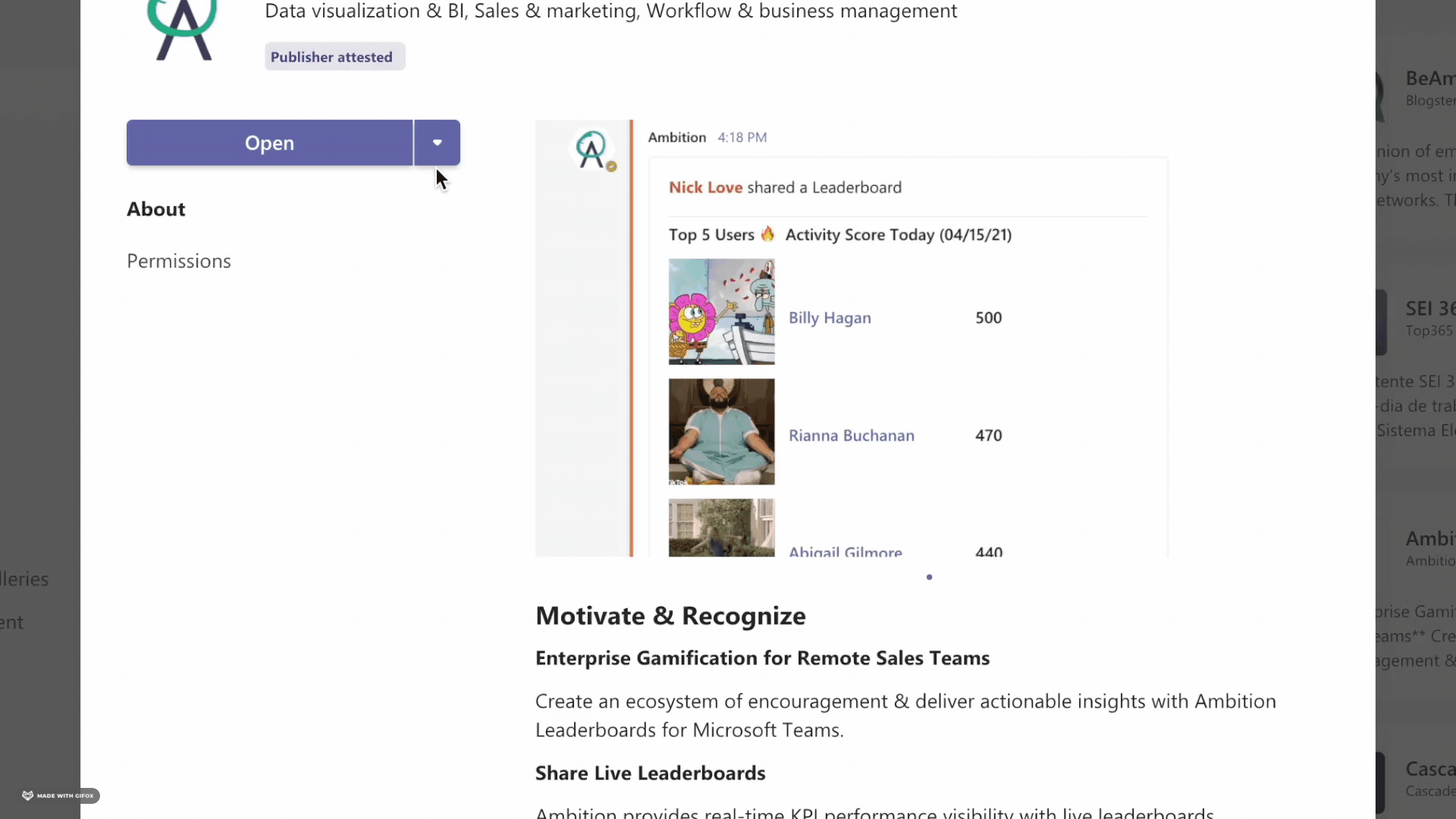 6. Click Set up a bot for the selected Team and Channel.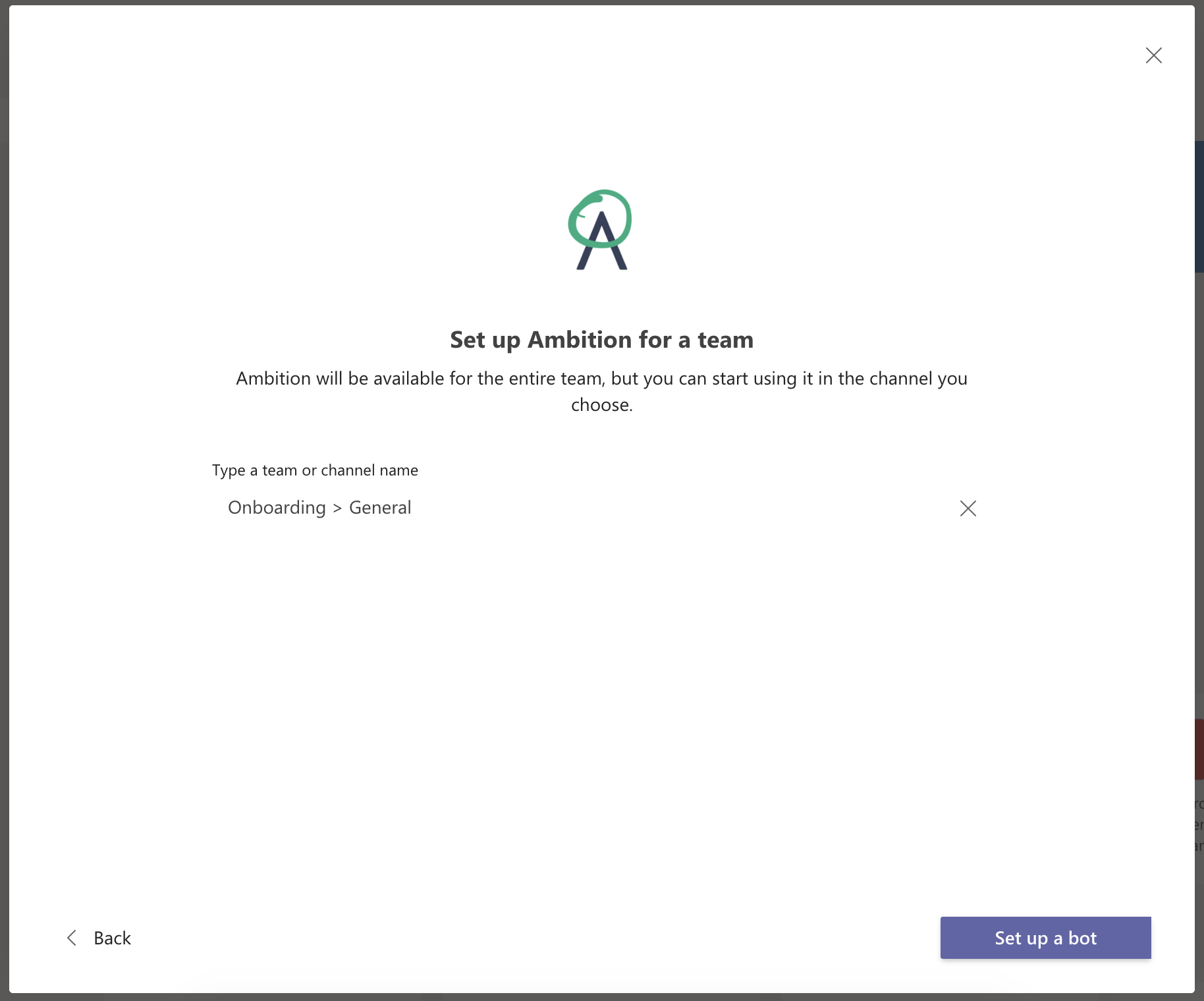 7. Ambition Leaderboards can now be invoked and Workflows sent to the respective Channel.
Share a Leaderboard in Microsoft Teams
From a channel, there are two ways to share an Ambition Leaderboard:
Option 1 - Click on the Ambition logo within the message tool bar. Select Share a Leaderboard
Option 2 - Type @Ambition with the message bar to access the application options.
Once you type in and select Ambition, click Share a Leaderboard.
The Leaderboard Modal provides the following filters:
Select a Metric

: Choose 1 metric to rank the users by. The Metric dropdown shows all active metrics within the Ambition account. The default metric is Activity Score or Objective Score, depending on the Ambition account's settings. If both scorecard metrics are disabled, the first alphabetical metric is chosen as the default.

Select a Group Type

: This changes the entity type for the leaderboard. The default is to rank users, but this also allows for group rankings (teams vs teams, roles vs roles, etc.) The Group Type dropdown shows all active group types within the Ambition account.

Standard Date Range

: This changes the time frame for the metric value. It defaults to Today, but can be changed to other standard date ranges like This Week, Last Week, This Month, etc..

Custom Date Range

: If a standard date range is not preferred, the Custom Date Range filter provides a calendar picker for the start date and end date.

Select Groups to Filter Within

: This filter allows for additional filtering within groups. For example, rank all users within the role "Account Executives".
Note: To change these filters, click the X or V on the right for more options.
Security
Information We Access/Store
App Scopes
What We Access

What We Store

Maintain access to data you have given it access to
Sync Data

Allows the app to see the data you gave it access to, even when you are not currently using the app. This does not give the app any additional permissions.

Sign you in and read your profile
Organization

We store the organization name and ID.

Read all Groups
Teams

All Team Names and IDs (public and private).

Read the names and descriptions of channels
Channels

All Channel Names and IDs (public and private).

Read all users' basic profiles
User

All Users: Name, Email (to connect with their Ambition Email), and Microsoft Teams ID.

Message History

Only messages that the Ambition integration posts

We do NOT collect/store messages posted by Users

We do NOT access existing channel messages
Why This Data Is Stored
Team and Channel Names are necessary to populate the Workflow's notification dropdown menu.
User Emails are necessary to connect Microsoft Teams Users with Ambition Users so that we can @tag them within Ambition's Microsoft Teams posts.