Attach Gong Recordings to your Check-In
The Gong integration now offers a new agenda item for coaching: Gong Calls.
Revenue teams utilizing Ambition + Gong are enabled to coach more effectively and surface actionable insights to better achieve goals and objectives. Gong recordings and conversation data can be surfaced directly in rep coaching cadences which maximizes manager and rep 1:1's - saving time and improving rep performance.
Click here to read more about the Ambition+Gong partnership.
In this article we'll cover:
Gong Calls Agenda Item
The Gong Calls agenda item allows a manager to either select calls to review or request that their employee select the calls for review. These calls can be searched or filtered for, and are directly attached to the check-in's agenda (conversation).
This new agenda item can be applied to individual check-ins, recurring coaching programs, and their corresponding agenda templates.
Clicking on a call will provide a media player to listen or watch the call, as well as accessing the call's interactivity data from Gong.
How to Use it in a Check-In
This new agenda item allows both Managers and Employees to attach Gong call recordings to their check-in agendas.
Here we will detail how to use it with a check-in builder:
1. Either from a user's dashboard, Quick Actions, or the Check-Ins page, click the create Check-In button to get started.
2. In Step 1 of the form, choose "Schedule 1:1 for Later", select an employee, and click Next to proceed.
3. In Step 2 of the form, click the + sign to select the Gong Calls agenda item.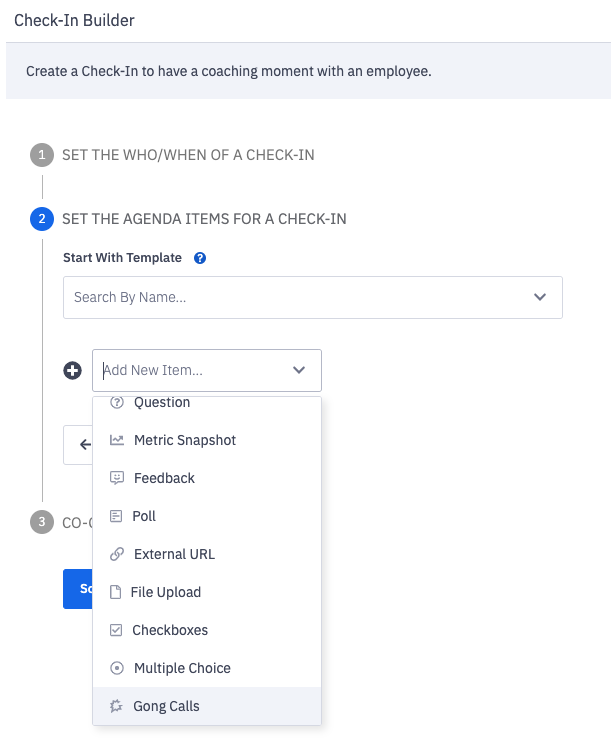 4. Once selected, this agenda item will provide two options to select from: A) Select Calls Now or B) Have Employee Select Calls.
4 A. "Select Calls Now" will allow the Manager to name the agenda item, select individual calls to discuss, and ask the employee for feedback for each of the selected calls. In this example, the Manager is picking two calls for the employee to review and provide feedback on.
4 B. "Have Employee Select Calls" will allow the Manager to name the agenda item and ask the employee to provide feedback on each of the selected calls. In this example, the Manager is asking the employee to select two calls to review with their supporting feedback.
5. Once the check-in form is completely filled out, click Schedule Check-In.
6. If the Employee is selecting the calls to review, they will be presented with a modal where they can search for a call by name or use the time frame filters. Attached calls will be added to the check-in's agenda.