Coaching Visibility
Coaching Preferences are available in Coaching, Pro, and Enterprise Packages where Coaching is enabled.
What are the available Coaching Visibility options?
What level of visibility does each option allow?
How do I update Coaching Visibility preferences in Ambition?
Coaching Visibility Preferences
Ambition offers two options for coaching visibility:
Manager Level (default)
Executive Level
Manager Level
Default setting. Only the Manager, the employee, and any added co-coach of a coaching event can view and update that event's contents, as well as admins or users assigned the Coaching: All Access permission.
Executive Level
Managers of managers within Ambition can view and update coaching events below them in the managerial hierarchical tree. Managers can engage with their direct report's coaching events and anyone who reports to their direct reports, cascading down the hierarchy. The Executive Level preference expands the default coaching event visibility.
To be considered a Manager of a Manager, one must be listed in the "Manager" field in a user's (with manager permissions) profile.
In the example below, Travis would be able to view coaching events for all of Amanda and Alex's subordinates since Travis is listed as their manager.

For subordinates, executives will be able to create:
Notes
Action Plans
Action Items
Comments on Check-in and Action Plans
For subordinates, executives will be able to view:
Public Notes and any Private Notes the executive created
Action Items
Action Plans (associated to a check-in or not)
Comments on Check-ins and Action Plans
Executive Level Visibility Example
Betty (Amanda's manager) > Amanda (Erin's manager) > Erin (employee).
Amanda has a check-in with Erin.
How does Executive Level Visibility impact Betty's experience with Coaching in Ambition?
Executive Level Visibility will:
add the Check-in between Amanda and Erin to Betty's manage Check-ins table (Coaching > Manage > Check-ins) for Betty to view/filter across
allow Betty to view Erin's coaching dashboard timeline, including the Check-in between Amanda and Erin
allow Betty to view public notes for Erin and any private notes Betty created, Erin's Action Items, Erin's Action Plans (associated to a Check-in or not), and any Comments on Check-ins and Action Plans
allow Betty to create Notes, Action Items, Action Plans, and Comments in Check-ins and Action Plans for Erin
Executive Level Visibility will not:
add coaching content to Betty's Managerial coaching dashboard unless Betty created it (Note or Action Plan)
update the Check-in card to display Betty as a participant in the Check-in
update Betty's coaching badge count in the primary navigation or in the Check-in card view (Coaching > Check-ins)
allow Betty to rate, approve, or excuse Erin's Check-in
Update Coaching Visibility Preferences
Coaching visibility is a global setting.
Any user with the System Admin permission or the "Organization: Edit" permission can access and update the Coaching Visibility Preference.
1. Open the left navigation and click Administration > Organization.
2. Locate the Coaching Preferences section.
The Coaching Preferences section will only be available in Ambition instances where the Coaching feature is enabled.
3. Make the appropriate updates within the Coaching Visibility preferences.
Manager Level is the default. You can revert to the default at any time.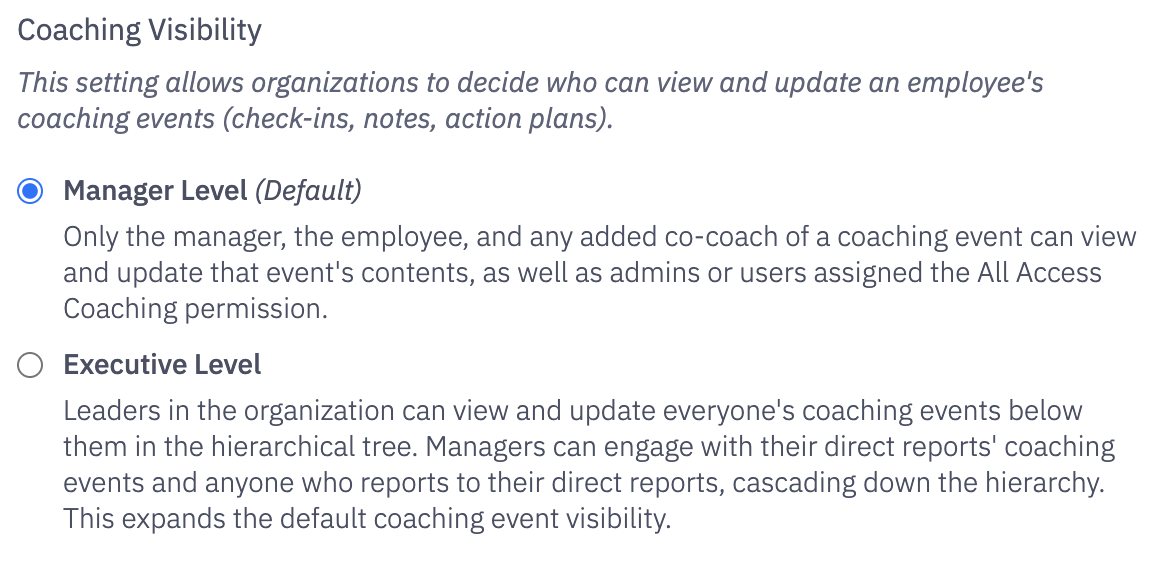 4. Click the Save button within the Coaching Preferences section.