Data Search
What types of data can I search for when using the Data Search?
How do I access the Data Search?
How do I use the Data Search to find records?
Data Search
The Data Search is used to review records at all stages of data processing. As with the Data Explorer tool, every integration will have its own Search tab. The Data Search will only pull records that were sent to that particular integration in Ambition and not from any other integration within a customer's instance.
The Data Search can query records in all of the stages of data processing that are available when using the Data Explorer tool. However, the Search function provides a user-friendly interface for launching more granular record searches.
Searchable Record Types
The Data Search queries and can pull up all of the record types that are accessible through the Data Explorer: Uploads, Raw Records, Processed Records, and Metrics.
Learn more about records within each stage of data processing here.
Access the Data Search
1. Open the left navigation and click Administration > Data > Integrations.
2. Click the Settings button on the integration you wish to access.
3. Click on the "Search" tab.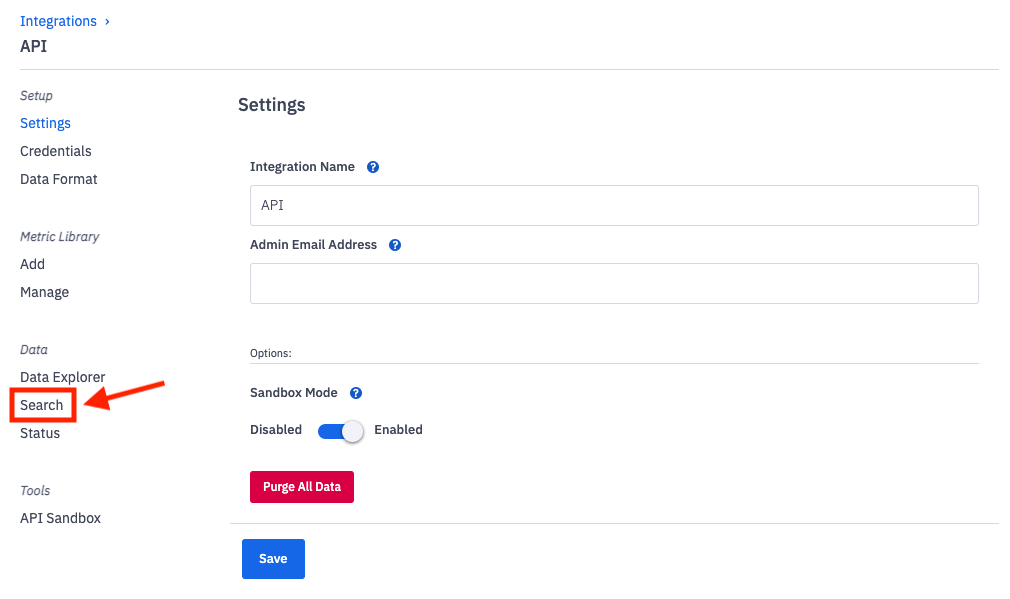 Use the Data Search
1. On the Search page, select the stage of data processing that you would like to view from the "Search For" dropdown menu.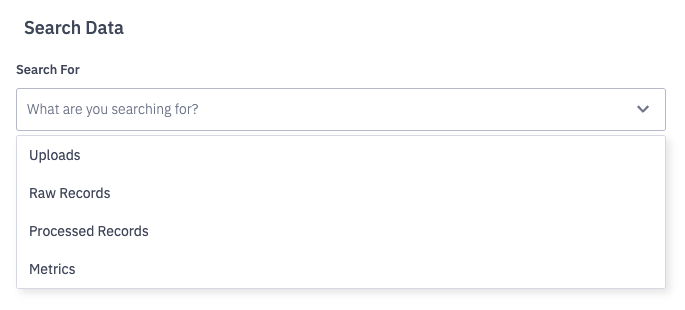 2. After selecting what type of data you'd like to Search For, you can click the blue "Search" button at the bottom of the page.

Clicking Search with no other filters applied will bring up all Uploads/Raw Records/Processed Records/Metrics (based on your selection in the Search For dropdown) from all Objects (if searching in a Salesforce integration) and for all users in your organization.
By default, only records from today will be shown.
To identify data for specific users, groups, metrics, or time periods, fill out the other dropdown menus on the page.
Optional Filter Options
User/Group
The "User/Group" dropdown can be used to identify a specific user or group that you would like to search for. You can search for any hierarchy group that exists in your instance, from the entire organization to certain role or location groups.
Object
If searching within the Salesforce Integration, select the specific Salesforce Object/Report that you wish to search through.
If a non Salesforce Integration, the dropdown will display the integration's name but opting to use this filter will not impact the data that is searched.
Metric Config
The Metric Config dropdown can be used to isolate data that generated metric values within Ambition.
Only one metric config can be searched for at a time, so you must launch additional searches if you wish to find records for multiple metrics.
Start Time/End Time
Select the start time and/or end time for the date range for which you wish to view records. Please note that searching for date ranges larger than six months can sometimes lead to time out errors. It is advisable to search for smaller time periods of data whenever possible.