Spreadsheet Reporting
Ambition offers a single pane of glass look into all your metrics for all users. You can even export and save Ambition Spreadsheets for your internal reporting needs.
How do I access spreadsheet reporting?
Can I customize the data and time frame filters on the spreadsheet?
Can I save spreadsheet reports?
Is spreadsheet data exportable?
Access Spreadsheet Reporting
Users with the permission "Analytics Reporting: View" will be able to view

all

analytics data aside from saved reports created by other users.
1. Click the left navigation and click Analytics.
2. From the analytics' home page, you can open any previously saved reports or open a new report type.
Spreadsheet is selected by default from the dropdown. Click Explore Data to open a spreadsheet report.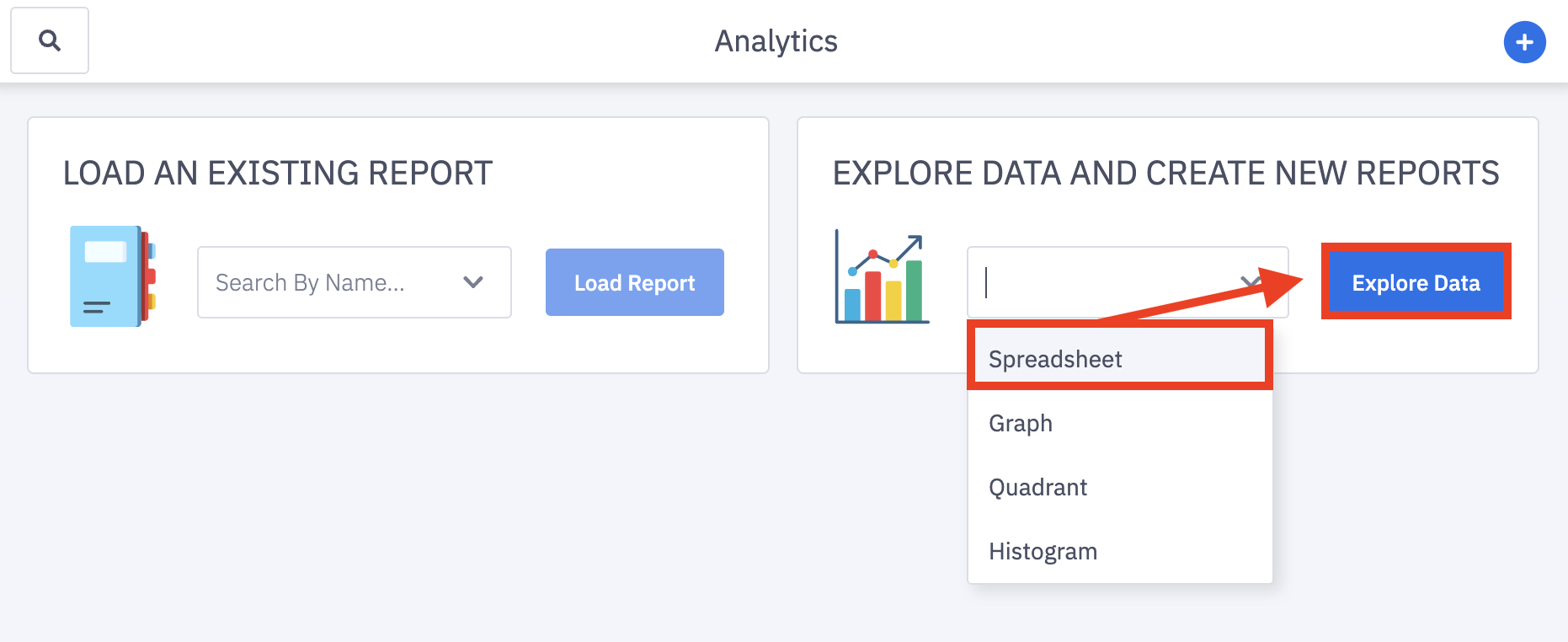 If your organization does not use both Activity and Objective Score, a "No Data" message will render upon loading. Adjusting the filters in the next step will resolve the no data message!
3. Click the filters icon,
, to slide out the filter panel, allowing you to have drill-down capabilities to capture the exact Data, Metrics, Time Frame, and Hierarchy Levels you are desiring to see.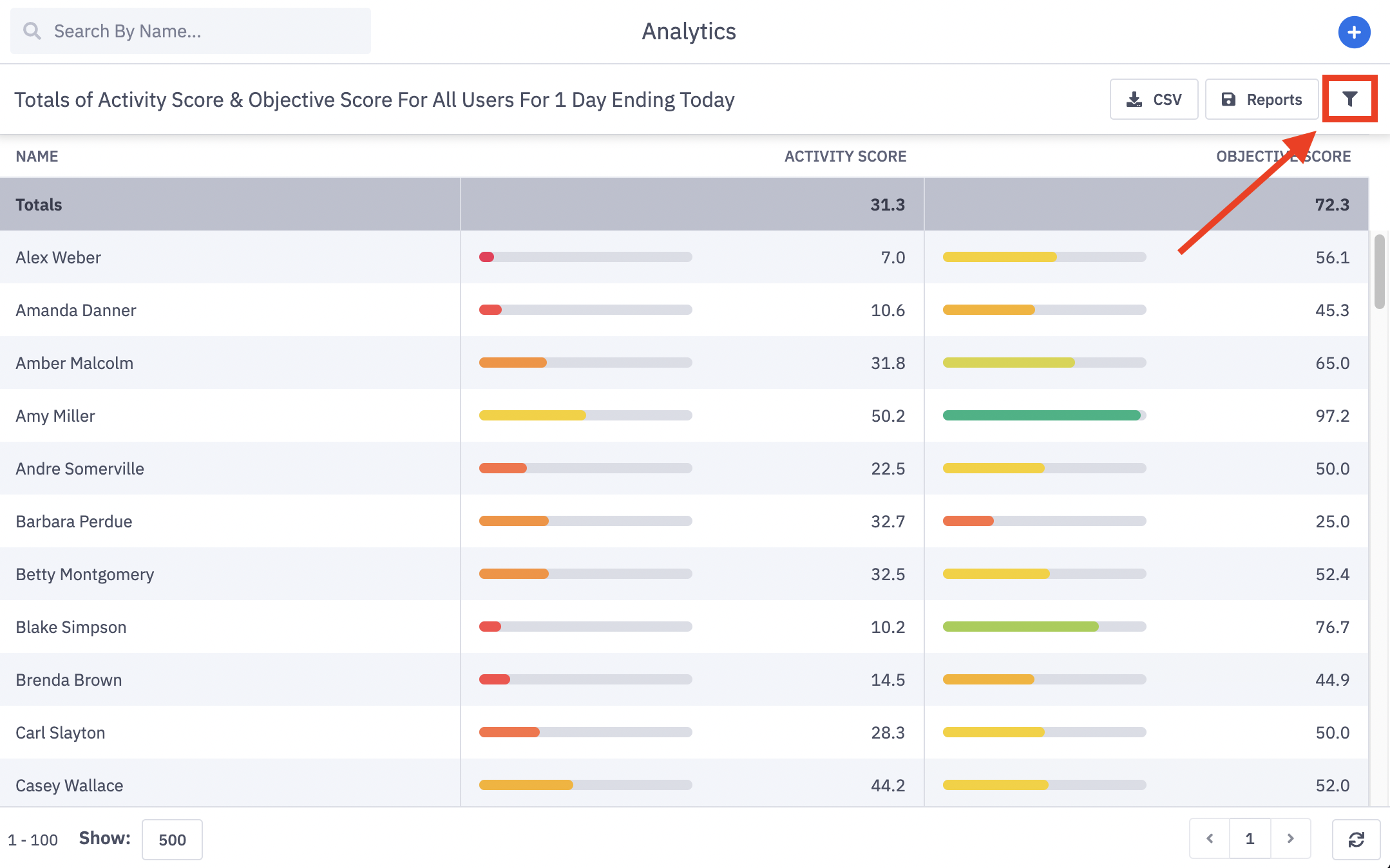 4. Select the type of data you would like to view.
Ambition has 3 options for viewing your data in spreadsheet mode.

| | |
| --- | --- |
| Data Type Option | Data Type Behavior |
| Totals | Sums your sum and count type metric data over time |
| Daily Averages | Averages your data over time |
| Time Series | Displays your data at successive times over equal intervals |
5. Select the Time Frame that you are wanting to view data across.
Note: UTC is used as the time standard when using time frame selections. To view data in your respective time zone or across several time zones, we recommend using the "Custom" time frame option.
Time frames options include:
Day
Week
Month
Quarter
Year
Custom*
*Selecting Custom will allow you to choose a specific start date through a calendar picker.
A custom end date can be selected as well.
Note: The custom time frame is not currently available in time series.
If a custom start date is not selected, also update the length of time you'd wish to view.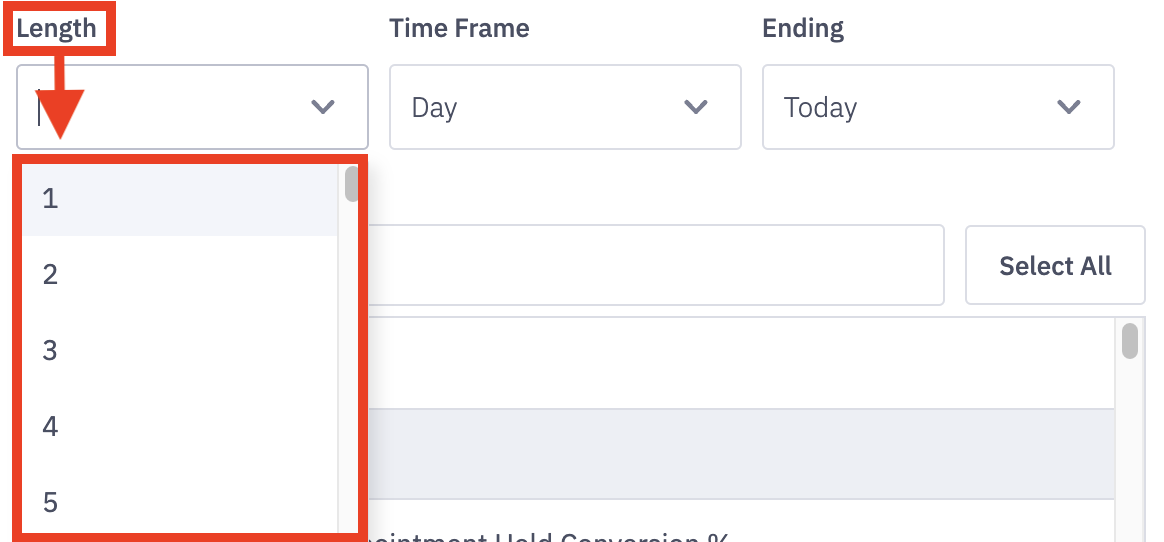 Determine the end range of your data set by selecting either today or a custom ending time.

Learn mode about the spreadsheet's time frame and methods of analytics your data here.
6. Next, select the metric(s) you are looking to analyze.
Each selected metric will be added to the spreadsheet's columns.
Below is an example of the Appointments Held, Appointments Set, and Calls metrics selected.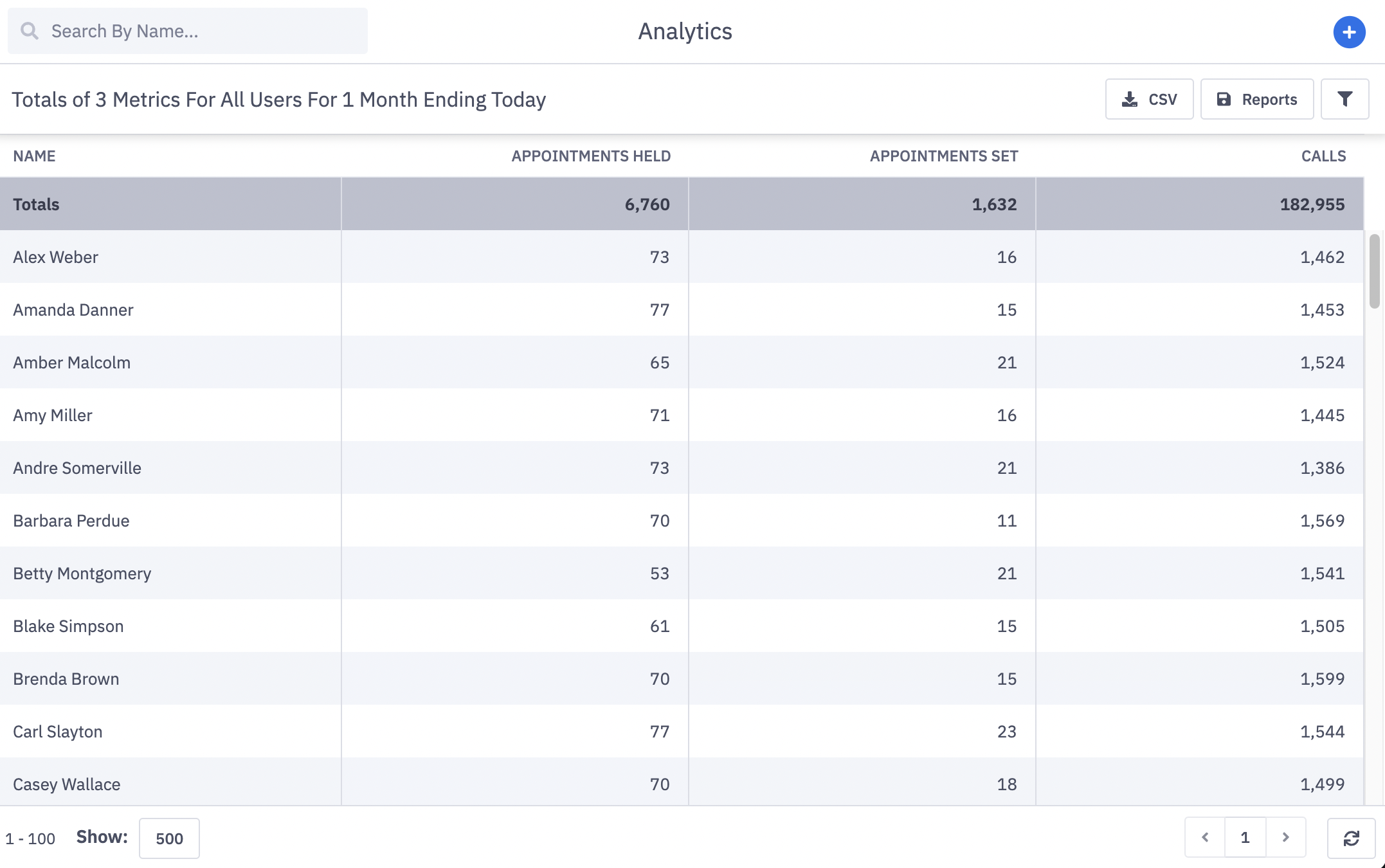 Find metrics by searching or scrolling, and select them by clicking on each respective metric.
Optionally choose to Select All or Unselect All.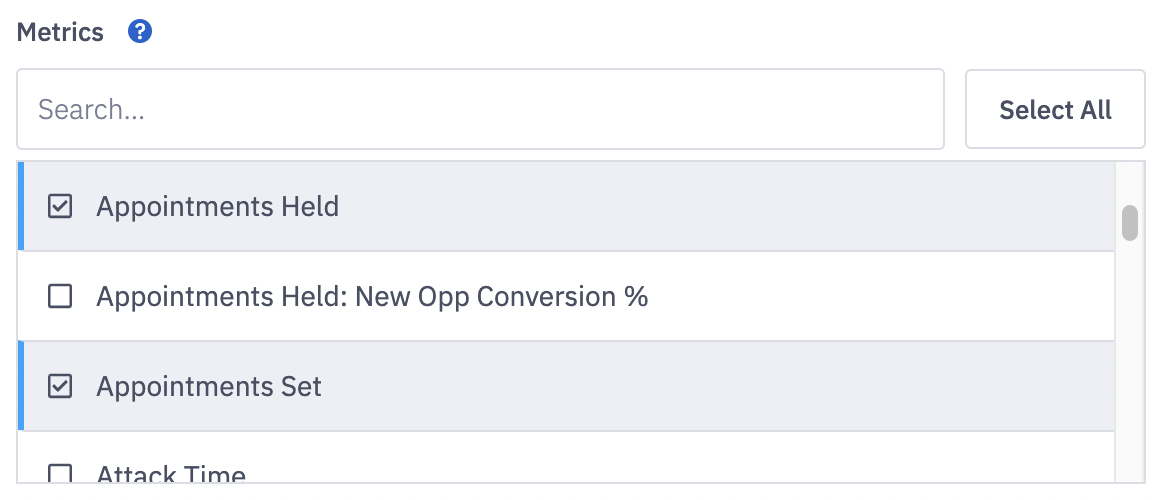 Note: You can only select 1 metric at a time within time series mode
7. Select the appropriate hierarchy level for the data you are looking to analyze.
Read more about Ambition hierarchy levels here.

Hierarchy Level is the level of user, team, role, etc that you wish to view their data
Do I want to view data for a user(s)? Do I need data for all of my teams?
Selection Type will display options of All, Within, Custom.
Is this data for Users > All? Users > Within > BDR Role? Users > Custom > Joe Smith?
Special Note about selecting the User > Within > "Manager" or the "Manager" Hierarchy Level In Cases where a Manager Manages other Managers.
If Manager A is listed as a Manager B's manager within their User Settings, any employees that roll up to Manager B will also be considered as users Manager A manages.
8. For duration based metrics, optionally select whether you want to display smart values, converting seconds into days, hours, and minutes, by clicking the Display Smart Values toggle.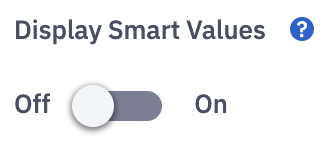 Smart values will convert your duration based metrics into an easily-readable format as shown below: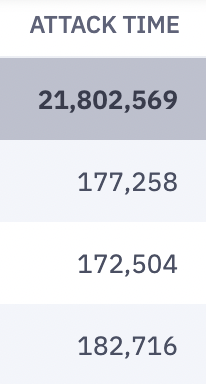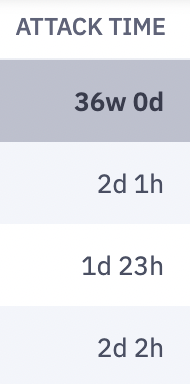 9. Include or exclude weekends in your data through the Include Weekend toggle.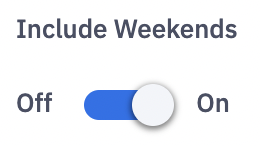 Note: Time series mode will always include weekends
10. Include or exclude users without data through the Include Users Without Data toggle.
By default, users who have not contributed to the selected metric(s) during the chosen time frame will be excluded from your reporting.

11. Select the Apply Filters button to update the spreadsheet with your filter changes. Applying filters will reload your spreadsheet report with the newly selected filters.

Save Spreadsheet Report
Instead of bookmarking frequently visited reports, you can save them directly in Ambition.
At this time saved reports can only be accessed by the creator. You cannot save reports on the behalf of others or access reports that other users have created. Reports are shareable via URL.
1. Click the Reports button.
Alternatively you can click Create Report within the filters pane after selecting the needed filters.
2. Click Create Report.
3. Name your report and optionally provide a description. Click Save.
All of the saved reports you've created can be accessed through the Reports button.
Note: Saved reports cannot be edited at this time, instead you will need to delete your saved report and create a new one.
Export Spreadsheet Data
Optionally choose to export the spreadsheet's contents by clicking the CSV button.