Ambition Scorecards
How do you measure an employee's success within their role and your organization? Traditionally speaking you would run a report and look at bottom-line results every month, quarter, and year.
Ambition Scorecards create employee-level transparency and accountability around process.
What are the benefits of using Scorecards?
Can I see an example Scorecard?
Why Scorecards?
Daily accountability, long-term results. Our methodology combines target baselines of activity and effectiveness, with continual progress tracking of the long-horizon goals. Ambition allows for creation of scorecards for every role with custom metrics and scoring weights.
Benefits of using Scorecards:
Improve playbook adoption by measuring what matters, and weighting activities appropriately -- after all, not all activities carry the same importance.

Drive CRM adoption. When your reps' scorecards are weighted and tracked accurately, they are incentivized to perform the activities that improve their scores.

Customize scorecards for each Role/job function in your Organization

Provide continuous feedback loops for reps.

When reps are only focused on one thing (quota is the easiest thing), it's hard to get them to see the value in driving up calls, meeting sets, etc. Determine which short-term and long-term activities lead to success, set up scorecards, and watch reps adjust to correct behaviors.
Scorecard Overview
You create Scorecards for defined Groups that all belong to the same Group Type within Ambition.
A Scorecard consists of two sections: short-term Activities (leading indicators) and long-term Objectives (results). While customizable, we recommend measuring Activities daily and Objectives monthly.
Each section consists of Metrics, targets, and weights.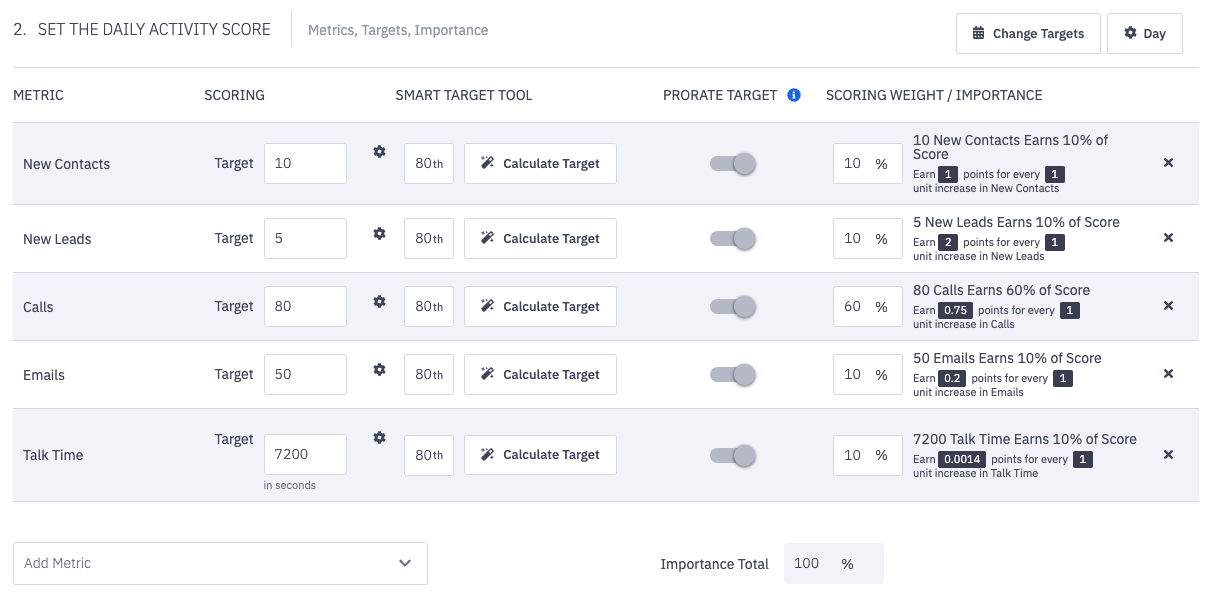 A Scorecard generates two employee super-scores: Activity Score and Objective Score. These measure an employee's weighted attainment of metric targets. Similar to grade-school, these scores are measured on a 0-100+ scale.
Example: Account Executive Scorecard
Monthly Objectives
| | | |
| --- | --- | --- |
| Metric | Target | Weight |
| Opportunities Closed | 4 | 20% |
| Revenue Booked | $20,000 | 80% |
Every month an Account Executive is held accountable to closing 4 Opportunities and booking $20,000 in Revenue.
4 Opportunities Closed equates to 20% of the Objective Score
$20,000 Revenue Booked equates to 80% of the Objective Score
This breaks down to every Opportunity Closed being worth 5 points and every $1,000 in Revenue Booked being worth 4 points.
If an employee closed 2 Opportunities (10 points) and booked $40,000 in Revenue (160 points) their total Objective Score for the month will be 170 points which is very good based on the targets and weights established.
Daily Activities
| | | |
| --- | --- | --- |
| Metric | Target | Weight |
| Calls | 20 | 20% |
| Emails | 20 | 10% |
| New Leads | 5 | 30% |
| Demos Completed | 4 | 40% |
Every day an Account Executive is held accountable to making 20 calls, sending 20 emails, creating 5 new leads, and completing 4 demos.
20 Calls equates to 20% of the Activity Score
20 Emails equates to 10% of the Activity Score
5 New Leads equates to 30% of the Activity Score
4 Demos Completed equates to 40% of the Activity Score
This breaks down to every Call being worth 1 point, every Email being worth .5 points, every New Lead being worth 6 points, and every Demo Completed being worth 10 points.
If an employee makes 10 Calls (10 points), sends 40 Emails (20 points), and creates 10 New Leads (60 points) their total Activity Score for the day would be 90 points which is a strong day based on the targets and weights established.
As you can see, there are multiple ways for an employee to achieve a "good" score. Your targets and weights aim to guide the employee to success while maintaining realistic flexibility.
You'll notice that you cannot assign point values directly to
Metrics
, instead this happens indirectly through the weighting system. The reason for this is to maintain a 1-100+ system so that
Users
and
Managers
can intuitively understand their performance in that it's similar to a grade-school scale. We've found this optimal over arbitrary systems, where it's not immediately clear to the employee, whether a score of 3, 30, or 300 is particularly good or bad.