Company Name and Logo
Update Company Name or Image
Any user with the "Organization: Edit" permission can update the company name or image.
1. Open the left navigation and click Administration > Organization.
2. Locate the Organization section at the top of the page.
3. Make the appropriate updates:
Company Name
The name that will be displayed across the Ambition site and all related communication.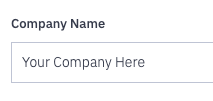 Company Logo
An avatar or company logo for branding use across the Ambition Platform.
Update Company Logo
Click the Choose Image button.
Select the image you wish to upload from your device.
Pro tip: your company's LinkedIn or Twitter image is a great resource for an already smaller sized image.
4. Click the Save button.