Monitor or Edit Accolades
Accolades are included in Gamify, Pro, and Enterprise Packages.
Once an Accolade has been created, it will be accessible through the Accolades interface.
Once an Accolade has been awarded it will appear on the Achievements tab and on the Dashboards of the respective Accolade recipients.
Accolades can also be monitored on a TV slide.
How do I monitor available Accolades and Accolade Achievement?
Monitor Available Accolades and Accolade Achievement
If you'd like a quick glance at all existing Accolades:
1. Open the left navigation and click Accolades.
The Accolades tab gives you an overview of all active Accolades as well as a list of Users who have achieved the respective Accolade, the criteria, and details for each award.
2. Click on the Filters icon,
, across the top of the menu to slide out the filter panel, allowing you to search for an Accolade by Type, Group, or eligible User.
Note: Employee does not filter for those who have achieved an Accolade, but rather which Accolade the respective Employee is eligible to receive.
3. Click Achievements to see the most recent achievements for the Accolade. This list will show corresponding Levels if applicable. Optionally click View All to see the entire history of achievements for this Accolade.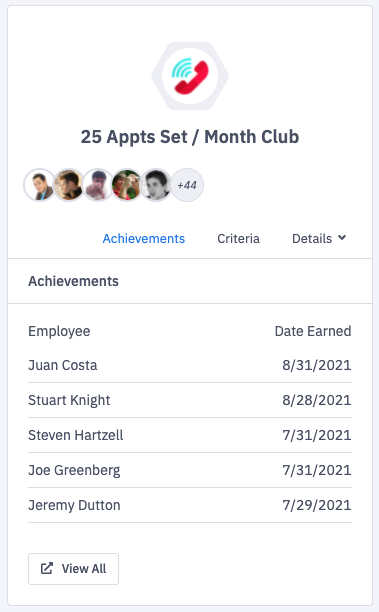 Click Criteria on any Accolade to view the exact criteria where its single Metric attainment or multiple thresholds.
If you've filtered for a specific eligible User, you will be able to view their progress towards the Accolade's specific criteria.
Click Details on any Accolade to see more information about the Start Time, Allocation, Description, and Incentive. If the user has the "Create Accolade" permission, they can optionally click the gear icon,

, to edit the Accolade.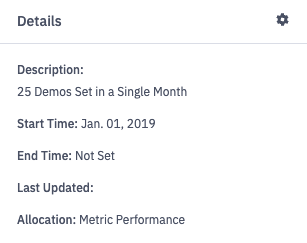 Alternatively, you can access a List View of Accolades by:
1. Opening the left navigation and clicking Accolades > Manage.
Accolade Audit Logs: The Manage Accolade page displays audit logs, including Created By, Last Modified Time, and Last Modified By fields.
Edit Accolades
After an Accolade has been created, you can update the following information:
Name
Picture
Description
Incentives
Levels
Metric Targets
Eligibility - Hierarchy Level
The Eligibility Time Frame and Metric Time Frame can also be edited, but will result in deletion of past Achievements.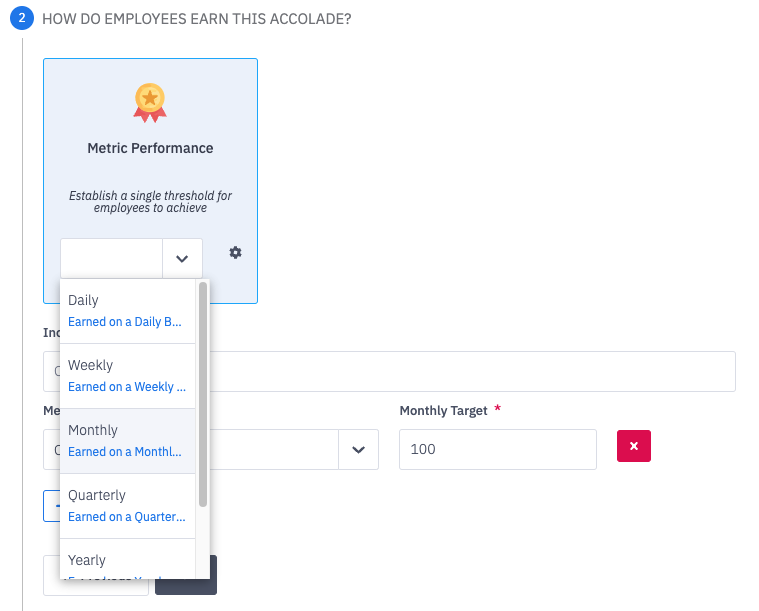 If the desire is to keep past Achievements, we recommend building a new Accolade with the appropriate Time Frames in place.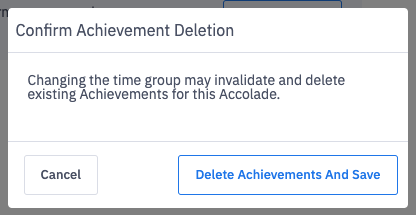 To Edit an Accolade in List View:
1. Open the left navigation and clicking Accolades > Manage.
2. Click the

icon in line with the appropriate Accolade to open the Edit form or to Delete the Accolade itself.
3. Make appropriate updates, and click the Update Accolade button.