View Accolades
Accolades are organization defined awards and clubs that have been created within Ambition.
Achieved accolades can be viewed:
View Earned Accolades on Personal Dashboard
1. Click the Accolades tab on your Personal Dashboard.
The "Accolades" tab can be seen on all dashboard types, and will display accolades achieved by the respective user, group, etc. Navigate to your personal dashboard to view accolades you've achieved!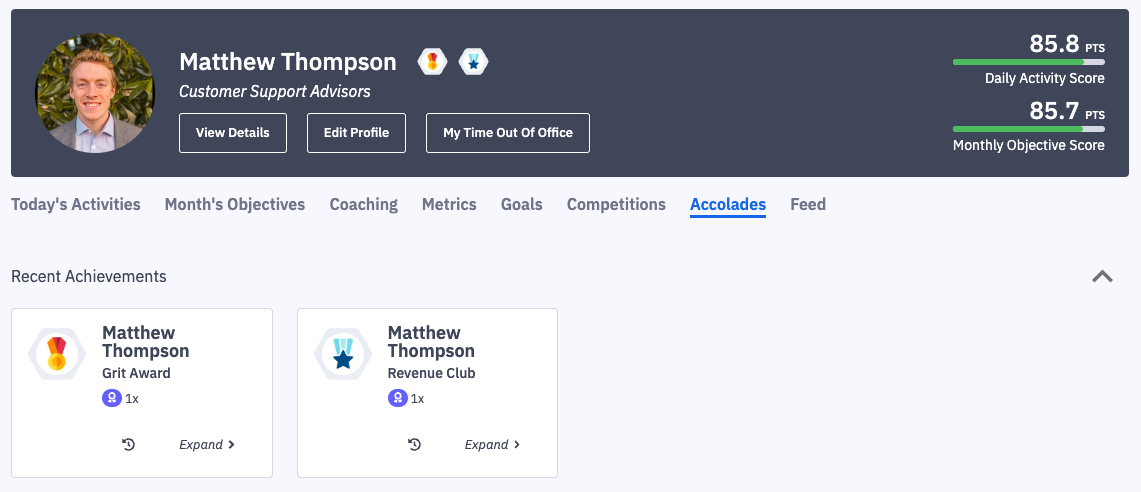 2. View Recent Achievements.
The first section of the accolade dashboard tab shows the recent achievements the user has earned. Although each tile represents a single accolade, each tile may have multiple achievements.
For example, if Amanda has earned the "Meetings Set" award 10 months in a row, her dashboard will show 10x on that accolade tile. Clicking Expand will show each of the individual ten achievements.
Click the clock icon, , to view the historical achievements and levels.
Click Expand to view all individual achievements, share on social media, comment, or view details.
3. Active Accolades (Awards/Clubs)
The second section of the accolades dashboard tab shows all active accolades that the user is eligible to earn. Clicking the Criteria button will show the user's progress towards achieving the accolade metric target and/or levels.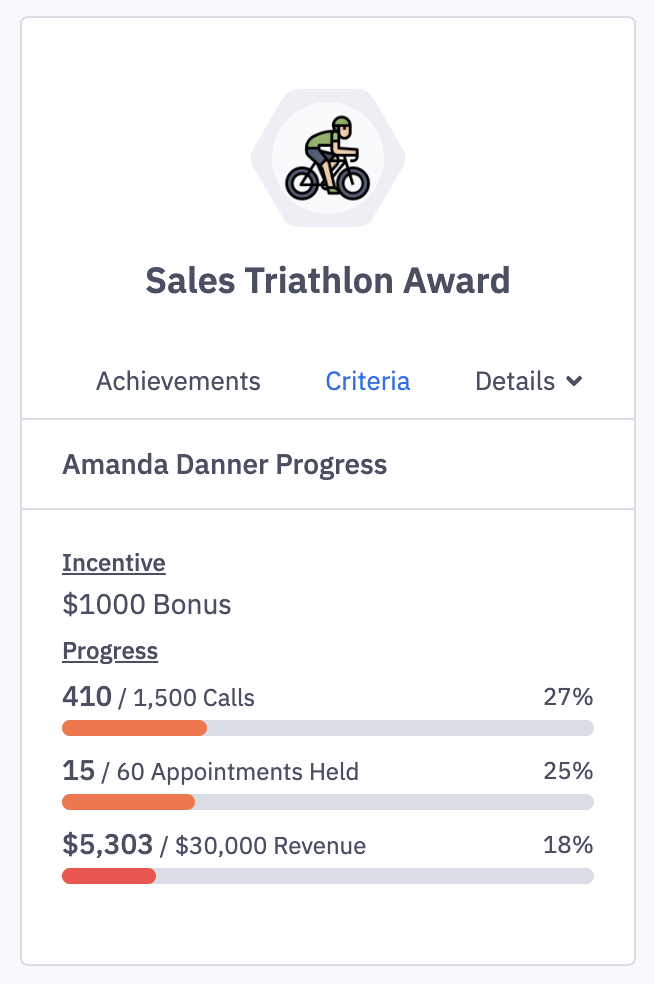 Additionally, any peer-to-peer based accolades can also be given from this screen by clicking the Give button on the accolade tile. Learn more about Peer-to-Peer Accolades here.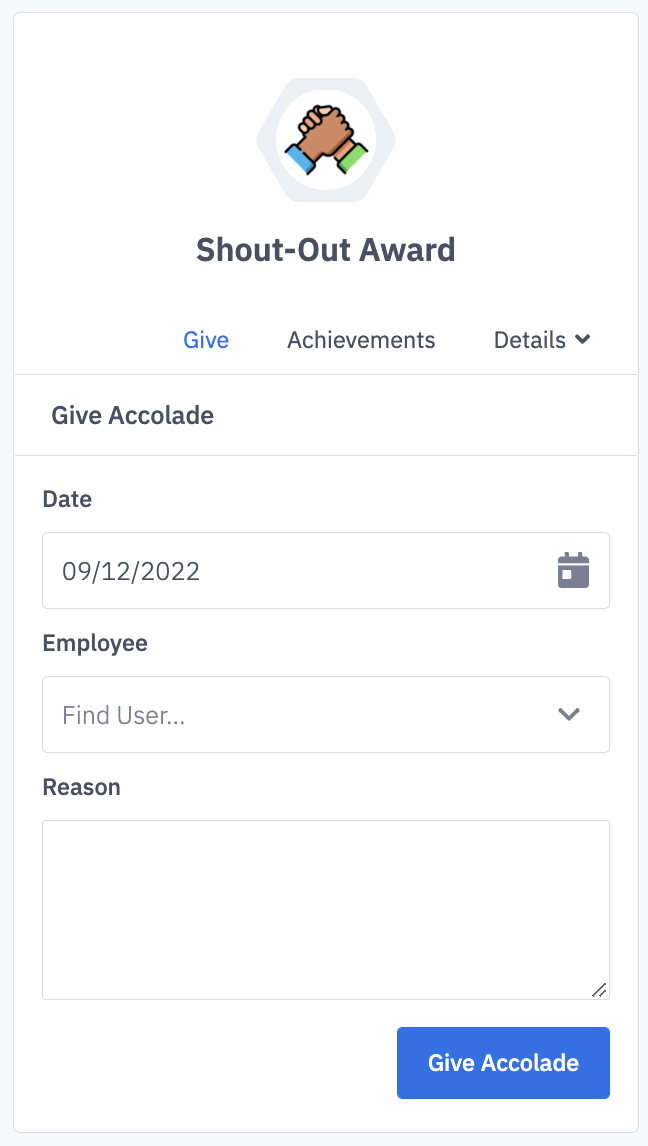 View Accolades Through Accolades Tab
1. Open the left navigation and click Accolades.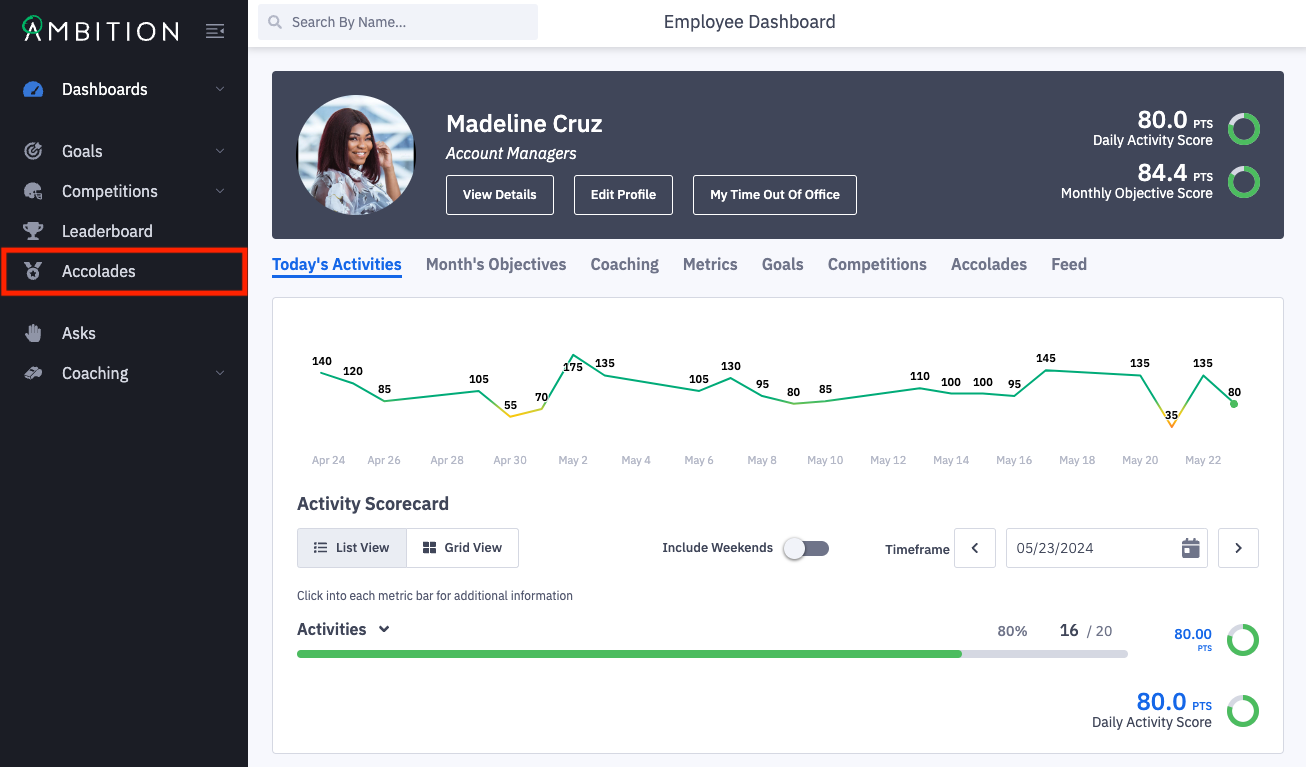 2. The accolades tab gives you an overview of all active accolades as well as a list of users who have achieved the respective accolade, the criteria, and details for each award.
If Criteria is shown on the accolade, you will be able to view your progress towards achieving the accolade. Note, all active accolades will be shown and you will be able to view your progress towards accolades you may not be able to achieve. Follow step 2 below to filter for your name in the "Employee" filter to only see progress towards accolades you are eligible to receive.
If Criteria is not shown on the accolade, the respective accolade will be allocated at manager or employee discretion.
2. Click on the Filters icon,
, to search for an accolade by Employee (eligible user), Group, Type, or Search by Accolade Name or Description.
Note: Employee does not filter for those who have achieved an accolade, but rather which accolade the respective employee is eligible to receive.
3. To view accolade achievements, select the Achievements tab on the horizontal navigation bar to view all achievements. Here you can filter by Accolade Name, Employee, Group, Time Frame, and Reason (applicable for Manually Given Accolades).