Create a Goal
Goals are included in Coach, Pro, and Enterprise Packages.
1. Create a new goal via the quick actions button, Motivate and Recognize > Goal, or though the left navigation, Goals > Create.
2. Complete the Goal Form by filling out the following fields:
1) Goal Details

Name: We recommend the format "verb + outcome + time frame"
Description: Provide detail to assist in understanding the Goal.
Visibility: Public vs Private.
Public Goals are transparent across the entire platform.
Private Goals can only be seen by the creator, relevant Users, and Ambition Admin.
Category: Ambition categorizes Goals into 4 different areas. These categories help identify that growth is happening in all areas of one's life. Employees can be encouraged to set a variety of Goals in differing categories.
Contribution: Positively impact bottom line of company, group, or self.
Capability: Acquire new knowledge, skill, or competency.
Connection: Build, develop, or reinforce relationships.
Career: Take action to grow professionally.
2) Target
Start Date and End Date: The time frame for the Goal.
A Goal's time frame cannot exceed 365 continuous days.
Progress Updates: will the target automatically be tracked through an existing Metric (Best Practice) Or will this manually be updated through a form (common for Capability and Career Goals)?
If you select Automatic through Existing Metric, you'll be prompted to select the Ambition Metric to track for this Goal.
If you select Manual through Input Form you'll be prompted to provide a Metric Name for the measurement of this Goal (Conferences Attended, Modules Completed, Dollars, etc).
Regardless of how you update the progress of this Goal, you'll be prompted for
Metric (Which Metric will you track, or what will your Manual Entry Metric be called?)
Computation (Will this Goal add or average the values it receives)
Target Value (How will this Goal be reached? What is the success threshold?)
3) Owner
The Goal's owner determines whose data populates the Goal!
Select the appropriate Hierarchy Level for this Goal. Read more about Ambition Hierarchy Levels here.
Hierarchy Level is the level you wish to create the Goal for.
Is this a Goal for a User(s)? Is this a Team Goal?
Owner Selection Type will display options of All, Within, Custom.
Is this a Goal for Users > All? Users > Within > BDR Role? Users > Custom > Joe Smith?
4) Preview

A visual preview of this Goal will be generated along with a notification of how many Goals will be created. No data calculations will be computed until after saving.
3. To save this Goal, click the green Create Goal button.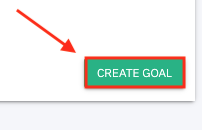 If you are creating more than one Goal, you will be asked to confirm your understanding of just how many Goals are being created. Type I UNDERSTAND and click the yellow Confirm button.
Note: A Goal will track historical data starting from the day it was created. If a Goal is created after the start-date of that Goal, Ambition will show a linear line from 0 on the first day of the Goal, to X points, on the day the Goal was created.