Managed Coaching Program
How do I create a Managed Program?
What are Managed Programs?
Managed Programs are a distributed Coaching Program for multiple managers and their employees. These programs are centrally managed, so any changes you make will cascade down.
For example, if you'd like to change the format of your quarterly reviews, editing the managed program will automatically update all proceeding check-ins related to that coaching program.
Managed Programs are great for:
Sales Enablement, Sales Leadership, Human Resources
Promoting top-down accountability, alignment, consistency
Ensuring compliance and oversight
Create a Managed Program
Users with "Coaching: Create Managed Program" or "Coaching: All Access" permission will be able to create Managed Programs.
Creators will also be able to edit and delete Managed Programs.
Have questions about updating Permissions? Learn more here.
1. Click the quick actions button, Coach and Develop > Program, or the left-hand navigation, Coaching > Manage > Managed Programs.
Don't see the Managed Programs tab? If your package supports Managed Programs, the feature can be enabled by any user with admin permissions. Left navigation > Administration > Features. Locate the Coaching: Managed Programs feature, and toggle "On".

2.  Click Create on the Managed Program tile

If you accessed Coaching through the left navigation, via the Coaching > Manage > Managed Programs tab, click the +Managed Program button to create a new program.

3. Complete the Program Builder Form.
Details

Name 
Required. We recommend names that incorporate the target contributors, topic of focus and frequency of check in.
Examples:
SDR Daily Update
AE Weekly Update
AE Monthly Pipeline Review
Employee Quarterly Performance Review
Description
Required. Simply describe the purpose of the coaching program
Coaching Instructions
Optional. Provide specific instructions, resources, and other details to guide managers on how to use this specific template.
Coaching Instructions will not be visible to the employee being coached. To support reviewing check-ins that contain instructions while screen sharing with an employee, the manager can collapse the coaching instructions section.
Objective
Optional. If your program has a specific purpose (and typically, an explicit start and end date) we recommend defining on objective.
Recurrence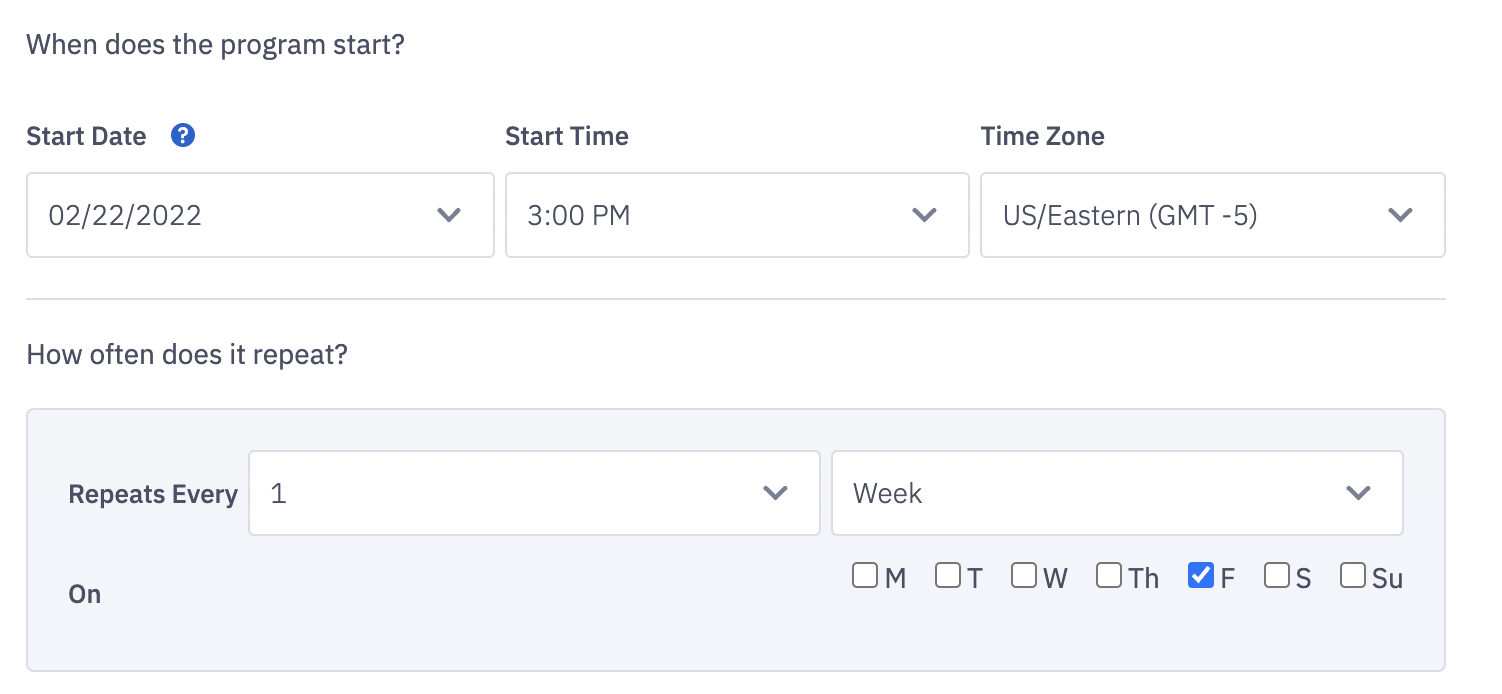 When does the Program Start?
Select when the Program's agenda should be made available to users by selecting a Start Date, Start Time and Time Zone. 
The Date, Start Time and Time Zone are used to control when participants can access the agenda.
How often does it repeat?
Use the drop downs to select how often coaching sessions should be recreated.
Common recurrence schedules are:
Daily (Every 1 Day)
Weekly (Every 1 Week)
Bi-Weekly (Every 2 Weeks)
Quarterly (Every 3 Months)
Pro Tip: Want to schedule your Program to run on relative dates, for example the first Monday or the last Friday of the month? Set Repeat to "Month" and then select one of the options available. 

When is each check-in due?
Selecting "Before the Next Scheduled Check-In" will leave the check-in open until the next recurrence of the program
After x Days will close the check-in after the respective number of days.
When does the program end?
Will this Coaching Program ever end? If so, select a date or number of occurrences to end after.
If a date is selected, no new Coaching sessions will be created after the respective date.
If a number of occurrences is selected, the Coaching Program will occur for that many iterations before stopping.
Program check-in dates
Based on the recurrence options selected, the dates your program check-in will be generated will display. Verify the expected cadence matches the schedule presented.
Managers

Select which Managers should be enrolled into this coaching program.
You can enroll All Managers or hand pick individual Managers using Custom.
Note: This will automatically start a Program for each of the selected Managers, creating check-ins for each of their direct reports. If any new employees are added to their group(s) or have the manager listed in User Settings, they will be added to the next occurrence of the program.
In cases where a Manager manages other managers: If Manager A is listed as a Manager B's manager within their User Settings, any employees that roll up to Manager B will also be considered as users Manager A manages.
Agenda
Create the Programs's agenda by compiling agenda items.
Agenda items can be optional or required, but at least 1 agenda item must be required (not optional) in order to save.
Learn more about all the available agenda item options here.
Item Types
Item Description
Employee View of Agenda Item
Question

A question for the employee to answer. Questions can be required or optional. 

If you're feeling stuck, we've compiled a Question Library to help get some ideas flowing. 

Want to see how others Coach? Check out our plug-and-play Coaching Templates.

Pro Tip: Want to rotate weekly questions? Build multiple coaching programs on alternating cadences to keep things fresh. 

Metric Snapshot

Available if the "Coaching: Metric Snapshot Item" feature has been enabled.

A question for the employee to answer that is built upon a preselected metric & time frame.

Poll

A question that is answered by the employee on a 1-5 point scale.

Example: On a scale from 1-5 (1=low & 5= high) what's your level of confidence in your product knowledge?

Checkboxes

A list of options for the employee to select, choosing all that apply. An "Other" option is available as well.

Example: Which products would you like additional training on? Choose all that apply.

Multiple Choice

A list of options for the employees to select, choosing only one. An "Other" option is available as well. Great fit for True/False or Yes/No type questions.

Example: Have you completed your monthly review? Yes or No.

Gong Calls

Available if the Gong integration is enabled and authorized.

Employees attach one or more of their Gong calls when the check-in opens.

Example: Select two calls to review with their supporting feedback.

In this example the Employee attached calls and the manager left comments.

Lessonly Lesson

Available if the Lessonly API within the Seismic integration is authorized.

Select from any public, published Lessonly lessons and add them to coaching agendas.

When selecting a lesson, there is no filtering for lessons assigned to a particular employee(s), but rather you will be presented with a list of all public, published lessons that can be added into the coaching agenda.
Custom Tabs
Does your team reference a learning management system, dialer service, or another platform for coaching? If so, you can add a custom tab to view that information, alongside your Ambition data, directly within a coaching check-in.
To set up a custom tab within your coaching check-ins, reach out to the Ambition Support Team, gethelp@ambition.com.
The Support Team will need the following information:
Does the 3rd party website support iFraming?
What is the url that should be shown?
What would you like to name the tab?
Attribution Metrics (optional)
Define up to ten Metrics that you would like tracked/correlated with this Program.
Similar to defining an objective, if your Program has a specific purpose (and typically, an explicit start and end date) we recommend establishing attribution Metrics.
For example, if the Template's Objective is for an eight week long Program around setting great appointments, you can define "Appointments Held" and "Appointments Set" as your attribution metrics to determine the Program's effectiveness over time, per-person.
If you're running a standard, weekly check-in, it probably does not make sense to set attribution.
Note: Attribution Metrics cannot be changed by an admin after the program is saved.
Learn more about how Attribution is calculated here.
Rating Categories (optional)
Don't see the Rating Categories option? If your package supports Rating Categories, the feature can be enabled by any user with Admin permissions. Left navigation > Administration > Features. Within the Manage Features interface, click on the Features tab. Locate the Coaching: Check-in Ratings feature, and toggle "On".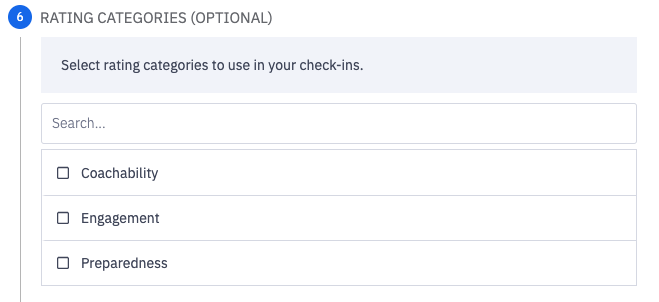 Select rating categories you wish to track and correlate with your new Managed Program.
Rating Categories can be added or removed after the Program's creation.
Note: If more than one rating is present, Ambition will take an average of the submitted ratings. This average can be helpful when searching for specific check-ins, as it's a filter in the manage check-in page and exportable in the coaching reports.
If you'd like to add additional rating categories, learn more about creating categories here.
4. Click the Create Program button.

After creation, you can locate the newly created Managed Program under the Managed Programs tab.
Child programs will be found under the Programs tab.
Ex. A Managed Program was created for two managers, Anh and Amanda. The Managed Program will be found under "Managed Programs", while the two subsequent programs created for Anh and Amanda will be found under "Programs".